PIERCE, Roxanne
Inducted: 1996
Born: Plainfield, New Jersey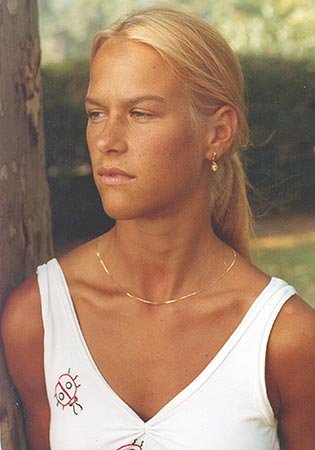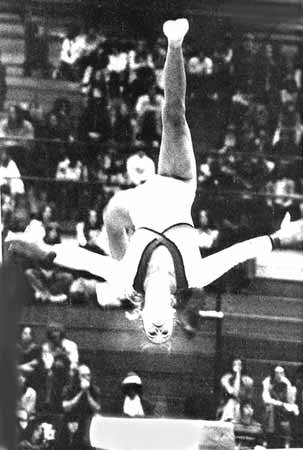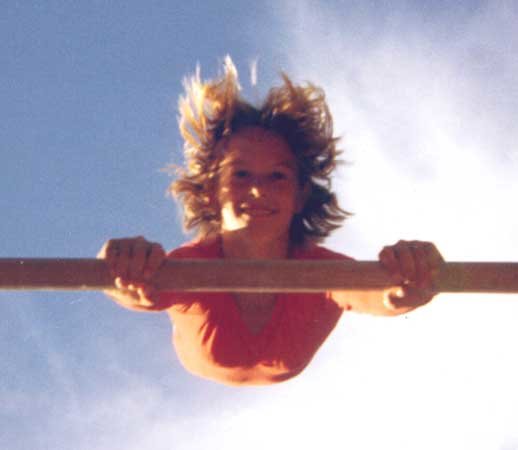 Roxanne Pierce exemplifies the nature of the gymnastic world in the sense that the crowds who watched her perform knew excellence when they saw it. She often drew enthusiastic applause when accepting another Gold Medal regardless of the continent on which she competed. She also exemplifies the duality of being a great gymnast; i.e., what do you do for an encore? Many athletes coach, judge, or provide service to the sport in numerous ways, but often, when the crowd dies down, there is only one course of action, and that is simply to leave the gym and pursue other avenues to success and reward. Roxanne chose to enter the world of fire fighting. It would be quite interesting to know just how the "boots" in the rigorous fire fighting training program responded to a lady who was probably as strong and enduring as any of the them. Her athleticism and the strength that accompanies her elite gymnastics status probably had her at or near the top of her class in much the same way she stood at the top of the winner's stand on so many occasions.
Roxanne feels she was lucky to go to a middle school where there was a gym team for girls developed by Barbara Fulkerson. A friend of Roxanne's, Karen Long, asked her to join a nearby gym club, and so began Roxanne's gymnastic career. Ruth Ann McBride was her first real coach, and took her quickly to the elite level where she continued to excel. Olympic Games: Team member, Munich, Germany, (1972). World Championships: Team member [A], Ljubljana, Yugoslavia, (1970). Pan American Games: Gold-Team, AA, UB, & V; Bronze-BB [T], & FX [T]. The 6th Pan American Games were held in Cali, Colombia, from July 30 to August 13, 1971. The then called "City of Eternal Spring", located at the foot of the Andes Mountains, hosted a total of 2,935 athletes from 32 countries, who participated in seventeen sports. The highlight of the opening ceremony was a synchronized dance routine involving 12,000 young girls dressed in native costumes. Pierce was so adored by the Chilean spectators that they gave her a standing ovation during the award ceremony for the UB. Gold-Team, UB [T], Silver-AA, & Bronze-V, BB, & FX [T], Mexico City, Mexico, (1975). Other International Competitions: Chunichi Cup, Riga Invitational, & USA vs. USSR, (1971); USA vs. Hungary, Riga Invitational, USA vs. Romania, (1973); USA vs. Canada, (1976). USAG National Championships: 4th-AA, (1970); 4th-AA, (1971); Silver-V [T] & UB, (1972); Gold-V & UB, Silver-AA, & Bronze-FX, (1973); 5th-AA, Silver-V, & Bronze-UB, (1974); 4th-FX, 5th-AA, 6th-BB, (1975). National AAU Championships: Silver-V & Bronze-UB & FX, (1970); Gold-V & UB, & Silver-AA, (1971); Gold-UB, (1972); Gold-V & UB; Silver-AA & FX, (1973); Silver-UB [T], (1974); Gold-AA & BB, Silver-UB, (1975); Gold-AA & BB & Bronze-FX & V, (1976). AIAW Division 1 Collegiate National Championships: Competing for Temple University, Roxanne garnered Gold-FX, Silver-BB, & Bronze-AA, (1976). General: Roxanne moved to New Mexico in 1979 and became a member of the Albuquerque Fire Department in 1982. She worked as a fire fighter, paramedic, and emergency medical dispatcher until she retired in 2003. She currently works about 10 hours a week for Great Lakes Airline, and she is on the tennis court whenever possible and especially during tournament season. Family: (m) Tony Mancha-divorced. Children: Celestina, 19, and Sonyalena, 16, as of 2007.
Sources: Interviews with Ms. Pierce plus Jerry Wright, author of Gymnastics Who's Who, 2005 provided the primary research data. Information about the 1971 Pan American Games courtesy of . Introduction, commentary, and formatting by Dr. Larry Banner, Web Manager.