FIE-Klein, Jacquelyn J. "Jackie"
Inducted: 1979 Born: July 11, 1937.  Chicago, Illinois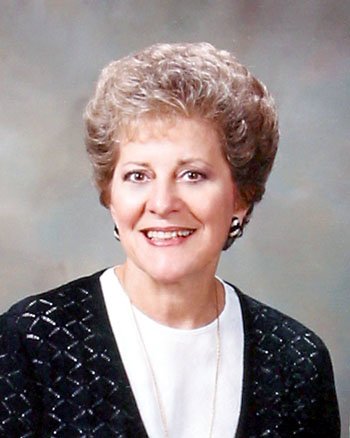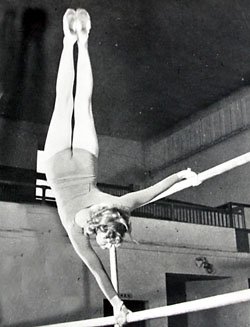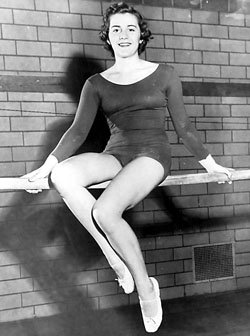 Gymnastics has changed drastically since the television airing of the 1972 Olympic Games in Munich, Germany where 17 year old Olga Korbut captivated the world with her amazing courage and pixie-like performances. However, it may not be conspicuous that people devoting a career to coaching, judging, and contributing in numerous ways have made the most important changes in gymnastics working in the trenches through the years.  "Jackie Klein-Fie is the only American to rise to the Presidency of an FIG Technical Committee and the first woman to have an administrative position with the National Governing Board for Gymnastics in the U.S. in which position she (continued) to design the form and functions of the Women's Committee," writes A. Bruce Frederick, noted gymnastic historian.  But while her contributions as an executive are admirable, her most important contribution has been said to be that she became responsible for a tremendous increase in the degree of honesty applied to performer's scores measured against the rubric of the quasi-objective rules of scoring. Her reputation was that she argued scores in international competitions with expert knowledge, vigor, and strength and was more times than not successful in maintaining the integrity of the judging rules. Her biography and accomplishments as presented herein may be appreciated by the many generations of athletes, coaches, judges, and contributors who will continue to improve the quality of judging. Jackie also adds to the high percentage of gymnasts who were multi-sport talented since she participated successfully in speed skating and track and field events.
The Beginning: A. Bruce Frederick, noted gymnastic historian, wrote in Technique, a USAG publication, "First Lady of Gymnastics Retires Jacquelyn Jackie Klein Fie", that Jackie started her gymnastics as a four year old at the Lincoln Turners eventually becoming a member of the U.S. National Team, (1955-'56). She was forced into competition retirement due to a severe back injury, but Jackie certainly was hooked on gymnastics. Olympic Games: Representing the Lincoln Turners, Fie earned her way to become an Olympic Team member, Melbourne, Australia, (1956). The Melbourne Games were fraught as with much political ill will as were any preceding games. Britain and France were at odds with Egypt over the Suez Canal. The USSR and Hungry were eye-to-eye, and at least seven countries boycotted the games in protest over a number of issues. It was in Melbourne that the USSR and Hungarian water polo teams turned the water red. Jackie participated for the USA in one Olympic competition, but it had to be an exceptionally unique experience.  Additional Competition Experience: Speed Skating & Track & Field, Chicago Park District, (1951-1952). From 1954 through 1959, she competed in numerous District and Regional AAU meets, as well as District and national American Turner competitions, more often than not placing in the medal count (1, 2, or 3) on Individual apparatus and in the All-Around (AA). In Jackie's days the American Turner AA included both apparatus and track/field events. National Turner Championships: Gold-BB, (1959). Education: Northwestern University, B.S., Magna Cum Laude, (1959). Teaching Experience: Evanston Township High SchoolHealth, Physical Education, & Gymnastic Coach, (1959-1962); Evanston Parks and RecreationGymnastics, (1963-1968); Niles West High SchoolPhysical Education & Co-Gymnastics Coach, (1970-1971). Training/Coaching/Judging: Indiana State U. Institute, (1968, '70, & '76); Michigan State U., (Annually: 1964-1970); 5th National Institute on Girl's Sports, (1968); University of Illinois, (1968); University of Iowa, (1967 & 1972); Iowa State U., (1959 & 1972); Coe College, (1969); Northwestern University, (1959 & 1962); Springfield College, (1967); Fort Dodge Community College, (1973); California United States Gymnastics Federation (USGF), (1973-1974); University of Wisconsin at Superior, Eau Claire, Whitewater, Madison and LaCrosse, (1967-1976); Camp Tsukara, (1974-1979); Indiana State University, USGF/NAGWS Master Workshop Compulsory Exercises, (1975 & '80).  USGF/USAG Admin. & Committee Service: Member-Executive Committee and Board of Directors, (1964-2004); Assistant Executive Director, (1968); Vice President for Women, (1967-1969); Designer/Originator of the USGF Women's Committee administrative structure and function, Junior Olympic Compulsory Competitive Program and Judges' Training Programs, (1965-1968); Originator of USGF Women's Judges Training Committee Staff, (1965-1982); National Technical Director for USGF Women's Junior Olympic Age Group Program and Elite International Program, (1965-1980); USGF Delegate to the FIG Technical Assembly, (1968-1976, 1980, '82, & '87); Member USGF Women's Foreign Relations Committee, International Program Committee, International Elite Committee/ex-officio, (1980-2004). Intercontinental Judges' Courses: Participant: Rome, Italy, (1968); Madrid, Spain, (1974); Thonon le Bains, France, (1975); Master Lecturer: Moscow, USSR, (1980); Filzbach, Switzerland, (1984); Frankfurt, Germany, (1988); Mulhouse, France, (1992); Director: Athens, Georgia, USA, (1996); Arnhem, Netherlands, (2000). Also, Jackie has led International Courses in 10 additional countries including the U.S. Federation Internationale de Gymnastique (FIG) Elected Positions: Women's Technical Committee (WTC) Member, (1976-1984); WTC Vice-President, (1984-1992); Jackie became the first American President of a FIG Technical Committee, (1992-2004); Executive Committee Member, (1992-2004). General: Olympic Games Technical Director for Women's Artistic Gymnastics, Atlanta, GA, (1996), Sydney, Australia, (2000), and Athens, Greece, (2004); Chairperson of Superior Jury for 10 World Championships, & four World Cups; Brevet Judge Official for 41 FIG Official competitions, more than any women's artistic gymnastics judge in history. This record included 20 FIG World Championships, 11 FIG World Cups, 10 Olympic Games. She also was Brevet Judge and/or Technical Director at 7 Pan American Games, 6 European Championships, and all American Cup Championships since their inception (1976-2004), numerous Pacific Alliance Championships, Goodwill Games, Canadian Championships, and International Team and Individual Championships. Publications/Other: Technical Advisor for NAGWS Gymnastic Guide Committee, (1967-1980); NAGWS Gymnastic Guide: Contributor of technical articles, (1967-1980); Co-author: Judging and Coaching Women's Gymnastics, (Published: 1972/Revised:1981); Chairperson: Citizens' Savings Hall of Fame for Women's Artistic Gymnastics, (1972-1976); Film consultant to Athletic Institute for Women's National Compulsory routine, (1967, '70, & '74); Women's Sports Foundation Advisory Board Member, (1978-1986); Technical Advisor, Nadia film, (1983). Awards/Distinctions: Identified as an American Gymnastic Centurion by A. Bruce Frederick. Gymnastic Centurions are those who have made the greatest impact on gymnastics in the U.S. They are persons who " . . . command our respect." Northwestern U., Alpha Lambda Delta-Honor Society, (1955); Pi Lambda Theta-Honor Society, (1957); Kranze Memorial Award, (1959). Recipient of Athletic Institute Achievement and Contribution Award, (1968); Listed among Outstanding Young Women of America, Who's Who of American Women,  & Who's Who in the Midwest; USGF Honor Award for Service, (1978); National Association of Women's Gymnastic Judges' Hall of Fame & Life Member, (1979); USGF Master of Sport Award, (1980); FIG Honorary Vice-President, (2004-Life); Citizen's Savings Athletic Foundation (now USGF/USAG), (1979); IOC Olympic Solidarity Expert Award for Gymnastics granted by Lord Killanin, (1980); IOC Diploma Tribute for Remarkable Contribution as a Volunteer in the development of sport and Olympism and to the promotion of friendship and solidarity among peoples-from Juan Antonio Samaranch, (2001). Family: m. Larry E. Fie. Children: Jeffery S. & Christopher J. Uphues. Stepchildren: Julie, Barney, & Angie Fie. Grandchildren: Audrie Spencer & Ava Scott Uphues, Avery Marie Fie & Annie Diane Fie. Prologue: Jackie Fie-Klein began gymnastics as an athlete and rose to the Olympic level. Her experiences as an elite performer, scholar, and student of gymnastics merged, and she gave the gymnastic world the gift of much improved judging accuracy and honesty in a sport where, previously, outcomes could almost be predicted with a glance at the judging assignments.  We all appreciate her hard work and the results that were forthcoming. It is important to know that the athletes, coaches, judges, and other contributors of today are standing on Jackie Klein-Fie's shoulders, and it is terra firma. To paraphrase A. Bruce Frederick who wrote her fairwell in USAG's Technique, Jackie Fie's 12-year tenure as President of the FIG Women's Artistic Gymnastics Technical Committee secures her legacy as the most influential person in history to shape judging techniques and the evaluation of artistic gymnastics in general. Thank you, Jackie.
Sources: Fie's personal resume and interviews, Jerry Wright, author of Gymnastics Who's Who, 2005, Abie Grossfeld, 1979 Gymnastics Hall of Fame Honoree and Bruce Davis for their editing services, and . Special thanks to A. Bruce Frederick, author of Who's Who in American Gymnastics for information in his article in the March edition of Technique, pp. 22-23 and his gracious use of information in his "Centurions" article. Introduction, commentary, and formatting by Larry Banner, Web Manager.