Inducted: 2008-Team Member: Gold Medal World Championship Team, (2003)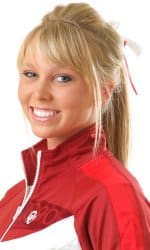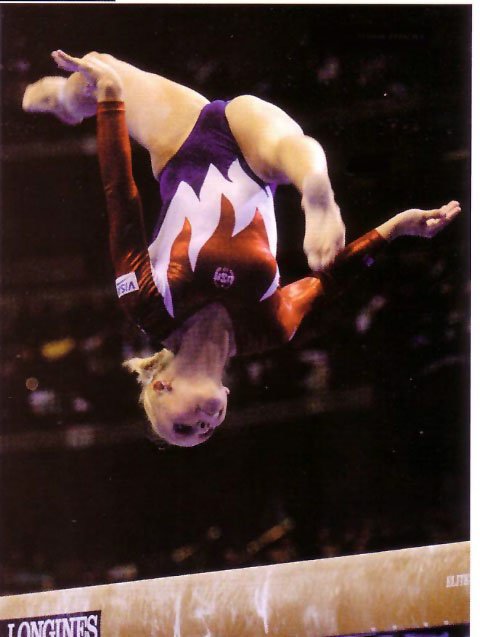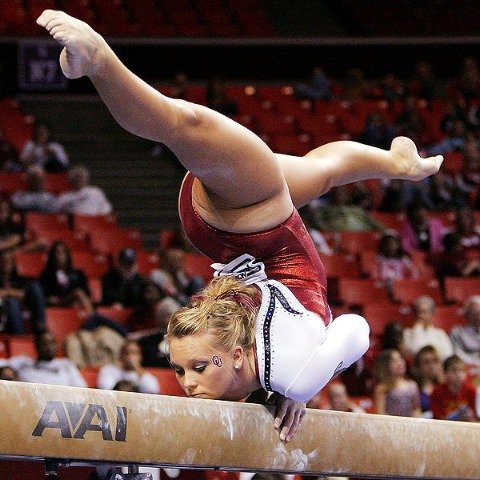 According to University of Oklahoma Coach A.J. Kindler, "When I got to campus, I met with her Holly, and she was 30 pounds overweight, out of shape and had no intention of competing. I told her my expectations, and they started with a serious conditioning plan and getting back into the gym to do gymnastics. The Holly Vise who showed up at the gym for her first practice, a former world champion on bars, couldn't even do the most basic of skills. She struggled to re-learn very basic skills, ones that any eight-year-old competing in the sport could do." Four years later Holly Vise was an NCAA National Runner-up in two events. She never forgot how to ride a bike either.
Vise started gymnastics at age three in a beginner class (level 1) and advanced so quickly that she could not compete in level five, because she did not meet the age requirement of six. She moved to WOGA (World Olympic Gymnastics Academy) in Plano, Texas. She continued to progress at a rapid pace and at the age of 11, she passed over level 10 and became an elite gymnast. Vise' best virtues are her beautiful long lines, graceful style, and extreme flexibility. One of her signature skills on beam is her mount, where she jumps to a chest stand and then arches her legs over. This signature move is also performed on the floor exercise that Vise rotates into a split. Throughout her elite career she was trained by former Russian acrobat Evgeny Marchenko. World Championships: Gold-Team & UB[T]. These outstanding performances are mainly the way Holly is remembered. Vise competed on uneven bars and balance beam in the team competition. Immediately prior to her routine, it was discovered that her number was not attached to the back of her leotard, a violation that automatically incurs a 0.2 deduction. Coaches quickly scribbled her number on a spare sheet of paper, safety pinned it to her back, and sent her out. The pressure got to her, and Vise mistimed her Ono pirouette (a 360 degree turn on one arm) and fell on the piked jaegar that immediately followed the skill, scoring an 8.875, a big disappointment for team USA, as the two athletes who went before her on the apparatus had scored in the 9.6 range, and being last up, she was expected to bring in the highest score of the three. Nevertheless, she regrouped to put out a respectable performance on balance beam (9.512) that helped the U.S. team to its first team world gold. In the event finals, Vise completed a near-perfect routine in the uneven bars final, scoring a 9.612 to tie Chellsie Memmel for the title (Vise and Memmel were the only members of the American team to take home an individual gold medal from the World Championships, along with the team gold). A back injury caused Vise to withdraw from the 2004 U.S. national championships and most likely prevented her from making the 2004 Olympic Team. Goodwill Games: Bronze-BB & UB, Australia, (2001). U.S. Sr. National Championships: Gold-BB & Silver-AA, (2003); Gold-UB & BB, Silver-AA, (2002); Gold-UB, (2001). Collegiate Career: Vise earned a full scholarship to the University of Oklahoma and competed for the Sooners starting in the 2006-07 season. In 2008 she placed 1st on UB in the Big 12 Conference Championships and in 2010 she placed 2nd on Uneven Bars and Floor Exercise at NCAA Nationals. She placed 1st at the Big 12 Championships on UB, BB and FX (T). At the Regional Championships she placed first on the BB. She was Big 12 Conference Sportsperson of the Year in 2010. Family: Parents Eddie and Leeann Vise, Born in Dallas, Texas, Vise is not the only athlete in her family. Her brothers are active in many different sports and Vise's mother was also a gymnast when she was younger. Her grandfather, the well known character actor Burton Gilliam, was a Golden Gloves boxer who won more than 200 bouts before turning to acting.
Sources: Data and photos collected from the public domain, as found on Wikipedia & other websites by Web Manager for 2008-2010 bios Jerry Wright who also authored Gymnastics Who's Who-2010. Minor editing by assistant to Jerry by Larry Banner, Ph.D., Ed.D.