VOGEL, Herbert (1932-2001)
Inducted: 1974 Born: Chicago, Illinois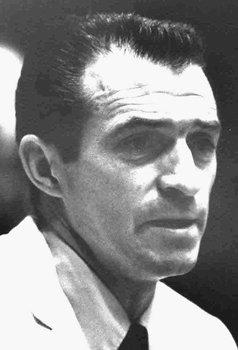 Herb Vogel is generally regarded as "The Father of Women's Collegiate Gymnastics. He initiated a Women's Gymnastic Team at So. Illinois U. (SIU) in 1962 and won every competition until 1968.
Competitor: Herb Vogel competed in the AA at Indiana University, (1949-'53). Coaching: Herb started a women's gymnastic team in the spring of 1963.  From that year until 1968, his team went undefeated.  His teams' overall winning record was 311-4, (1963-'65). Over the years, his Southern Illinois U. women captured 16 NCAA  gold medals. He coached Donna Schanzer who became the 1st USGF National Champion and Theresa Montefusco who became a member of the 1960 Olympic Team. General: Vogel served as assistant professor in health education and recreation until he retired, (1992-'99). Honors: Herb was designated a "Centurion" by noted gymnastic historian, A. B. Frederick. Frederick described a "Centurion" as " . . . those who command our attention." Inducted into Saluki Hall of Fame, (1983); USAGHOF, (1974); The SIU web site quotes William Meade, former Saluki men's gymnastic coach, recalling that, "Herb was without a doubt among the most dedicated of coaches.  He stood for the women athletes and often served as a counselor to them. He did a great deal for the University, and I know the University is proud of him.
Sources: Courtesy of A. Bruce Frederick author of Roots of American Gymnastics and Who's Who and Was Who in American Gymnastics, plus information courtesy of Jerry Wright, author of Gymnastics Who's Who, 2005, & . Introduction, commentary, and formatting by Larry Banner, Web Manager.