HEINEMANN, Gustav "Gus"
Inducted: 1959 – Among Original class of Honorees
Born: Not Available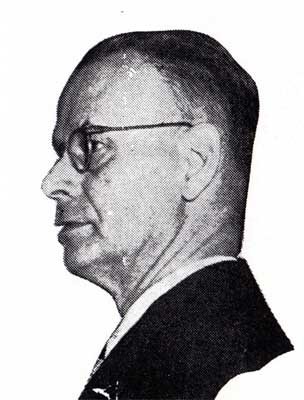 "Gus" Heinemann was one of the early women's gymnastic coaches. He was the first to start a gymnastics team at LaCrosse. preceding coaches Wittich and Reuter. The LaCrosse gymnastic team later became a Division II-III power under Jim Howard, 1999 GHOF Inductee. He and Roberta Ranck, with their dedication and perseverance, were probably a great influence in getting women's gymnastics into the Olympics.
Gustav "Gus" Heinemann coached the first notable Women's Champions in the U.S. He was the Director of Physical Education at Temple University in Philadelphia during the first part of the 20th century. Gus was well trained in the gymnastics of the day at the Normal School of the North American Turnerbund, and he was the gymnastics instructor at the Philadelphia Turngemeinde (Gymnastic Society), only a short walk from Temple University. Since the Turngemeinde has had many teams win national championships, it seems reasonable to translate some of the terms used within the Society. "Turnen" in German means to do gymnastics, a Turner is a gymnast, and a Turnhalle is a gymnastics gymnasium. Heinemann coached both men and women at the Turners, and one of his prize gymnasts became our first national AA Champion in 1931, Roberta Ranck, Gymnastics Hall of Fame Honoree in 1988. Roberta also won the National AAU javelin event that same year and was the only woman elected with the first group of athletes to the Pennsylvania Sports Hall of Fame. Heinemann was joined by Ranck, now Bonniwell, and they trained women for both the 1936 and 1948 Olympics held in Berlin and London, respectively. Some of the best gymnasts selected for the team in 1936 could not go because they could not afford to pay their own expenses. Remember that the Olympics were designed for amateur athletes; i.e., there could be no sponsors or contributors for travel or other expenses. The Berlin Olympics was the first time women's gymnastics was performed at the Games. Later, some declared that their parents objected to their daughters performing in front of Hitler. Clara Schroth and Marion Barone, Heinemann coached women, were again prominent in the 1948 Olympic Gymnastics competition helping the U.S. women to score Team Bronze. Roberta attended the London games as chaperone and team leader. Throughout the '30's and '40's, Heinemann's girls were outstanding performers and prominent in the gymnastics world.
Sources: Basic information courtesy of Jerry Wright, author of Who's Who in Gymnastics, 2005, a family letter written by Margaret R. Eppihimer, Roberta Ranck's cousin, and A. Bruce Frederick, author of Roots, 3rd Ed. Introduction, commentary, and formatting by Dr. Larry Banner, Web Manager.