MOCEANU, Dominique
Inducted Individually: 2010
Inducted:  1998 Member of 1996 Olympic Gold medal team.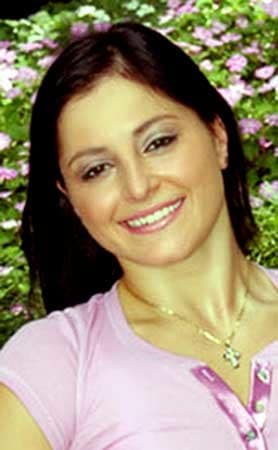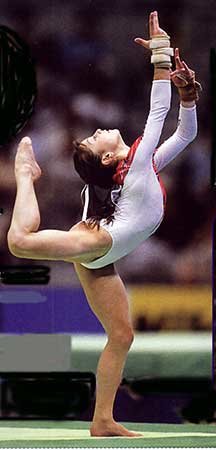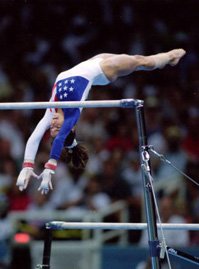 Youngest female or male gymnast (13 1/2) to win a National Championship, AA (1995-U.S. Senior Nationals) and  probably the youngest ever (11) to win an international Gold Medal  which she accomplished at the Jr. Pan American Games-1992).
Olympic Games: Gold-Team, Atlanta, GA, (1996); Junior National Championships: Silver-BB, (1992); Gold-AA, Vault, FX; Bronze-UB, BB, Nashville, Tennessee, (1994). Senior National Championships: Gold-AA. At age 13, Dominique was youngest and may continue to be the youngest to win gold at this competition level, New Orleans, LA, (1995), also Silver-FX and Bronze-V;  Bronze-AA- Knoxville, Tn (1996); Gold-V, BB, Silver-FX; -Bronze-AA, FX, Indianapolis, Indiana (1998);  Jr. Pan American Championships: Gold-V, UB, FX, Team, Silver-AA- Sao Paulo, Brazil, (1992); Youngest ever to win Gold  (age 11) at Jr. Pan Am Games; Goodwill Games: Gold Medal-AA, Dominique was the 1st Non-Russian woman to win AA since its Genesis, Long Island, NY, (1998).   World Championships: Silver-BB, Bronze-Team, & 5th in AA-Highest American AA score & again, the youngest & only American to win an individual medal, Sabae, Japan, (1995); Team member, Lausanne, Switzerland, (1997).  Reese's International Cup:  Gold-UB, Bronze-BB, Portland, OR (1995); Visa International Challenge: Gold-AA, Team, FX, Silver-UB, Bronze-V, BB, (1995),  Fairfax, VA. Education: Moceanu graduated in May 2009 with a business management degree from John Carroll University in Cleveland, Ohio. General: While studying for her degree, Dominique also directed gymnastics clinics and traveled across the U.S.A. presenting motivational seminars in the worlds of business, industry, and government. Coaches: Mary Lee Tracy, Lumereanita Miscenco, Bela and Marti Karoli. Family: The daughter of two athletic Romanian immigrant parents Dumitru and Camelia, she has has one sister, Christina.   Dominique is now the wife of Dr. Michael Canales and the mother of two, Carmen Noel (born on Christmas day) and Vincent Michael.
Sources: Moceanu's personal questionnaire and resume. Dominique Moceanu's Official Website: . Some data obtained through Wikipedia.   Introduction, commentary, and formatting by Larry Banner, Web Manager.  Photos collected from Public Sources (Google), Additional research by 2008-2010 Web Master Jerry Wright, Author of Gymnastics Who's Who-2010.