Inducted: 1994 Born: February 26, 1946, L.A., California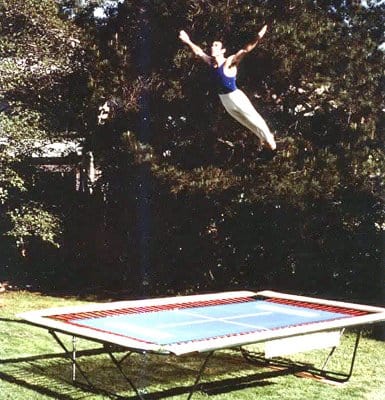 Dan Millman's athletic training began at nine years of age in modern dance.  He went on to study numerous martial arts, earning a black belt in Aikido. His early physical and mental training was probably a factor in his amazing recovery from a major injury suffered in a motorcycle accident. The injury would have been athletic career ending for many, but Dan came back to his beloved gymnastics and trampoline when others may have faltered.
At 17, Dan won the United States Gymnastics Federation (USGF) Trampoline Championship and competed in gymnastics at John Marshall High School in Los Angeles. While a freshman at U.C. Berkeley, Dan won gold at the first World Trampoline Championship, London, England, (1964); The same year, he won three All-American titles, including national titles in FX and V. He found gold again winning the compulsory and optional exercises in FX and the compulsory and optional excercises in the Vault at the Maccabiah Games, Israel, (1965). In 1968, Dan was recovered from his injury and co-captained the Bears to an NCAA Championship. You may view Dan's championship form on the trampoline by clicking on . Maccabiah Games: Compulsory Exercises: Gold-FX & V; Optional Exercises: FX & V, (1965). Honors/Awards: Dan Millman was a nominee for the Nissen Award; Senior Athlete of the Year; Gimbel Student-Athlete of the Year; Inducted into the UC Berkeley Athletic Hall of Fame and the USA Gymnastics Hall of Fame. Coaching: In 1968, Dan was appointed Director of Gymnastics at Stanford University. There he coached U.S.  Olympian, Steve Hug, and brought the Stanford team to national prominence. General: In 1972, Dan joined the faculty at Oberlin College. He later traveled around the world, studying principles of various yogas and martial arts and returned home to find his calling as an author and motivational speaker.  His seminars have influenced leaders in the fields of health, psychology, education, business, politics, entertainment, sports, and the arts.  Publications: Dan has written 12 highly acclaimed books published in 29 languages. This writer recommends his best known work, Way of The Peaceful Warrior, soon to become a motion picture released worldwide starring Nick Nolte, The Life You Were born to Live, Everyday Enlightenment, and his latest The Journey of Socrates. You may view the complete list at . You may also receive his newsletter at . Family: m. Joy. Three children. Two grandchildren.
Source: Dan Millman's personal communications and resume. Editing courtesy of Abie Grossfeld. Introduction, Commentary, & Formatting by Larry Banner, Web Manager.