RUSSELL, Ernestine
Inducted: 1986
Born: Windsor, Ontario-Canada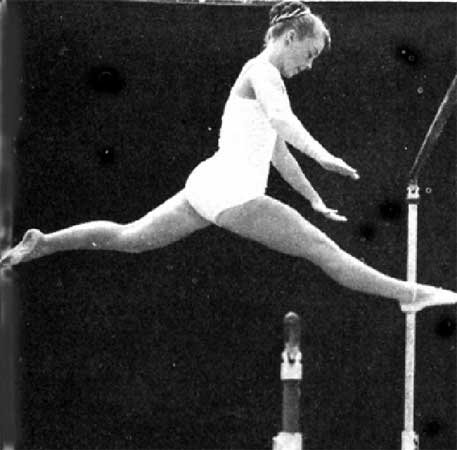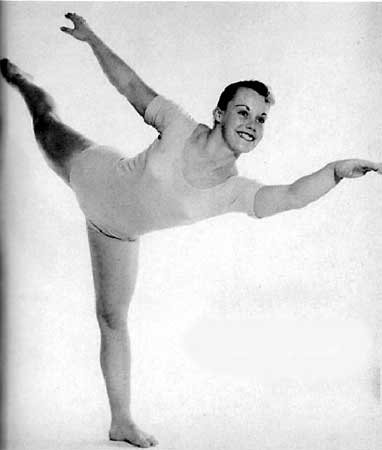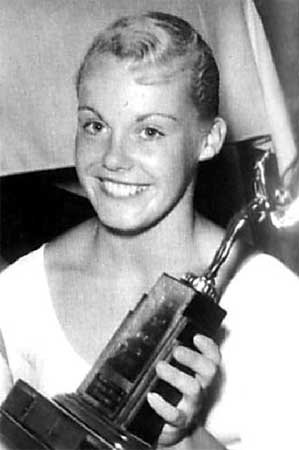 Ernestine Russell is one of the most successful gymnasts and coaches in the annals of gymnastic history. In addition, even though it has been many years since I watched her perform and was able to meet her in Moscow and later in Rome, I have never forgotten the outstanding artistry of Ernie's gymnastics. Even though she competed as a single- person team for Canada in Moscow and had only one Canadian teammate in Rome, she gave the Soviet Block teams a real run to the finish line. Her performances on BB and FX were dazzling and left the audiences breathless with her beauty of movement; however, Ernestine relates that she is most proud of her part in helping to develop the South East Conference (SEC) gymnastics programs into what they are today.  She told me about an article written about a year ago (2006) in the Salt Lake Tribune.  In the article, coaches Marsden (Utah State), Yoclun (Georgia), and Patterson (Alabama) credited her with teaching them how to sell our sport and get people into the gyms for competitions.  Ernestine would like to be remembered for her efforts in helping to develop the (SEC) above all else. When Russell retired from competition and took up coaching, the U.S. was fortunate that she elected to help our gymnasts and teams develop and improve. Her contributions to U.S. gymnastics were almost too numerous to list. It is with pleasure that I am able to write this introduction to Ms. Russell's gymnastics and coaching. And, you know, she's still the same person, modest, unassuming, and a very charming woman. Some good things never change. What a blessing!
Start By Looking Back: Lo and behold! Ernestine Russell was in the walls, and it was she who was talking. The TV program, If Walls Could Talk, has always fascinated Ernestine, and she watches it faithfully. Recently, she received a letter from a Canadian Constable. He and his wife redo old houses and found a 50 year-old newspaper article about Ernestine. Naturally, the article focused on Russell's Canadian sports exploits as the Canadian gymnastic champion. It was being used as shelf covering in an old kitchen. The constable couldn't resist sending her the article, respectfully requesting that it be autographed and returned. Ernestine relates that she " . . . felt like I was old enough to be on If Walls Could Talk." Looks like walls do talk and at least once sounded just like Ernestine Russell. To The Future: An article in the Walkerville Times written by Shelley Divinich Haggert and found in their archives states that "Ernestine (Ernie) Russell, grew up at the ballet bar. Her mother, an examiner for Britain's Royal Academy, was in charge of her dance training. The problem was, Ernie did not have the body of a ballerina.  A neighbor, former M.P.P. Bernie Newman, and a teacher at W.D. Lowe, had formed the Vocational Boy's gymnastics team. Newman suggested that the frustrated ballerina try the trampoline. According to Ernie, 'I got on, and I never got off.'" Canadian Championships: Gold-AA, (1954-1960). Ernestine Russell was the Canadian Champion for at least seven years running and, in the process, won approximately 19 or 20 event titles. The middle 50's through at least the early '60's belonged to Ernestine with championship after championship. During this time, she was Canada's best. It was the Russell gymnastics era in Canada. Olympic Games: Russell was Team Canada's single competing member while only in high school, Melbourne, Australia, (1956). This was the first time Canada had a woman gymnast in the Olympics. In contrast to the Soviet and East Block teams, Ernestine felt ill prepared for the Melbourne Olympics. She remembers, "We didn't even have a pianist for the floor routine." The Czechoslovakian pianist volunteered and accompanied Ernie with music provided just minutes before her FX routine, but there was no time to rehearse together. Ernie was also one of two Canadian team members, Rome, Italy, (1960). World Championships: Member-Team Canada, Moscow, USSR, (1958). Pan American Games: Competing for Canada, Ernestine won Gold-AA, UB, FX [T], BB, & V; Silver-Team, (1959). AAU National Championships: Gold-FX, Silver-AA, Bronze-UB, (1954); Gold-AA, FX, BB, V, & UB, (1955). It is possible that Ernestine Russell's clean sweep was the first time it had been accomplished in a U.S. national championship. Joyce Tanac-Schroeder, 1990 GHOF Inductee, (See bio. this site), was probably the 2nd woman gymnast to duplicate this amazing feat; Silver-V, Bronze-UB, (1956); Gold-AA & V, Silver-BB & FX, & Bronze-UB, (1959); Education: Graduated from Kennedy High School, (1956) and earned her B.S. in Physical Education at Michigan State University, (1960). She then began teaching high school classes. Coaching: After five years of teaching high school and coaching the cheerleading team, Russell received a call from Biggie Munn to develop and coach a Women's Gymnastics Club team at Michigan State. In 1969, after four or five years at Michigan St., Russell received a call from Don Leas who was the Physical Education Department Chairperson and diving coach at Clarion State College, now Clarion University. Shortly thereafter, Ernie went to Clarion from Michigan State, and she coached the women gymnasts at Clarion for 10 years.  Her teams went 58 for 58. Her women's teams were never beaten in dual meets. That is probably a record that will stand for a long time. Her Clarion teams won the Association for Intercollegiate Athletics for Women (AIAW), (1977 & '78). In 1979, She went to the U. of Florida where her gymnastic teams posted a 185-48 won/loss record in dual meets and made 11 consecutive NCAA Championship appearances between 1979 and 1992. During her time as Head Woman's Gymnastic Coach at UF, only Florida and Utah qualified for every NCAA championship between 1982 and 1992 when the NCAA began sanctioning women's championship events. In her 23-year career as a collegiate Women's Head Gymnastics Coach, Ernestine Russell's teams amassed 243 wins against 48 losses in dual meets. Florida won the final AIAW championship, (1982). Under Russell, the U. of Florida claimed five SEC titles. Ernestine eventually took a position at Utah State University, but she has recently, 2007, retired. She says, "Perhaps I will go back to the gym, but for now, it's time for a break." Coaching Honors: Russell was selected to be the Assistant Women's Gymnastic Team Coach for the U.S. Olympic Team, Montreal, Canada, (1980); Selected to be the Head Women's Gymnastic Coach of the U.S. World Championship team, Strasbourg, France, (1978); Selected to be the Head Women's Gymnastic Coach of the U.S. 1980 U.S. Olympic Team. This team did not go to Moscow, now ironically, due to Soviet aggression in Afghanistan; Participated as Head Coach at the World University Games, (1977 & '85). Honors: Ernestine was named Canada's Outstanding Amateur Athlete, (1953-'54); Named AIAW National Coach of the Year, (1982); Earned Coach of the Year Honors, (1989 & '92). Family: (s). Children: Kelly Anne who works at the U. of Florida Shands teaching hospital as a financial analyst and a "go-to" person. Grandchild: Michael.
Sources: Interview with Ms. Russell with additional information courteously shared by Jerry Wright, author of Gymnastics Who's Who, 2005. Jerry also supplied the photos of Ms. Russell. Extensive information was found in an archived article by Shelley Divinich Haggert located at *, and we suggest you browse this site for additional information about Ernestine Russell's life and times. Introduction, commentary, and formatting by Dr. Larry Banner, Web Manager.