SIMMS, Charlie (1928-2003)
Inducted:  1989 Born: Los Angeles, CA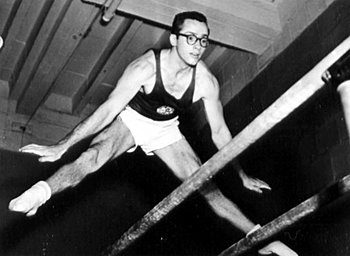 "Charlie Simms was a good friend and mentor.  He taught me most of what I learned on the HB and I copied his HB mount using it for my entire career. He helped me with the expenses of school and hired me during the summer after he left teaching for the world of business. After his retirement, we spoke via telephone on several occasions over the years. He was a champion, one of my idols as I progressed in the gym, and a man of conviction and resolve.  I am proud to have been his teammate with the L.A. Turners." Larry Banner, 1993 U.S. Gymnastic Hall of Fame Honoree.
Olympic Games: Team member, Helsinki, Finland, (1952); Team member, Melbourne, Australia, (1956). National AAU Championships: Gold-Team, Los Angeles Turners, (1954, '57, '58, & '59,); Gold-HB with a perfect 10.0 Optional Exercise, (1953); Gold-AA & V, (1954). World Championships: Team member, Rome, Italy, (1954). Only Charlie Simms and Jack Beckner represented the U.S. at these championships, and it was the first time the U.S. was represented at this prestigious competition.  Charlie was in the U.S. Navy stationed at the San Francisco Bay Treasure Island Naval Station, (1947-49) and during or before the 1954 World Championships was either completing his education credential requirements at USC or had begun teaching. Jack had been drafted and was stationed in Germany where he had the opportunity to train in his spare time at a German Club in Stuttgart. Colonel Hull in the Army Adj. General Office was sports liaison with the NAAU. He arranged with the NAAU Gymnastics Chairperson, Roy Moore, to enter two gymnasts in the competition. The U.S. Army provided round-trip space available flights for Charlie. Charlie joined Jack in Germany where the two put on troop entertainment with exhibitions sponsored by the Army's Special Services section. In turn, the AAU supported the program by providing travel as well as room and board for the two gymnasts from Germany to Rome. NCAA Championships: Gold-HB, (1952). General: Charlie Simms graduated from the University of Southern California and shortly thereafter began teaching journalism at Beverly Hills High School in the high rent district of Los Angeles.  It wasn't long before he entered the world of business teaming with a friend in an audio record distribution and sales business. He continued to judge local college, AAU, and NCAA meets as well as provide some editing services for Glenn Sundby's Modern Gymnast. In early 2003, some of the members of the L.A. Turners National Championship teams of the 50's and 60's met for an impromptu lunch, among them Charlie Simms.  It was a bittersweet "Good-bye" since we knew he was seriously ill. And he received thanks for the HB mount from Larry Banner who never performed it as well as Charlie.
Sources: Personal experience as Charlie Simms' teammate, several interviews with Charlie before he passed, interview with Jack Beckner, AAU and NCAA records, and information provided courtesy of Jerry Wright author of Gymnastics Who's Who, 2005. Introduction, commentary, and formatting by Larry Banner, Web Manager.