PRICE, Hartley  (1902-1977)
Inducted: 1959 Original class of Honorees
Born: Queensland, Brisbane, Australia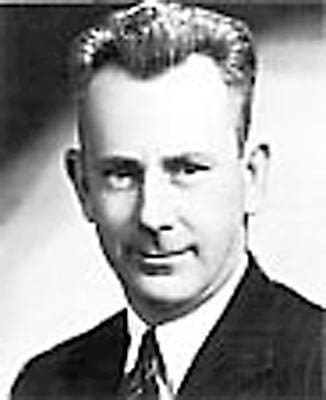 Dr. Hartley Price has been described as a coach who refused to lose.  A former Australian educator, Hartley became Head Gymnastics Coach at the U. of Illinois and turned the program into a national power.  He was a very positive man with a charisma that almost lured me to Florida State in 1956 to team with Jack Miles, et al., nationally ranked leaders on the gymnastic floor. Only my short commute to UCLA and local gymnastic Olympian friends prevented me from accepting Dr. Price's offer.
NCAA Championships: Gold-Team, Illinois University, (1939, '40, '41, & '42), & Florida State University, (1951 & 1952). Big Ten Championships: Gold-Team four times in Price's 18 years at Illinois U. His teams compiled an 86-31 (.735) record.  In one 10 year period he produced 16 NCAA event champions and overall a total of 33 Big Ten event champions.  Dr. Price retired from the University of Illinois and moved to Florida; however retirement was not in the cards at that point. He started a men's gymnastic program from scratch at Florida State U. and between 1948 and 1971, his teams captured the aforementioned two additional NCAA Team Championships. During his long and distinguished NCAA coaching at two Division I universities, he mentored numerous NCAA and AAU event champions including Paul Fina, Bill Roetzheim, John "Jack" Miles, Joe Giallombardo, Jay Ashmore, and Don Holder.  AAU Championships: His Florida State U. Teams also were reportedly five times National AAU Team Champions or placed in the top three places. On record are: Gold-1951, 1953*, & 1955*; Bronze-1954*. Honors: Hartley chaired the National Association of College Gymnastics Coaches (NACGC) for many years and was the recipient of two NACGC Special Service Awards, (1969 & 1977). He was only the second recipient of the NACGC Honor Coach Award given only to coaches that coached 25 years or more, (1955). Of special note is that if the standards or rules governing the awarding of the NCAA National Coach of the Year were the same then as now, Hartley Price would have been the NCAA Coach of the Year five additional years, (1939, '40, '42, '51, & '52). General: It has been written and many agree that Hartley Price was a coach ahead of his time. He initiated the very successful Gymkana program that allowed gymnasts the opportunity to do shows or exhibitions thus giving them performance incentives and experiences before audiences, a large edge when the lights dimmed at an NCAA, AAU, Olympic, or World Championship event. Price also started and developed the Tallahassee Tumbling Tots (TTT) program for young children. This program led to the discovery and rise of Olympians Carrie Englert Zimmerman, (Munich, Germany, 1976) and Ron Galimore, (Moscow, USSR, 1980).  It appears to this writer that if you refuse to lose, you're going to have to put a good deal of successful time and effort into winning.  He was obviously willing, able, and skilled enough to do just that.  Hats off to a man I met on many occasions but never really knew until herein writing why he is counted among the original Gymnastics Hall of Fame Honorees.
*Competed under the banner of the Florida State Gymkana.
Sources: Photos and text courtesy of Jerry Wright author of Gymnastics Who's Who, 2005, for NCAA results, , for some results. Additional information, and editing provided by A. Bruce Frederick author of Who's Who and Was Who in American Gymnastics, Jerry Wright author of Gymnastics Who's Who, 2005, and the courtesy of editing by Abie Grossfeld, 1979 HOF Honoree and Bruce Davis. Introduction, commentary, and formatting by Larry Banner, Web Manager.