UMPHREY, Chainey
Inducted: 2005 Born: Albuquerque, NM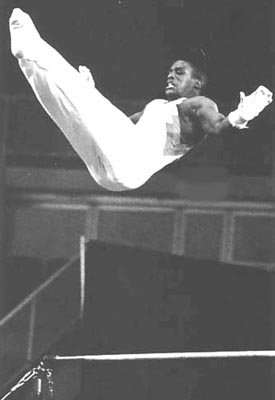 Chainey Umphrey is a study in perseverance, and it led to a goal obviously very important to Chaney be an Olympic gymnast! He overcame so many obstacles that some might have called his efforts a problem with preseveration, but they were flat-tail wrong. It seemed to start when he suffered what is often a career ending injury with a dislocated and broken foot. This forced him to significantly alter his training the year before the '92 Olympic Trials; however, he was able to just let it go when he just missed the '92 Olympic Gymnastic Team by a scant .08 of a point. Time to quit? No way! Just put off med school for a while, overcome persistent migraine headaches and vertigo, train for the '94 trials, dislocate the middle finger warming up on the PB during the '94 trials, pop it back together, and complete all six events with high enough scores to go to Atlanta wearing a USA team uniform. Chainey is "The Man" along with at least one other, Ron Barak, to deserve that title in this writer's book.
Olympic Games: Team member, Atlanta, GA, (1996). World Gymnastic Championships: Team member [A], Stuttgart, Germany, (1989); Team member, Moscow, USSR, (1981); Team member, Brisbane, Australia-Individual competition finalist-4th on HB, Dortmund, Germany, Team competition, (1994); Team member & individual finalist, San Juan, Puerto Rico, (1996).  USA Gymnastics' Hall of Fame Induction and Awards Ceremony program biography indicates that Chainey's training began early and he made his first national team at age 13. USAG National Championships: Gold-PB, competing for UCLA and coached by HOF Inductee, Coach Art Shurlock, (1993). Honors: Named the "Most Impressive performance on the HB at the Goodwill Games, (1994); Featured in a Sports Illustrated article "Faces in the Crowd"; Earned the Hilton Bounce-Back Award for his miraculous recovery from what would be a career ending ankle injury. General: At UCLA, Chainey majored in Physiological Science and competed as a team member and later Captain of the gymnastic team. He completed UCLA Medical School in 2003 and matriculated to the University of Colorado where he completed two years of Orthopedic Surgery training. He has now completed his residency in Physical medicine and Rehabilitation at Stanford University, and the USAG 2005 HOF Induction and Awards Program indicates he plans to    " . . . pursue a career in sports medicine."  Family: (m) Christina.
Sources: USAG 2003-2004 Media Guide, 2005 Hall of Fame Induction and Awards Ceremony Program, interviews with retired UCLA Head Coach, Art Shurlock, 1985 HOF Inductee, personnel at the Stanford Sports Medicine Department, Bruce Davis, author of numerous reports and articles in the gymnastic area, Jerry Wright, author of Who's Who in Gymnastics, 2005, , and . Introduction, commentary, and formatting by Dr. Larry Banner, Web Manager.