LOMADY, Clara Schroth
Inducted 1974, Original Class of Women Honorees Born: 1920, Philadelphia, PA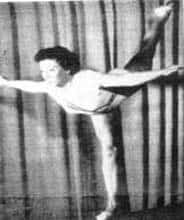 Affectionately known as the "Queen of the Beam," She amassed a total of 39 National AAU titles before her retirement in 1952, a record that may have never be broken. Clara was also a track star.
Olympic Games: Bronze-Team, London, England, (1948) & Helsinki, Finland, (1952); Note: 1948 teammate, Schifano Sjursen posted the 2nd best score on the vault, but only the team event was contested. AAU National Championships:  Gold-AA, (1944,'46, '49, '51, & '52); Gold-V, (1944, '45, '48, '49, '51, & '52); Gold-BB, (1941-'51) 11 consecutive years; and Silver, (1952); Gold-UB, (1946, '49, '50, & '52); Gold-FX, (1944, '45', '46, '48, '50, '51, & ''52); Gold-FR, (1946, '48, '49, '50, & '51). Clara won five titles three times, (1946, '49, '51) and four titles an amazing five times, (1944, '45, '48, '50, & '52). Her talents took her to four or more national titles an astounding eight different years. These amazing accomplishments remain records for national titles to this date although Doris Fuchs-Brause may be found to be Lomady's competition in national championship medals.  In addition, she took a leave from gymnastics to give birth and returned to continue attracting national gold medals.   Honors: Considered a "Gymnastic Centurion" by A. Bruce Fredereck who defines the title as " . . . those who command our attention." Lomady's last competition was in 1954 winning the National Turner AA title after the birth of her first child.  Not well known is the fact that Lomady won the national AAU standing broad jump title in 1945 thus joining the ranks of her coach, Roberta Ranck Bonniwell who was our first national AA champion and the first woman to capture a national AAU javelin title.
Sources: Courtesy of A. Bruce Fredrick, author of Who's Who and Was Who in American Gymnastics and the private archives of Abie Grossfeld, 1979 HOF Honoree. Introduction, commentary, and formatting by Larry Banner, Web Manager.