LENZ-Caruccio, Consetta "Connie" (1918-1980)
Inducted: 1976
Born: Allegany, New York-USA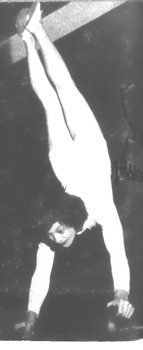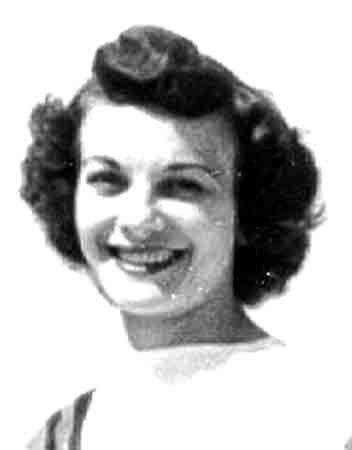 Connie Lenz was one of the rare amateur athletes to continue competing with at least a 12-year hiatus between competing in national and international competitions.  Except in 1941 when she won bronze in the National Turners Apparatus and Silver in the Heptathlon (an athletic contest for women comprising seven different track-and-field events won by the athlete amassing the highest total score), there appears to be no record of her competing nationally or internationally in gymnastics between 1940 and 1947.  She was busy raising her two daughters. Such a long training period without the lure of national or international competition and the pride that goes with representing the United States is a most difficult task, mentally and physically, but she came back when she made the U.S. Women's Olympic team in 1948.  Way to go, girl!
Getting Started: In 1918, Connie Lenz moved to Baltimore with her family. She was nine years old and introduced to gymnastics by Elvina Liebman and Joseph Mueller, her teachers (coaches) at School 47 at Eastern and Linwood Avenues. As reported in an interview in Turner Topics, Lenz stated "I never knew what a parallel bar or a flying ring was until my junior high school days in Baltimore." Coach Muller convinced young Consetta, then 14, to join the Germania Turnverein, an athletic organization founded in Baltimore in 1849. In 1961, the organization was and is probably still now called the Baltimore Turners. Olympic Games: Team member, Berlin, Germany, (1936); With the cancellation of the 1940 and 1944 Games, Connie was named Honorary Team 1940 and 1944 Olympic Team member by the National Collegiate Gymnastics Alumni Association (NCGAA) consulting with previous Hall of Fame Honorees and past Olympians. In Berlin, she carried the American flag into the opening ceremonies. Bronze-Team, London, England, (1948). Connie qualified for this Olympic Team at the Final Trials held at Temple University. In her last Olympic appearance, she server as a chaperon for the Women's Olympic Team, Helsinki, Finland, (1952). National AAU Championships: Gold-AA & FX, (1933); Gold-AA & PB, (1934); Gold-FX, (1935); Gold-FX & FR, (1937); Gold-V, (1938). Service: Connie served on the U.S. Women's Olympic Committee, (1952-'60).  General: Connie represented the Germania TurnVerein of Baltimore, MD. She has to rank as one of the nation's premier athletes of the time considering her many national medals and a gold medal in her second sports event, the Heptathlon. For a time, she held a national record for running the 50 yd. Dash (an event no longer contested in Olympic competition) in 6.3 seconds. She was also considered a fine tap dancer. By age 17, Connie had trained intensively for five years and was described in the newspapers of the day as "The Dundalk lassie." By the late '50's, Consetta Caruccio, the daughter of Italian immigrants was considered one of if not the best female athlete ever to come out of Baltimore.
Sources: NCGAA Newsletter, April 2002. Photos and information were shared through the courtesy of Jerry Wright author of Gymnastics Who's Who, 2005. Credit with providing information via their extensive archives of Turner athletes both deceased and living. Introduction, commentary, and formatting by Larry Banner, Web Manager.