YOUNG, Wayne R.
Inducted: 2008

Unlike most gymnasts who start perfecting their routines at a very early age, Wayne Young didn't have that opportunity until going to BYU as a freshman from Provo High School. Provo schools did not have gymnastics programs, so Young went to the swimming pools and became an All-Region and All-State diver.
Education
Wayne Young received a bachelor's degree from BYU in 1975, a master's degree in bio-mechanics from Penn State in 1977 and a medical degree from the University of Utah in 1991. He is a doctor in obstetrics and gynecology for Intermountain Healthcare. Young, lives in Pleasant Grove, Utah.
Olympic Games
Wayne Young was the captain of the U.S. Men's Gymnastic Team at the 1976 Olympic Games placing 12th in the all-around. Young was the U.S. team's leading scorer in the meet.
World Championships: Tean member, Belgrade, Yugoslavia, (1974).
International Competitions: Young had been recognized as the top amateur gymnast in the United States since the fall of 1974, when he qualified for the number-one spot on the U.S. Gymnastics Team. He represented the United States in international competition in Canada and South Africa.
Collegiate Career
When he came to BYU, he wanted to compete in the all-around category but had to work hard for a couple of years before he could convince the coach of his ability. By December 1974, however, he was featured on the cover of Gymnast magazine, with the headline, "Wayne Young-USA's Best."
By the time he graduated, he had garnered six WAC titles and been named BYU's first All-American in gymnastics. When, as a junior, he started competing for the team in the all-around, he was the first Utahn ever found to be versatile enough to hold down that demanding position on a BYU team. That year he won the WAC crown and came in third in the NCAA.
He also competed for the U.S. in the World Games in Bulgaria, taking first in the U.S. trials, and leading the other Americans at the Games. The only representative of the U.S. at the Canadian Milk Cup All-Star Championships, Young took 4th.
Wayne Young crowned his outstanding collegiate career by winning the NCAA all-around championship on April 4, 1975, at Indiana State University, the first athlete from the Western Athletic Conference (which has since been disbanded) to win the title. Overall Young captured the following honors at the collegiate level:
NCAA Championships: Silver-AA, 5th V, (1974). Gold-AA, 4th SR, PB, & HB, (1975).
Coaching
Young coached men's gymnastics at BYU from 1979-87 and at Odessa Junior College from 1977-79. In 1979, his second year of coaching at Odessa College in Texas, Young guided his team to the NJCAA championship berth. as well. He also became chairman of the NCAA Gymnastics Committee in 1983.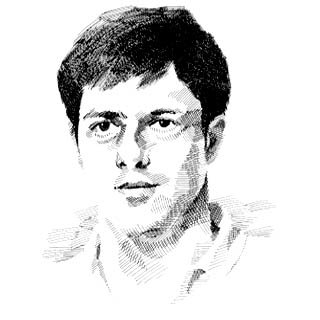 Honors
Named NJCAA Coach of the Year, (1979). Mr. Young (1986) and his son Guard (2010) also share a very unique honor in that both have been inducted into the Brigham Young University Sports Hall of Fame. Family: Wife-Carole; son, Guard (who was a member of the 2004 U.S. Olympic Team that won the silver medal) and 6 other children (5 daughters and another son).
Sources: Data and SR photo retrieved from Brigham Young University archives. Data and mug photo collected from public sources by 2008-2010 Web Manager Jerry Wright, author of Gymnastics Who's Who-2010. Editing by Dr. Larry Banner, 1993 GHOF Inductee & 1894-2007, Web Manager.