KEENEY, Charles J.  "Chuck"  (1912-1996)
Inducted: 1975 Born: Los Angeles, California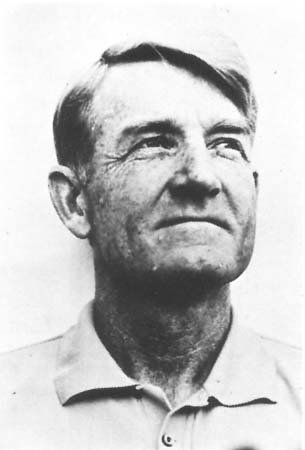 After a very close win by UCLA over UC in a gymnastics dual meet in 1957, the opposing coach, Chuck Keeney asked me if we could have a " . . . few words for a minute or two". We stepped aside, sat on the bleachers, and he said, "Son, all you need to do is improve your HB and FX routines, and you'll be an Olympian. I just wish I could have been your coach. Believe me when I tell you that there is an aura about the way you perform that could be shaped to become world class on any or all of the events." It was the most praise and encouragement I had ever received, and I knew of his reputation as a great coach and was truly humbled.  But the truth of it is that there was an aura or charisma about him that just permeated my soul, and I began to believe. In 1960, I sent him an Olympic Team photo postcard from the Rome Olympics. I reminded him of our talk and the significance of his influencing remarks and thanked him profusely. There must be hundreds who were influenced by Keeney to progress beyond their wildest dreams, and there remain today others who are following in his footsteps. He was a great man.
Getting Started: Chuck Keeney began his lifetime in gymnastics at the San Diego YMCA and San Diego High School. His specialty was tumbling. However, it is fair to write that he participated in other events as well as judging all of the events by the way he was able to coach all of the men's gymnastics events with equal knowledge and success. Pacific Association AAU Championships: Gold-TU, (1933, '34, & '35). West Coast AAU Championships: Gold-TU, (1933, '34, & '35). National AAU Championships: Bronze-TU, (1934); Gold-TU, (1935). World Champion: The unofficial title of "World Champion Tumbler of 1935" was officially awarded to Chuck Keeney by the U.S. Tumbling and Trampoline Association in a ceremony at an international competition, Columbus, OH, (1985). This award was made       " . . . on the basis of historical fact that the U.S. tumblers were widely recognized in 1935 as being well ahead of those from any and all other countries." With a maximum of three entries, U.S. tumblers had taken the first three places in the tumbling event in the 1932 Olympics by a wide margin. Coaching: By January 1933, Keeney was enrolled in a program in physical education at the University of California-Berkeley. He was soon appointed part-time at the starting level of the supervisor of physical education title-series.  This appointment was the start of his 37 years teaching tumbling, apparatus, trampoline, swimming, diving, volleyball, track and field and other sports. Chuck's exemplary teaching skills may have exceeded his athletic triumphs.  As one colleague said of him: "Chuck was a master teacher. He was so effective, analytical, and concise that literally anyone could understand and perform the tasks he chose. I marveled at his abilities to teach so effectively." By 1936, with his own National Amateur Athletic Union tumbling championship in hand, he became a full-time member of the UC Physical Education Department, teaching classes 24 hours a week, acting as assistant gymnastics coach (without salary), and providing other services to the University. The following year, he assumed, again without salary, full responsibility for the gymnastics team. At the time, throughout the United States, the sport of gymnastics was struggling to gain recognition; and it is widely agreed that Chuck did a great deal to advance its cause. During the "Keeney Era" from 1937 to 1957, he produced one Pacific Coast Conference (PCC & now the PAC 10) team champion, 23 PCC Event Champions, 3 National Champions, and assisted coaching such greats as Dan Millman, a World Trampoline Champion, Sid Freudenstein, and Art Shurlock who became Olympic gymnasts. In 1957, Keeney turned over his coaching duties to his friend and colleague, Harold Frey, GHOF Honoree, 1970, who remembers him as   " . . . a highly principled, committed individuala true leader who affected so many people's lives." Chuck then concentrated on teaching and administrative functions such as assisting with fund raising for the men's team until he retired in 1995. Honors: Chuck received the "Distinguished Teaching Award, (1972).  He was awarded the "Big C", (1936). For his many contributions, he was inducted into the Citizens Savings Athletic Foundation's (CSAF) National Hall of Fame, (1975), the University of California Athletic Hall of Fame, the Helms Hall of Fame, and the United States Trampoline and Tumbling Association's National Hall of Fame (1980). The National Association of College Gymnastics Coaches honored him by selecting him to receive their "Honor Coach Award", (1974). This award is given annually to a member-coach of twenty-five years or more who has gained the admiration of his coaching associates. It reads, "In recognition of his service in coaching and developing gymnastics for over twenty-five years, Chuck Keeney has gained the respect of his associates in the gymnastics world by his inspiring example and accomplishments." Service:  Keeney served as chair of the Gymnastics Rules Committee of the NCAA and as President of the National College Gymnastics Coaches Association. Military Service: From 1942 to 1946, Chuck served as a commissioned officer at Navy Aviation Pre-Flight Schools, and he co-authored the U.S. Naval Institute's widely used V-Five manual, Gymnastics and Tumbling, (1943). He even authored a diving book, "Beginners Manual of Springboard Diving" All in all, Keeney authored six books, several of which were focused on sports activities other than gymnastics; e.g., Scientific Approach to International Volleyball, (1972).   Following retirement in 1973, he continued for many years to serve as a part-time volunteer coach for the University of California Men's Gymnastic Team. Hal Frey writes, "He was a man of all ages. He was a friend to young and old.  He could relate to all. He lived through the depression years and then survived World War II. They were difficult years, and it simply helped to shape him and make him stronger. He had strong personal ideals and fine moral standards. He was motivated to succeed, and he had a wonderful career and life. The current team members were accustomed to having him in the gym to visit every day, and he was a part of their practice day. They miss his presence, his encouragement, and eternal smile. He will not be forgotten. He was a good athlete, a wonderful teacher, and a great man."
Sources:  Major portions of Keeney's athletic biography were graciously provided by Jerry Wright, author of Gymnastic Who's Who, 2005, , and Hal Frey, current UC Gymnastic Coach. Introduction, commentary, & formatting by Dr. Larry Banner, Web Manager.