METHENY-Mulvihill, Linda Jo
Inducted: 1985 Born: Pensacola, Florida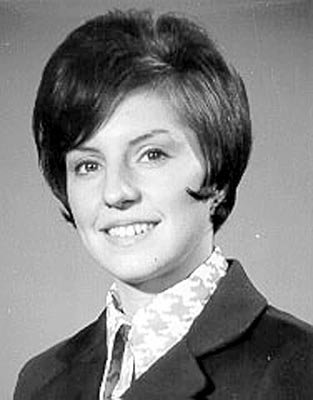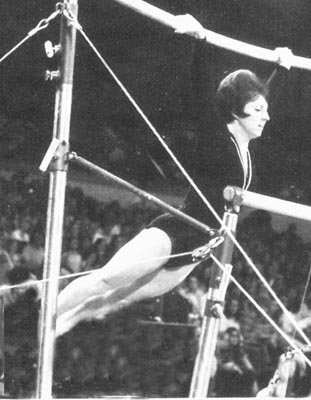 Linda Metheny considers that her most important contribution to women's gymnastics was her 1968 BB performance that made her the first American to compete in the finals. She finished fourth. I suspect that she's correct about the importance of her placing in the top four on BB and agree that numerous young women were inspired by her success. However, since that overcast day in Mexico City when the sun broke through the gym roof and spotlighted Linda, she has committed her life's work to helping numerous women gymnasts prepare to win in the finals. I would suggest that at her finest competitive hour, Linda was correct about its influence, but today, it's possible she's had even more influence with the ladies of gymnastics because of her long term commitment to helping them realize their potential for acquiring gold.
Getting Started: Metheny began gymnastic competition in 1962, and two years later, she became a USA Olympic gymnast and, I am proud to write, a teammate of mine. She trained and competed for the University of Illinois at a time when, according to Muriel Grossfeld, "Women couldn't even get into some gyms." Linda found her own coach, traveled to competitions by her own means and practiced in borrowed gym space. The University of Illinois Alumni Association reports that "Linda Metheny-Mulvihill knows first-hand the benefits NCAA Division I scholarship athletes receive she has coached more than a few top-notch gymnasts at her Gymnastic Academy in Springfield, Oregon." She and her former coach, Richard "Dick" Mulvihill, 1984 U.S. GHOF Inductee, were married in 1973 and operate the Academy together.Olympic Games: Team member, Tokyo, Japan, (1964); Team member and first American woman ever to qualify for the finals by placing 4th on BB. She showed future generations of women gymnasts, training hard, that they did have a chance against the highly professional Eastern Bloc and Soviet teams, Mexico City, Mexico, (1968); Team member, Munich, Germany, (1972). This U.S. women's team placed 4th, just missing the Bronze medal in the team competition; however, Metheny suffered an injury and was unable to compete in the individual finals. Since she had placed 1st-AA in the final team trials, it was especially disappointing for the U.S. to lose their best AA performer. World Championships: Linda was just unlucky with regard to the World Championships. She was injured and chose to serve as the alternate, (1966). Linda placed 1st in the 1971 WC Trials, but again she did not travel or compete due to an injury prior to the team's departure. Pan American Games: Gold-Team, AA, BB, FX, & V; Silver-UB, Mexico City, Mexico, (1967); Gold-Team, FX, AA, UB; Bronze-BB [T], Cali, Columbia where Linda was selected to have the honor of carrying the American Flag for the U.S. Team in the opening ceremonies before 60,000 spectators, (1971). Collegiate National Championships: Gold-BB, (1967); Gold-AA, BB, & FX, (1968 & '69). Linda represented the University of Illinois-Champaign in these competitions. AAU National Championships: Gold-AA, (1966, '68, '70, '71, & '72); Gold-UB, (1967); Gold-BB, (1971); Gold-FX, (1967 & '71). USGF Championships: Gold-AA, BB, & FX, (1971.  General/Honors: After competing in the Tokyo Olympic Games, Linda enrolled at the U. of Illinois as their only female gymnast. She captured seven gold medals in collegiate individual championships; unfortunately, these collegiate championships were not officially recognized since they were not, at the time, sanctioned or sponsored by the NCAA.  Even the U. of Illinois' Varsity Women's Gymnastics Media Guide, sadly, to this day does not recognize her triumphs; however, during "Orange Letter Days" decades later, Linda et al. were granted recognition of their intercollegiate achievements during a ceremony honoring the women who competed prior to the 1974-1975 years. Each of the women received a Varsity "I" letter. "The "I" presentations culminated a weekend of celebration in honor of the "Illinois 3D dreams, desire, and determination program". She was selected as a USGF Gymnast of the Year and USGF Choreographer of the Year. She and her husband, Dick, were named Co-Coaches of the Year. In addition, noted historian, A. Bruce Frederick, named Linda a "Centurion". A Centurion is defined generally as one who " . . . commands our attention." Linda was a National team member for nine consecutive years, and her four National AAU AA titles and one USGF AA, one BB title, and one FX title for a total of seven national titles was amazing and supports the concept that she was ahead of her time on all the events. Overall, Linda Metheny won at least 18 national individual titles. Judge: Linda attained the distinction of rising to the level of international Brevet Judge. Linda judged at the World Cup Finals, Glasgow, Scotland, (2000), and she judged at several World Championships: Dortmund, Germany, (1994), Sabae, Japan, (1995), Debrecen, Hungary, (2002), and Anaheim, USA. She also judged in the Olympic Games, Atlanta, Georgia, USA, (1996) and in Sydney, Australia, (2000). Personal: Linda and her husband combined their coaching talents and have owned and operated the very successful National Academy of Artistic Gymnastics (NAAG) in Eugene, Oregon, USA, since 1973. Together they have produced over 70 U.S. national team members, over a dozen U.S. AA Champions, over 10 Olympians who made the 1976, '80, '84, & '92 teams and numerous World Team members. The NAAG now has over 600 students. Family: (m) Dick Mulvihill. Children: Doni-Jo (Jojo) & David, both of whom work with Linda & Dick at the Academy, and Matthew who is completing college.
Sources: General information courtesy of Jerry Wright, author of Who's Who in Gymnastics, 2005, plus interviews & correspondence with the Mulvihills. Some results courtesy of Abie Grossfeld, 1979 GHOF Inductee, in his nomination letter for Linda to the World Acrobatic Nominating Committee. It is suggested you visit the following web sites that contributed to the information presented: , , and , Introduction, commentary, and formatting by Dr. Larry Banner, Web Manager.