BOOTH, Shenea & DAVIS, Arthur
Inducted as a Team: 2009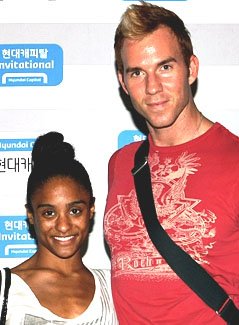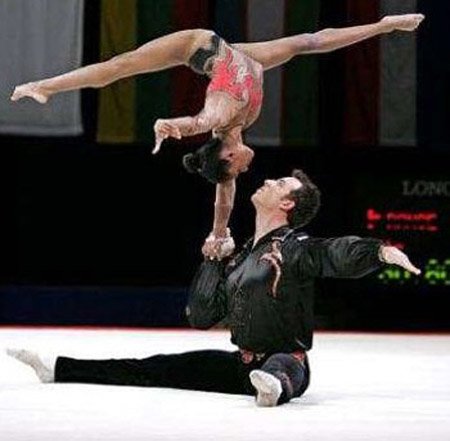 "We are so proud of Arthur and Shenea," said Steve Penny, president of USA Gymnastics.  "Watching them perform on national television was incredible for those of us in the gymnastics family who have long recognized their talent, grace, strength and artistry.  They worked long and hard to perfect their skills and achieve success on the competitive stage as acrobatic gymnasts, and it is wonderful that their dedication has resulted in this well-deserved opportunity in the entertainment arena."
Prelude to Acro Gymnastics
Acrobatic (Acro) Gymnastics is an ancient activity that emphasizes the combined beauty of dance and acrobatics. Gymnastics skills add excitement to the exercises. Acro is practiced and competed as Men's Pairs, Women's Pairs, Mixed Pairs, Women's Groups (3) or Men's Groups (4). Athletes progress through recreational levels (1-3) to compulsory levels (4-7), then to optional levels (8-elite). Pairs are made up of a base and a top. Women's groups are comprised of a base, a middle, and a top partner and men's groups have a base two middle and one top partner. Bases are generally older athletes that display strength and balance. Tops are generally younger athletes and display flexibility and agility. Middles are often required to show a combination of all attributes.
Tough Competitors: Booth's and Davis' competitive accomplishments include winning the World Champion mixed pair title in both 2002 and 2004 as well as becoming three-time U.S. champions (2002-04), and Acro Athletes of the Year in 2003-04.  The pair also became the first U.S. Acro World Champions in the mixed pairs' event at the 2002 World Championships, and then became the first U.S. Acro athletes to repeat as World Champions in 2004. Featured Performers: As featured performers in "Realis," an acrobatic troupe part of Aerial Experience Productions, Booth and Davis have been performing and showcasing their acrobatic talents across the U.S., including at shows such as Jewel's of the Rainforest at the San Diego Zoo, the TJ Maxx Tour of Olympic Gymnastics Champions, the Arnold Schwartznegger Classic, the Hilton Skating and Gymnastics Spectacular, and the Hollywood WeSparkle Cancer Benefit.  Davis is co-creator and choreographer of "Realis." Performing as Realis, two-time acrobatic gymnastics World Champions Arthur Davis and Shenea Booth were the judges' choice from the semifinal to advance to the finals of NBC's new talent show, "America's Got Talent."  Their selection for the $1 million final round was announced on the program on July 20. Retirement With Honors:  The duo was awarded the Glen Sundby Award for Outstanding Pair/Group Performance in 2003-04 and earned the awards for the Most Difficult Skill in 2002 and 2004. Booth was on the national squad for nine years. Since retiring from competition in 2004, Booth and Davis have been performing as "Realis." Still together, they are co-owners of  Realis Co. Inc., and during the last four years, they have performed in more than 20 countries around the world. In addition, they advanced to the final round of America's Got Talent and have made guest appearances on Dancing With The Stars, So You Think You Can Dance-Australia, Today, plus three ice skating/gymnastics events. They also produced, wrote and starred in their own dinner show in Hollywood, Calif., where they are based. Booth and Davis also do private engagements and performances around the world.
Sources: . Also: GigSalad at .  Data collected by 2008-2010 Web Manager Jerry Wright, author of Gymnastics Who's Who-2010. Photo taken from public sources through Google. Editing by Dr. Larry Banner, 1993 GHOF Inductee & 1894-2007 Web Bios. Manager.