GRAVES, Charles "Charlie"
Inducted: 1967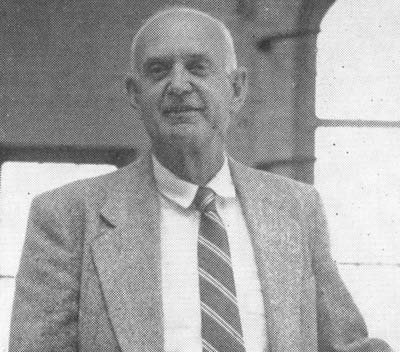 Charlie Graves was a coach of champions. A list of his athletes would read like a Who's Who in gymnastics during his tenure at USC. Whatever competition his teams attended, his positive demeanor and gentle words of encouragement were applied equally to his gymnasts and others with whom he came in contact.  Individuals on the teams that competed for him were and continue to be proud to call him their coach.
Professional Career: Charlie Graves graduated from Springfield College in 1922 where he competed on Springfield's gymnastic team for years. He became an Assistant Professor of Physical Education at the University of Southern California and the men's gymnastic Head Coach in 1928 and served in that capacity until 1957. He spent 35+ years in the gym training or teaching. His teams along with the individuals who comprised them were legendary during his tenure. Coaching: Graves mentored a steady flow of nationally ranked gymnasts in all of the events, including two members of the 1952 and 1956 US Olympic Teams (John "Jack" Beckner and the late Charles "Charlie" Simms). Other standouts were Frank Doig, Dave McBride, Ara Hairabedian, and Jim and Billy Roberts, who all competed in the six AA events. Norm Parrish, Randall Bryden, Ken foreman and Bob Pendleton were outstanding rope climbers. Bob Toliver was a champion FX performer and Hal Newell scored well on the PH. George Wikler, Jerry Todd, and Ran Hall were exceptional strong on the Rings while Mark Linnes flew with grace on the HB. To top off his great gymnastics squads, Miles Calvert and Lloyd Cochran were ahead of their time in the tumbling event.  USC's gymnastic team, under Graves, won the Pacific Coast Conference Southern Division, the PAC 8 and after 1975 known as the PAC 10, title nine times. His USC gymnasts competed in the first NCAA National Championship meet in 1938, and garnered the team Silver Medal in 1951 and 1952. In these latter years, Graves' four-man team scored 75 points that was exceeded only by Florida State's 10-man team total of 89.5 points. In 1953, the Trojans were 10th, but the '54 team moved up to fifth in the NCAA team standings.  USC was 4th at the NCAA meet in 1955, but the team did not place in the top 20 in 1956 or 1957. Graves produced at least (conference records prior to 1932 not available) 55 conference individual event champions, 10 NCAA individual event champions, and 24 National AAU event champions. Pacific Coast Conference Southern Division Gymnastics Championships: Team Gold-1932, '33, '36, '38, '39, '48, '50, '51, & '55; Team Silver-1935, '37, '46, '47, '52, '53, & '54; Team Bronze-1928, '30, '40, '41, & '49. Records for some years appear non-existent. Gymnastic Service: Charlie Graves was active in service of the Los Angeles area Gymnastic Judges Association as well as serving on the NCAA Gymnastics Rules Committee. Charlie Graves legacy is to be found in the degree to which men's gymnastics improved during his coaching years. In 1956, of the men's Olympic Team of six competitors 1/3rd were Graves coached. He was as proud of them as they were of him.
Sources: Interviews with Jack Beckner and Jerry Todd with detailed information courtesy of Jerry Wright, author of Gymnastics Who's Who, 2005. Introduction, commentary, and formatting by Larry Banner, Web Manager.