VINCENT, William J.  "Bill"
Honored Guest
Born: Los Angeles, California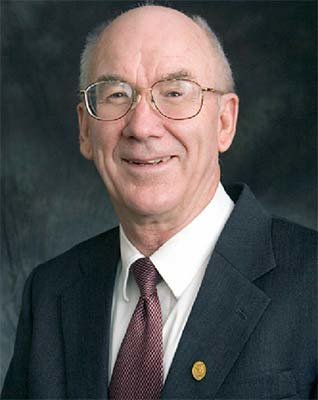 Bill Vincent has served the sport of gymnastics as an athlete, coach, judge, and contributor. At UCLA, we were friends and teammates. Bill was always of the highest character, an academician, and a high scoring member of the UCLA gymnastic team and all other gymnastic teams on which he competed. It is with personal pleasure and pride that his career and contributions to our sport is of such a magnitude that he is included on this Gymnastics Hall of Fame web site as an "Honored Guest".
He has been a strong contributor in many ways to America's gymnastic progress through the years.
Los Angeles City High School Championships: Gold-PB, (1955).
Pacific Coast Conference Championships: Gold-FR, competing for the UCLA Bruins coached by Ralph Borelli, (1959). At UCLA, he was an All Around competitor in addition to tumbling, trampoline and flying rings.   He and his UCLA teammate, Orwyn Sampson, created a trampoline clown act called the Trampoloonies, performing at school assemblies and at collegiate and high school basketball half time shows.
UCLA was ranked in the NCAA top five nationally in 1957, 58, and 59 but Bill was unable to compete at the NCAA Championships because UCLA was banned from national competition after 1957 due to football recruiting violations.
Education
B.S. in Physical Education, (1960); M.A. in Physical Education/Exercise Physiology, (1961); Ed.D. in Educational Psychology, (1966). All of Bill's degrees were earned at UCLA.
Coaching/Professional
In 1962, Bill became the gymnastics coach at San Fernando Valley State College, later named California State University, Northridge, (CSUN). He coached the gymnastics team through 1970, during which time his teams won eight straight California Collegiate Conference Championships and eight straight NCAA Division II Western Regional Championships.
Bill culminated his coaching career by winning back-to-back NCAA Division II National Championships, (1968 & 1969). He retired from coaching in 1970 and subsequently accepted positions in the Department of Kinesiology as Assistant Athletic Director, Graduate Program Coordinator, and eventually became the Kinesiology Department Chair.
Honors
Named NCAA Division II Coach of the Year, (1968 & '69).  Some of the gymnasts he coached included Rusty Rock and Richard Grigsby, both NCAA Division I National Champions on high bar.
Judging
During his coaching years, and for 10 years after his retirement from coaching Bill served as a judge for high school and collegiate competitions.
Contributions
Bill Vincent's research efforts have produced four books including "Statistics in Kinesiology" (Human Kinetics, Third Edition, 2005) and more than 75 articles in professional journals including Research Quarterly, Medicine and Science in Sports and Exercise, International Journal of Sports Medicine, European Journal of Applied Physiology and the Journal of Motor Behavior.
He was the author in 1967 of a series of articles in the Modern Gymnast magazine (Glenn Sundby, Publisher and Editor) titled "Let's Teach Routines." Bill is listed in Who's Who in Gymnastics, Jerry Wright, publisher, (2005) and was inducted in 2003 as an Honorary Life Time Member of the College Gymnastics Association.
He has served on the Board of Governors for the American Alliance for Health, Physical Education, Recreation and Dance (1993-1996) and was president of the South West District of AAHPERD from 1991 to 1993. Upon retirement from CSUN, Bill and his wife Diana served a mission for the Church of Jesus Christ of Latter-day Saints in the Pacific Islands area.
He currently serves as the Director of the General Education Wellness Program at Brigham Young University.
Family: (m) Diana Logan. Children: Steven, Danny, Susan, Gail, David, & Nancy. Grandchildren: 17.
Sources: Interviews with Vincent and his personal resume. NCAA, Pacific Coast Conference, and other source records. Introduction, commentary, and formatting by Dr. Larry Banner, Web Manager.