BARTLETT, Kenneth "Ken"
HONORED GUEST
Born: Montevideo, Minnesota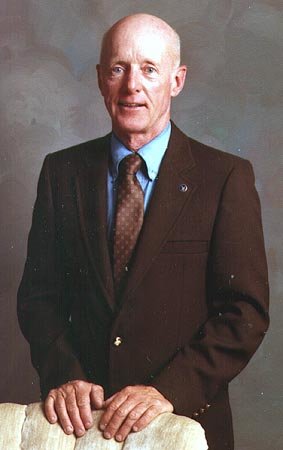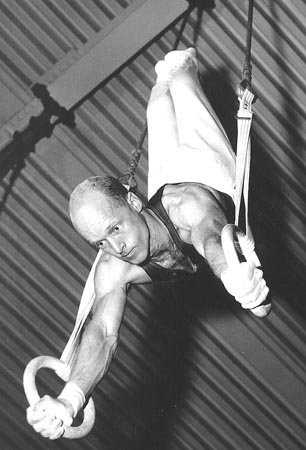 Of all the athletes, judges, coaches, and contributors who have been inducted into the U.S. Gymnastic Hall of Fame, Ken Bartlett has not yet had the honor. Yet, he, more than numerous inductees, has performed, coached, and contributed to the development and improvement of gymnastic performance at a level consistent with such an honorable induction. Yes, he was a good friend with whom I learned to sail a bit and to point my toes; nevertheless, this website is proud to be able to tell Ken's story. It is a story of excellence, and there is no question that his charismatic coaching and competing influenced literally thousands of young people through the years. If I were to write about an unforgettable person I've ever known, I would not hesitate to write about my friend, mentor, and hero, Ken Bartlett.
Ken Bartlett's great competition record began when he was a sophomore at Mechanic Arts High School in St. Paul, MN, and by the time he was a senior, he had amazingly progressed to become the AA Champion at the Minnesota State High School Championships as well as score Gold at the Northwest AAU Section Championships held at the University of Minnesota, (1948).  He matriculated to the University of Minnesota where he was a standout gymnast in dual and championship competition. Big Ten Championships: Gold-FR, (1952); Gold-AA & PB; Silver-FR & HB, (1953). NCAA National Championships: Bronze-FR, (1952); Gold-FR, Bronze-AA & PB, (1953). Military Service: After graduating from the University of Minnesota, Ken spent two years in the U.S. Marine Corps serving as an Air Control Officer. His service included a year in Korea near what is called the "DMZ". Today, the area continues to be termed a "hostile" zone. Post–Graduate Gymnastics: When Ken returned from his military service, he settled in California in the Long Beach area. He immediately became a member of the Los Angeles Turners along with three-time Olympian Jack Beckner, Jack's Olympian brother, Dick, two-time Olympian, Larry Banner, Armando Vega, et al. He was a crucial factor in the L.A. Turner's four straight National AAU team championships, (1956-1959). Coaching: In the fall of 1959, Ken was hired to teach physical education and become the Head Gymnastic Coach at California State College, Long Beach, now California State University, Long Beach (CSULB). His coaching expertise led the gymnastic team to four Conference Championships, (1960, '61, '62, & '73). His team also won the State Championship, (1965). The 1973 Bartlett coached conference championship occurred during his last year of coaching. It was a great finish to an outstanding gymnastic career from champion competitor to championship coach! Bartlett continued teaching at CSULB for 24 more years and retired in 1997. Anecdote: Bartlett had special talents. He was not only able to show, tell, and teach his students the how and why of moves and combinations on all of the men's events, but he always had every element of a gymnastic competition perfectly organized. This writer was judging the trampoline event at CSULB during a dual meet between San Francisco State College and CSULB. A trampoline competitor became disoriented on a twisting move and landed with his left leg on the trampoline mat and his right leg on the unforgiving metal of the trampoline's side support. The result was a compound fracture of both tibia and fibula with a severing or seriously traumatized anterior tibia artery. This injury closely parallels that of Tim Daggett's vaulting injury during the vault event warm up jumps at the 1987 World Championships in Rotterdam, Netherlands. The difference was that within 2.5 to 3.5 minutes, the trampolinest's leg was in appropriate traction, the bleeding halted, and a sports orthopedic surgeon was tending to the problem. It was no stroke of luck that the proper people with the appropriate knowledge were on hand so quickly. Ken had arranged for such a contingency. The following year, the athlete was bouncing once again according to his coach, Jerry Wright.  Honors: Inducted into the California State University, Long Beach's Athletic Hall of Fame, (1997), and into the University of Minnesota Athletic Hall of Fame, (2005). Ken was recently inducted into the U. of Minnesota Gymnastics Hall of Fame, (2009) and suggests that " . . . this newly founded honor is like placing a great frosting on a cake." Family: (m) Kathleen McCollom, now divorced. Children: Gordon, Michelle, and Scott, all of whom are now Ken's skiing partners, and he claims they're great at it. Ken is retired and continues to live in Long Beach.
Source: Interviews and correspondence with Mr. Bartlett. Introduction, commentary, and formatting by Dr. Larry Banner, Web Manager.