SHURLOCK, Art
Inducted: 1985 Born: September 8, 1937, Chicago, Illinois
Art was an outstanding competitor and super coach of superstars. He coached Olympians, All Americans, and NCAA Champions as Head Gymnastic Coach at UCLA.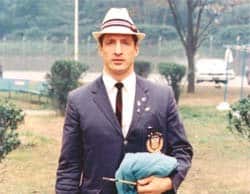 Olympic Games
10th-PH, Tokyo, Japan, (1964).
World Championships; Moscow, U.S.S.R., (1958).
NCAA Championships: Gold-PH, (1959); Silver-AA, (1960 & 1961).
National AAU Championships: Gold-PH, (1957 & 1958).
Canadian National Championships: Gold-AA, The only American to win a national AA title in Canada. (1955).
USGF Championships: Gold-AA, the first to win the AA title after the USGF became the governing body for gymnastics in the USA, (1963).
US World Team: Team member vs. Japan, Czech, USSR, & Poland, (1958); Devised a unique move on the PH and it was named after him.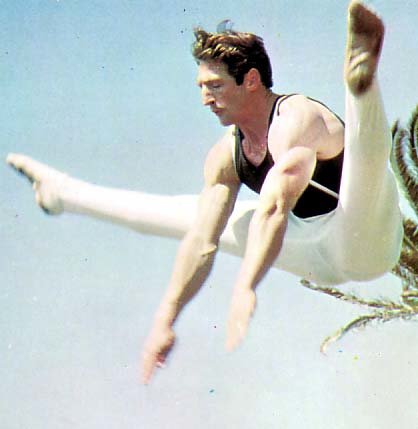 Education: B.A., U. of California, (1962).
Coaching
Head coach at UCLA beginning in 1965. Through 1994, Art's teams amassed a 316-122 (72.1%) winning record that included nine Pac Ten Championships and two NCAA titles, (1984 & 1987).  He was Head Coach for the 1984 Mexican Olympic One-man Gymnastic Team consisting of UCLA Bruin Tony Pineda.  Pineda finished with the highest AA standing of any gymnastic Olympian representing Mexico.
Three 1984 USA team members and medal winners, Gaylord, Vidmar, & Daggett were UCLA Bruins during Shurlock's coaching tenure. Art served as the World University Games coach for Belgium, (1983) & World Games coach for Denmark, (1985). Coached the World University Games teams of Belgium & Mexico, (1985).
Art also coached the Mexican team in the World Games, (1985) and Mexico's Pacific Alliance team, (1986).  Coached the USA World University Games Teams, (1987 & 1993).
Honors
Considered a "Gymnastic Centurion" by A. Bruce Frederick who defines the title as " . . . those who command our attention." Santa Rita High School Sports Hall of Fame, (1986); USGF Coach of the Year, (1991); NCAA Coach of the Year, (1984 & 1987), Pac-8 Coach of the Year, (1967); Pac-10 Coach of the Year every year from 1981 through 1989; NACGC President in 1992 & in 1993.
Career Highlights
Art was an instrumental coach for gymnasts who acquired fourteen individual NCAA titles, 26 of whom were honored with All-American status, and 22 of his team members won 47 conference event titles; Coached nine Olympians who amassed four gold, two silver, & 3 bronze Olympic medals.
Personal
Your web manager, Larry Banner, was proud to be a teammate on two international teams with Art.  He was strong but graceful.  He was bold but confident. He trained hard but found time to help his teammates at every chance.
If Art had not continued a career in gymnastics, I suggest the USA Olympic team performances of the last few generations could not have faired as well.  Art is to be saluted as a friend, performer, coach, and inspiration to all youth who may just now be wondering about the five rings of the Olympic games.
Sources: Personal resume and interview, plus additional information courtesy of Jerry Wright, author of Gymnastics Who's Who, 2005 and A. Bruce Frederick, author of Who's Who and Was Who in American Gymnastics. Introduction, commentary, and formatting by Larry Banner, Web Manager.