ROETHLISBERGER, Fred
Inducted: 1990 Born: February 28, 1943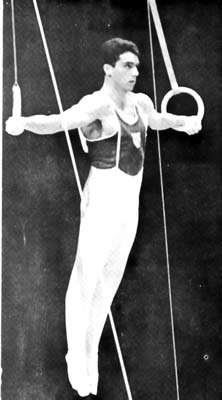 Every four to eight years, U.S. gymnastics seems to be dominated by one or two gymnasts to the extent that these years may be thought of as eras. There was the John "Jack" Beckner era during my time as a competitor. Then came the Sakemoto era with several following. The Roethlisberger clan has, in a sense, surpassed the idea of era with the concept, "dynasty".  Fred Roethlisberger started it as a great gymnast and coach, and he passed the apparatus to his son, John, and to his daughter, Marie. Between 1968 and well into the '90's with a hiatus for John and Marie to grow up, the Roethlisbergers pretty much held court in the NCAA and National Gymnastic Championships. It is a tribute to Fred that he was a champion who was grounded in helping his family to have their moments in the spotlight.  Dad, 'ya done good!
Getting Started: At an early age Fred was a participant with the Milwaukee Turners club team through high school. Following his prep days, he went on to star at the University of Wisconsin (Madison). Olympic Games: Team member & 2nd highest scorer for the U.S., Mexico City, Mexico, (1968). Pan American Games: Captain of the team and Gold-AA, PB, & HB, Winnipeg, Canada, 1967).  World Team: Team member, (1966). National AAU Championships: Silver-HB; Bronze-AA, (1967); Silver-V, Bronze-AA, (1968). Big Ten Conference Championships: Gold-V, (1964). Coaching: Fred Roethlisberger began his coaching career at Wisconsin-Whitewater in 1968. In 1971, he came to the U. of Minnesota, where he assisted Head Coach Pat Bird. After one season he was named Head Coach. Fred spent the next 32 years as Head Gymnastic Coach at the University of Minnesota leading the Gophers to 11 Big Ten titles (four in the '70's, three in the '80's, and four in the '90's). He coached 22 All-Americans during his tenure and his gymnasts have captured 51 individual Big Ten Gold medals. Fred retired from the U. of Minnesota after the 2004 season. Honors: Inducted into the U. of Wisconsin Sports Hall of Fame, (1990); Named Big Ten Coach of the Year, (1990, '91, '92, & '95); Designated the Mideast Region Coach of the year, (1972, '78, '78, '90, & '92); Selected by the United States Gymnastics Federation Coach of the Year, (1990, '92, '93, & '95); Appointed Head Coach of the World Men's Championship Team, Dortmund, Germany, (1994); Honored as the recipient of the "Honor Coach Award" considered to be the most prestigious of all gymnastics coaches' awards, (1998). Family: (m) Connie Foster, Dean of Education at the University of Wisconsin-River Falls. Children: Gus and a daughter, Marie, an M.D., who was a team member on the 1984 Olympic Women's Olympic Team and the 1983 and 1985 Women's World Championship teams, a second son, John, a three-time Olympian and four-time national AA Champion. Family: Sons-John and Max who has become an excellent tumbler.
Sources: Photos and text materials courtesy of Jerry Wright, author of Who's Who in Gymnastics, 2005, USA Gymnastics Hall of Fame Induction & Awards Ceremony program. Editing and additional information provided by Bruce Davis, author of numerous gymnastics papers and articles, and Abie Grossfeld, 1979 HOF Honoree. Introduction, commentary, and formatting by Dr. Larry Banner, Web Manager.