Cluff-Perez, Wendy
Inducted: 2012
Born:  Santa Clara, CA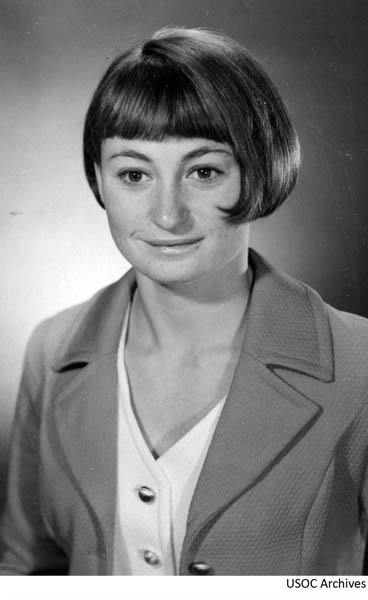 One of the original SCATS athletes, Cluff-Perez participated in the 1968 Olympics, 1969 World Gymnaestrada in Berne, Switzerland, and performed throughout Europe, Scandinavia and the United Kingdom.
Olympics
Cluff went first for the U.S. women at the 1968 Olympics seven times and is credited with earning the USA's highest starting scores at an Olympic Games at that time. Results: Member of the 6th place U.S.A. team; 39th in the All Around-71.80 (C-36.10-O-35.70), 42nd in Floor Exercise -18.05 (C-9.10-O-8.95), 58th in Vault-17.80 (C-9.05-O-8.75), 46th in Uneven Bars-17.75 (C-8.75-O-9.0), 33rd Balance Beam-18.20 (C-9.20-O-9.00).
World Championships: Cluff- Perez also represented the United States at the 1970 World Championships in Ljubljana, Yugoslavia where she placed 44th in the AA and was a member of the 7th place Team.
Other International Competitions
She was fifth in the all-around at the USA-USSR Invitational at Penn State University.
National Competitions: AAU: 1967-Bronze-Tumbling; 1968-9th AA, Silver-Tumbling; 1970-4th AA, Bronze-V, Silver-FX.  USGF-1969-4th AA, 1970-Silver-AA.

Coaching
At 20, she retired from competitive gymnastics to start Gymnastics Internationale, where she coached for 10 years before moving to the San Diego Aztecs for three years.
Personal
Cluff Perez is currently in her 16th year as an elementary school teacher and lives in a small community in San Diego County. She earned a Bachelor of Science in interior design from California State University – Long Beach and both her Bachelor of Arts in liberal arts/teaching and her Masters of Arts in education curriculum and instruction at San Diego State University.  Wendy was unable to attend her Hall of Fame induction ceremonies.
Family:  Husband-Henry;
Sources:   Photo I.D. (1968 U.S. Women's Olympic Team) F: Joyce Tanac, Linda Metheny; M: Cathy Rigby, Diane Bolin, Colleen Mulvihill, Muriel Grossfeld (Coach), B: Kathy Gleason, Caroline Pingatore, Wendy Cluff Calabro, Vannie Edwards (Assistant Coach).
Source of the group  photo: http://www.bjelladesign.com/HISTORY/historySeattleYmca.html.
Photo of young Wendy by permission of the U.S. Olympic Committee.  Data and photos collected and edited by 2008-2013 Web Manager Jerry Wright, author of Gymnastics Who's Who-2010.  Additional editing by Dr. Larry Banner, 1993 GHOF Inductee & 1894-2007 Web Manager, Ph.D. & Ed.D.