GROSSFELD, Abie
Inducted: 1979 Born: March 1, 1934, New York, NY
Abie Grossfeld's leadership as an athlete, coach, judge, and contributor to gymnastics has rarely, if ever, been matched in the annals of gymnastics.  He was an extremely well-respected athlete by his teammates and coaches. At the 1964 Tokyo Olympics, Abie served as Assistant Coach.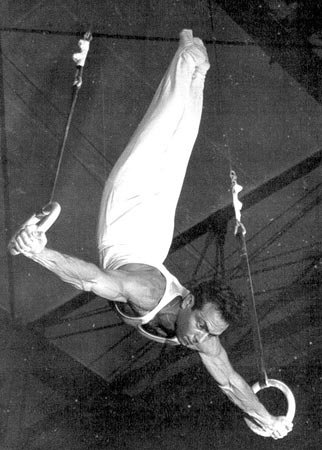 When spotting the ring and horizontal bar event, his facial expression clearly expressed to a gymnast about to begin an exercise that, "Now is the time. Do it well!" So states Larry Banner, 1960 & 1964 Olympian who also considers Abie's amazing gift to inspire as contagious.
Frank Cumiskey, (1932, '36, & '48 Gymnastic Olympian, gymnastics chronicler, and a charter member of the first class of Gymnastics Hall of Fame Inductees in 1959 states, "After six decades of being 'in the trenches,' Abie Grossfeld has influenced an untold number of gymnasts, coaches, and judges who have notably impacted the positive development of gymnastics.
Abie's level of excellence in the primary areas of gymnastics, as a whole, has been truly exceptional and, in my experience, has not been matched by any other individual." No truer words could be possible.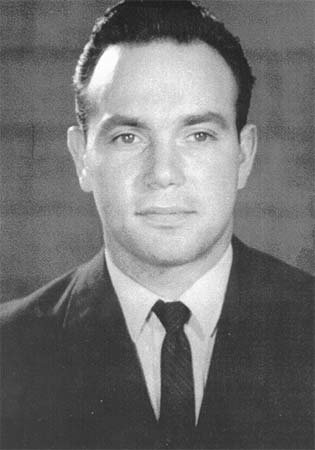 Athletic Beginnings
Abie Grossfeld is another of the many gymnasts who enhances the theme that gymnasts are often multi-sport champions. He won gold in two Jr. Olympic Cycling Championships, (1949-'50) as well as numerous T. & F. medals beginning in 1947.
His best-remembered titles were the NYC 4 X 50 relay team title, Madison Square Garden, (1949); NYC Potato shuttle race title, (1951); and the Bronx High School high jump and standing long jump titles, Macombs Dam Park, (1949). Abie was Captain of his high school swimming team and competed mostly in the 50yd. and 100yd.
Freestyle events
In addition, he helped the team as a diver and also swam and dove for the West Side YMCA and competed unattached in the NYC Boys' Swimming Championships winning gold in the 100 and silver in diving, (1949). Even "Multi" doesn't seem to capture the range of Abie's athletic talents. He competed in roller hockey for nine years in the streets of Manhattan, (1941-1950).  His 163rd Street block's team won a few titles over the years, and, between the ages of 9 to 12, he boxed for the Police Athletic League's 32nd Precinct.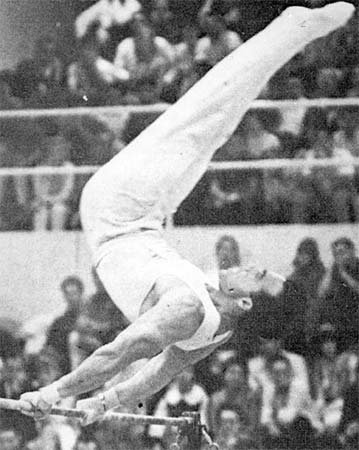 Olympic Games/Gymnastics
Team member-Melbourne, Australia, (1956); Rome, Italy, 1960.
World Championships/Gymnastics: Moscow, U.S.S.R., (1958), Prague, Czechoslovakia, (1962).
Pan American Games (PAG)/Gymnastics: Team member, Mexico City, (1955); Chicago, (1959); Sao Paolo, Brazil, (1963). Abie won an all-sports record of 15 PAG medals that included eight gold medals, a record for 34 years, and Abie has the special distinction of winning gold medals for the same event, HB, in three intercontinental quadrennial games. This is a rare achievement in sports.
North American Championships: (1964 & 1967).
Maccabiah Games: Gold-AA, FX, R, V, PB, & HB, Tel Aviv, (1953); Gold-AA, R, PH, FX, HB, PB, & V, Jerusalem, (1957); Gold-HB & R (Opt.) & Gold-HB & R (Combination-Comp. + Opt.) Haifa, (1965);
Won 17 total individual gold medals that include his complete sweep of seven gold in Jerusalem.
Having been so successful at these "Jewish Olympics," Abie was honored as he shook hands with Ben Gurion and Chaim Weissman, the 1st President of Israel, (1953); Abie also, under tremendous media pressure–you readers know how they can be–posed kissing Miss Israel, runner-up to the then current Miss Universe.  Since Abie had no opportunity to meet Prime Minister Golda Meier, his comment to long-time teammate and friend, Ron Barak, 1995 HOF Honoree is a simple, "So there!"
U.S.A. State Department Tours: Afghanistan, Iran, & Turkey, (1958); Kuwait, Cyprus, Lebanon, Syria, Jordan, Turkey, Pakistan, & Bangladesh, (1961).
NCAA Championships: Four gold-AA, FX, two HB titles, and three silver and three bronze medals. He finished in the top three in 10 of 16 events, (1957-'59).
Big Ten Championships: Seven gold medals total-3 AA, FX, R, PB, & HB, (1957-1959).
National AAU Championships: Four times horizontal bar champion, (1955-'57 & 1961).
Roy E. Moore National AAU Team Championships: (1965 & 1966).
Coaching/Teaching: Taught "IOC Solidarity Courses" and served as a master clinician in Spain, Canada, Great Britain, Israel, Afghanistan, Australia, Trinidad, & South Africa. Member of FIG Coaches Commission, (2000); Featured lecturer at USAG National Congresses, (1970-1995).
International Team Coaching: (28-year span)
U.S. Men's Gymnastic Olympic Team Assistant Coach, Tokyo, Japan, (1964);
U.S. Women's Olympic Gymnastic Team Assistant Coach, Mexico City, (1968);
Olympic Gymnastic Team Head Coach, Munich, Germany, (1972); Pan American Head Coach, (1983);
Men's Gymnastic Team Head Coach (America's first Olympic Team gold medal), Los Angeles, (1984);
Head Olympic Gymnastic Team Coach-Seoul, Korea, (1988); Gold for Team USA, (1987);
World Championships Head Coach–1966, '81, '83, '85 & '87;
World Cup Head Coach, Zagreb, Croatia, (1982);
DTB Pokals, (German Cups): Silver-Team, (1981), Gold-Team, (1982);
U.S.S.R. International Cup, Moscow-Riga, (1972);
Golden Sands International Cup: Varna, Bulgaria, (1974);
International Champions-All Cup, London, UK, Two AA champions (1976 & 1978);
Cup de Excellence: Toronto, Canada, (1988);
World Maccabiah Games Men's Head Coach, (1973, '77, '81 & 93); Women's Head Coach, (1981);
Goodwill Games Head Coach, Moscow, U.S.S.R. This was the inaugural Goodwill Games competition, (1986);
U.S. National Men's Gymnastics Coach of U.S. teams to various countries, including China, U.S.S.R. (Russia & Latvia), Japan, Korea, Italy, France, Germany, Hungary, Netherlands, Canada, Venezuela, Hong Kong, Norway, Spain, Israel, Bulgaria, Mexico, Canada, Croatia, and Yugoslavia.
Collegiate Coaching and Honors
Abie Grossfeld spent 41 years as Head Coach at Southern Connecticut State University (SCSU) where he is now a Professor Emeritus of Athletics; Coached one year at the U.S. Coast Guard Academy where he established its first gymnastics program; Coached four Nissen Award winners (akin to football's Heisman Trophy), a record set in 1980 and, as of 2007, has not been surpassed by any NCAA coach. He coached three NCAA Div. II championship teams, (1973, '75, & 76) with four second and three third places finishes (two-thirds in Div I); 10 Consecutive Eastern Collegiate Conference (EIGL) team championships, (1975-'84), to date, a standing record.  In addition, Abie coached the only NCAA Division II school (SCSU) to qualify for the NCAA Division I Championships, no less placing third and fifth twice each, and having one of his gymnasts, Peter Kormann, win the NCAA Division I & II AA title in the same year, (1976). Abie coached 148 gymnasts who achieved All-American status.
Note: All of the preceding was achieved without the benefit of athletic scholarships, which translates to a fitting tribute to one of America's finest gymnastic coaches.
Coach–Individual Competitors
Grossfeld coached Peter Kormann, the first U.S. Olympic individual gymnastics medalist since 1932 or in 44 years, FX (1976) & the first USA-Gymnastics "Gymnast of the Year" recipient, (1976); John Crosby, two World Cup individual gold medals-FX & V (1971);
Coached three Pan American individual gold medal winners (1971 & '75); Two U.S.S.R. International Cup gold medalists, televised worldwide and on ABCs Wide World of Sports (1971 & '74);
Note: During these years, the tumbling technique of Abie's great gymnast, John Crosby, was disseminated and studied throughout the Soviet Union and Japan.
Abie coached the first and second-place AA athletes at the 1974 "USGF Elite Gymnastic Championships" later re-named "USA Gymnastics Senior National Championships".
This was the 1st time 2 athletes coached by the same person accomplished this feat at the same Premier Senior National Championships. In addition, Abie coached nine USA Gymnastics (USGF) Elite National Champions, 16 individuals who were National team members (some for several years), including three Olympians (one won a bronze medal), six World Championship team members, and seven Pan American team members (winning four gold medals), 32 National Collegiate individual champions,  & 57 Eastern Collegiate conference (EIGL/ECAC) individual champions, including 11 all-around champions.
As stated, he coached Peter Kormann who became a two-time U.S. Olympic Gymnastic Team Head Coach, (1996 & 2000).  In addition to his team coaching, Abie's reputation as an outstanding coach brought many post-collegiate gymnasts to him for extended periods of training. Abie worked hard with them even though they were not competing for his Southern Connecticut College team; e.g., Fred Roethlisberger, Steve Hug, Dave Thor, Jim Culhane, Arno Lascari, Tom Beach, Richard Lloyd, Fred Turoff, Dave Butzman, Rick Tucker, Dusty Ritter, Bill Hladik and Jay Geist.
Judging
As of 2005, Abie has been judging at all levels for 55 years and counting. He became FIG Brevet certified in the first course given in the U.S., (1969), and officiated at the highest levels of competition, including two World Championships, Pre-Olympics, Pan American Games, Goodwill Games, FIG Rome Grand Prix, FIG Moscow World Cup, Chunichi, Swiss, German (DTB and Reunification), Spain's Criterium, and numerous American Cups.
Honors/Special Distinctions
Abie received his highest honor recently by being an August 2008, Inductee into the U.S. Olympic Hall of Fame.
His class included The Dream Team which featured Michael Jordan, Magic Johnson, Larry Bird, and Charles Barkley. Other well-known Inductees were Michael Johnson, Picabo Street, and Peter Ueberroth;
Inducted into the USAG National Gymnastics Hall of Fame as an athlete, coach, and contributor, (1979), the National Judges Frank Cumiskey Hall of Fame, the World Acrobatic Society's Acrobatic Legend Award-Hall of Fame, (2001), the International Jewish Sports Hall of Fame, whose inductees include Sandy Koufax, Agnes Keleti, Mitch Gaylord, Mark Spitz, Dara Torres, Jimmy Jacobs, Mel Allen, Red Auerbach, Dolph Shayes, Maria Gorokhovskaya, Sid Luckman Hank Greenberg, and other luminaries, (1991).
Abe is, at the time of this writing, the only American to achieve the status "FIG Master Coach", (2000). He was Awarded the FIG Insignia of Merit as a world-class gymnast, (1960). Other honors include the USA Gymnastics "Spirit of the Flame Award," (1999); "National Coach of the Year" by both USA Gymnastics (1984) and three times by the NCAA, (1973, '75 & '76).
One of two Americans in gymnastics to be honored with the "Pan American Union Award," the other being Jack Beckner, (1999); Awarded "Big Ten Medal of Honor," (1959); University of Illinois' "Athlete of the Year," first "minor" sports athlete so honored, (1959); Named by Sports Illustrated as among the "50 Greatest Sports Figures of the 20th Century from his birth state of New York, which included inductees Vince Lombardi, Lou Gehrig, Sandy Koufax, Sugar Ray Robinson, Jim Brown, Kareem Abdul Jabbar, Pop Warner, and Hank Greenberg, among other legends in the sports world.
He was awarded the "New York Maritime Benevolent Association Medal" for saving human life in peril. Abie, perhaps 16 years old, dove into the ice-filled Harlem River in N.Y. to save a drowning five-year-old, (1950); "Abie Grossfeld Circle" is now a street named in Abie's honor in New Haven, Connecticut.
Abie was featured in Encyclopedia Britannica, (Editions, 1965-1984), Koehler's, America's Greatest Coaches, Life-Science Library, The Body; Gymnastics Balancing Acts, J. Siegman's International Jewish Sports Hall of Fame, Bart Conner's Winning the Gold, Tim Daggett's Dare to Dream, Peter Vidmar's Risk, Originality and Virtuousity, Nabor's Eureka, Innovations that Changed the Olympic Games, and the USOC Official Olympic Games Book, 1956, '60, 72, '84, and '88 Editions.
Administrative Positions/Committees:
New York City 2012 Olympic Bid Committee Board of Directors.
World Acrobatic Society Vice President–2003-2006.
U.S. Olympic Gymnastics Committee–1969-1976 (Disbanded after 1976).
USA Gymnastics Board of Directors–1977-79, 1990-95, 2001-present.
USAG Hall of Fame Committee–1988 to present.
USAG Ethics Committee–1990-2001.
USAG Men's Program Committee–1980-1988.
College Gymnastics Association (CGA) Vice-President-2000-2004.
Head of U.S. Delegation to two World Championships, Sabae, Japan, (1995) and Lausanne, Switzerland, (1997); The Valvoline Amateur Sports Advisory Board, (1985-'88); Other members included on this prestigious Board were John Wooden, Pat Summit, Dan Gable, John Naber, Peter Vidmar, Kathy Johnson, Al Scates, Karch Kiraly, and other prominent sports figures; NBC production staff at the Barcelona Olympic Games, (1992); ABC production staff at the Fort Worth World Championships, (1979).
Television Appearances: Johnny Carson's Tonight Show, (1969 & '70), Hollywood Palace, (1964), I've Got a Secret, The Ernie Kovacs Show, The Art Linkletter Show, Exploring (Nationally Syndicated, 1963), ABC Wide World of Sports, CBS Sports Spectacular as expert commentator for the National AAU Championships, (1971); NBC International Champions, and the NBC Today Show. Publications/Videos: Ghost authored, Ted Williams Family Outdoor Physical Fitness Training Exercise Manual, (1973); Contributor to USGF (USAG) Safety ManuaI, Chapter on "Horizontal Bar", (1975 & 1990 editions); Contributed Chapter, "Abie Grossfeld Imports the Dowel Grips," in John Naber's, Eureka, Innovations that Changed the Olympic Games, (2004), plus numerous other published works.  Developed videotape NCAA Instructional series, The Horizontal Bar (aired on ESPN twice, (April 2nd and 6th, 1983), and The Pommel Horse (aired on ESPN twice, April 9th and 13th, 1983).
Sources: Courtesy of Abie's personal archives and resume, interviews, eMail correspondence, and Jerry Wright, author of Gymnastics Who's Who, 2005. Introduction, commentary, and formatting by Larry Banner, Web Manager.