KORMANN, Peter
Inducted: 1995
Born: Cincinnati, Ohio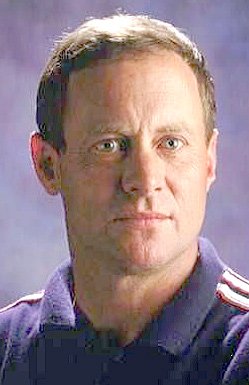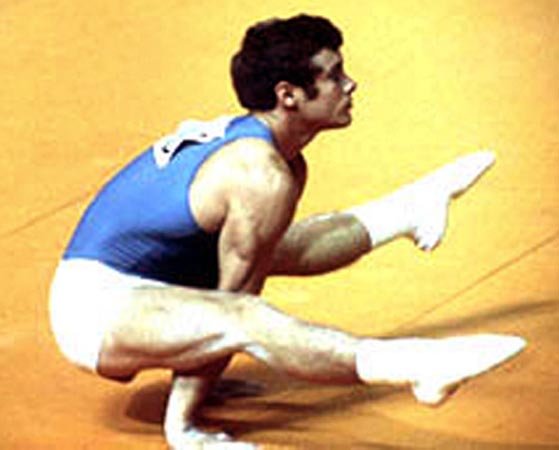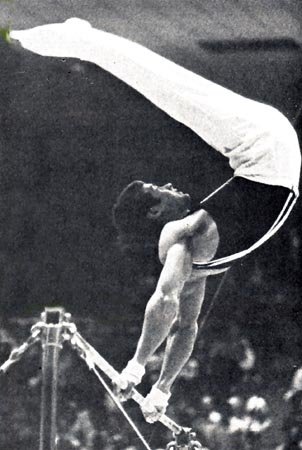 Peter Kormann has the distinction of being the first to be inducted into the USGHOF as an athlete before he was done coaching. He may have been eligible for the "Hall" as a coach as well. In any case, he was a great athlete and a great coach. Collegiate athletes haven't always been lucky to have a coach who was a great AA national and international champion. I can imagine coach/athlete Kormann not just telling, but also showing his men how to perform moves and combinations, and he knew how to learn them, for he had been down that road. Not all top athletes stay with the sport of gymnastics after competition, continuing to teach that which they have learned to perfection. All of us who have affection for the world of gymnastics should admire and feel fortunate to have a Kormann stay to help and show us how to win.
Olympic Games: Bronze-FX, the first American gymnastic to reach the medal stand since 1932, Montreal, Canada, (1976). Pan American Games: Gold-Team & FX, (1975). EIGL Conference Championships: Gold-AA & FX, (1975); Gold-AA, FX, SR, V, & HB, (1976); Gold-AA, FX, & V, Silver-SR & PB, (1977). Kormann continues to hold the EIGL record for career titles, and, while at Connecticut State College, he became the only gymnast ever to win both the NCAA Division II and Division I AA titles in the same year.  Coaching: Peter Kormann was the Head Gymnastics Coach at the U. S. Naval Academy, (1983-'88). In 1983, Peter's Navy team went 11-1 for the best record in Navy history, and the team won the Silver Medal in the EIGL. He figuratively "jumped ship" and became the Head Gymnastics Coach at Ohio State University, (1989-'96). In his first season, 1989, the Buckeyes went 11-0, won team Bronze in the Big Ten Conference and placed 7th in the NCAA Championships. In 1990, the Kormann coached Buckeyes went 8-1, won Bronze in the Big Ten, and placed 5th in the NCAA Championships. The following year, 1991, Kormann's Buckeyes went 10-1, won Silver in the Big Ten, and 6th at the NCAA Championships. By 1992, Kormann's coaching began to blossom. His Buckeyes went 10-1, won Silver in the Big Ten Conference, and moved up to Bronze in the NCAA competition. In 1993, his team's record was 9-1, won Gold in the Big Ten Championships, and maintained its Bronze placing in the NCAA team scoring. He continued coaching winning teams at Ohio State in 1994 when his record was 9-0, 1st in the Big Ten Conference, and, once again, maintained the Bronze Medal at the NCAA meet. In 1995, the Buckeyes lay low, winning Bronze in the Big Ten, but dropping to 4th in the NCAA team competition. The Kormann coached gymnasts made a few errors in the Big Ten meet, but they maintained the Bronze placing. Then, without warning, Kormann's men hit the collegiate gymnastic world a knockout by winning Gold at the 1996 NCAA Championships. Peter has been the Gymnastics Director at Chelsea Piers in New York City since June of 2001. Chelsea Piers has an extensive history aside from its gymnastics. The Titanic was scheduled to arrive there had it not sunk, and the port served as a debarkation and embarkation point for U.S. soldiers during WWI and WWII. U.S. Team Coaching: Kormann served twice as Head Coach of the U.S. Men's Olympic team, Atlanta, GA-USA, (1996) and Sydney, Australia, (2000). He also served as Head Coach of four U.S. World Championship teams, Sabae, Japan, (1995), Lausanne, Switzerland, (1997), and Tianjin, People's Republic of China, (1999). He also coached the Gold Medal Pacific Alliance Team, (1995), and the Bronze Medal Goodwill Team, (1994).
Source: Records, data, and general information by Jerry Wright, author of Gymnastics Who's Who, 2005. Introduction and formatting by Dr. Larry Banner, Web Manager.