COCO, William "Bill"  (1931-1976)
Inducted: 1978
Born: Philadelphia, Pennsylvania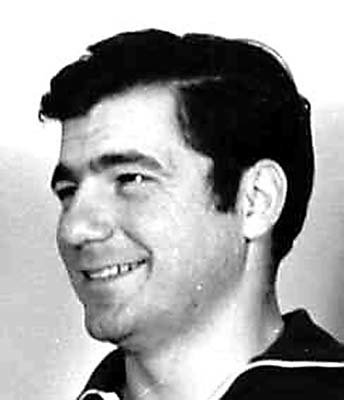 Bill Coco was a coach who commanded the respect of all with whom he worked as well as those who knew of his work but did not know him personally.
Gymnastic coaches who produce winners on a national and international level seldom if ever find themselves standing on a medal podium even though their character is of medal-winning caliber.  Bill Coco's character and talent had to consist of extreme pride in his family, his charges, his work, and the positive influence he exerted on so many in the gymnastic world.
To lose such a man at an early age is unfortunate for all, but had he lived a long life, I'll venture to write that thousands more would have had the privilege of learning from him.  For those of you who read about his life in gymnastics, he is, in fact, continuing to teach. Thank you, Bill, for what you have accomplished and what you will continue to accomplish as young people read about your life and accomplishments in our great sport.
Bill Coco was a gymnast at Temple University (1950-1954) where he earned his B.S. in Physical Education. After completing additional university studies, he began a 12 year teaching and coaching career in the Philadelphia Public School system. He was recruited as Temple University's Head Gymnastic Coach, (1968), and remained in that position until 1973. Beyond his regular school assignments, Bill taught gymnastics in the Philadelphia Department of Recreation Program and founded the Mannettes Girls' Team at the Mann Recreation Center, (1958).
During Bill's tenure at Temple, the Mannettes trained at the university facility, (1969-1973). Bill's wife, Ginny, worked with him in their gymnastics business, (1962-1976), then returned to teaching. Ginny was honored as Pennsylvania's Teacher of the Year, (1991) and retired as a Department Chairperson in Health and Physical Education and Athletic Director, (2001). Later, the Mannettes moved into their own facility.
During his coaching career, Coco produced three World Championship team members, two U. S. Olympic Team members, and two Pan American Games team members.  Coach Coco's Mannettes won National AAU team titles in the early 1970's. His most prominent gymnast, Joan Moore, (later Joan Rice-Gnat) won USGF Gold-AA, (1971-1974). In NCAA Division One, his gymnastics team at Temple U. won Bronze-Team, (1970). He worked equally well with the men as well as the women gymnasts. Temple senior Pete DiFurio garnered the Nissen Award, gymnastics' equivalent of football's Heisman Trophy. Five or more junior college transfers such as Tom Pica and Dale Smith did well under his tutelage. Other gymnasts who made national teams and were trained by Coco are Fred Turoff, Janet Cantwell, Roxanne Pierce, Ann Carr, and Ron Clemmer.  Bill also coached Barry Weiner, the current Head Gymnastic Coach at the University of California, Berkeley.
Bill was chosen to manage the 1966 U. S. World Championship team, and he served as a member of the U.S. Olympic Gymnastics Committee.  He co-founded the Eastern Gymnastics Clinic that operated during the summers of 1963-1972, and he was one of the original five directors of the U.S. Elite Coaches Association. The USEGA was directed by five members purposely so there would be coverage at all meets and times. The original five were Bill Coco, Jim Gault, Vannie Edwards, Jim Fountaine, and Bruce Davis. Bill was always on the side of the young gymnasts, and his instant hot temper was a strong factor in bailing out someone in trouble.
He was a man of high energy and strong principles and earned the deepest admiration from the gymnasts, coaches, and others with whom he interacted.  In fact, numerous active and retired athletes, coaches, and others who knew Bill and his work consider that he influenced many of the older leading coaches in the Eastern United States today.
At age 44, Bill passed after a short battle with an aggressive cancer.  All who knew him or about him were shocked at his early demise. Karl Schier writes, " My friendship with Bill enabled me to recruit Ann (Carr) at the same time as my arrival at Penn State in 1976.  His last national participation was as a contributor to the first USGF Safety manual conference held at Camp Woodward in the Fall, right after the Olympics that summer . . . Bill was a great guy respected by all."
Family
m. Virginia C. Harvey, "Ginny". Two children, Michael, who lives in Mammoth Lakes, CA where he is the chef/owner of the Thai'd restaurant and an avid skier, and Gini Beth Eberling, who lives in Mount Laurel, NJ. Three grandchildren: Eric, Bill, and Andrew Eberling.
Sources: Gratitude is expressed to Fred Turoff for historical data & Coco photo and to Mrs. Coco for information only she could provide. Thanks also for the help of Jerry Wright, author of Gymnastics Who's Who, 2005 and also to A. Bruce Frederick, author of Who's Who in American Gymnastics, Bruce Davis, and Abie Grossfeld for their editing services and suggestions. Introduction, commentary, and formatting by Dr. Larry Banner, Web Manager.