D'AUTORIO, "Vinny" Vincent (1915-2008)
Inducted: 1971
Born: Newark, NJ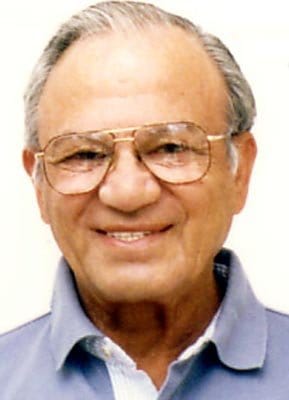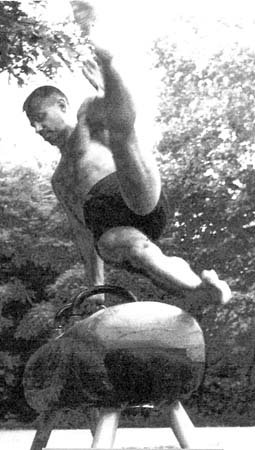 Vincent D'Autorio is another Hall of Fame Honoree who was forced to balance work, service to his country, and gymnastic training. He was a two time Olympian who competed in an era that featured some of America's best gymnasts including Bill Roetzheim, George Wheeler, Ed Scrobe, Frank Cumiskey and Al Jochim. Although he never won a national AAU title, the jeweler/soldier from Newark was frequently among the top ten all-around gymnasts nationally prior to WWII.
Olympic Games: Team member & second leading U.S. scorer, London, England, (1948);Helsinki, Finland, (1952). At age 36, Vince was the oldest American on record to compete on a U.S. Olympic Gymnastic Team.  This record may stand to this day. The National Collegiate Gymnastics Alumni Association also named D'Autorio an Honorary Member of the 1944 Olympic Team. Metropolitan AAU Championships: Silver-AA & PH, Bronze-PB, (1942); Silver-AA & PH, Bronze-FX, HB, & PB, (1946); Gold-FX & PH, Silver-AA, PB, HB, (1948); Gold-PH, Silver-AA, Bronze-FX & V; Gold-AA & PH, (1954). National AAU Championships: Bronze-PH, (1942); Silver-PH, Bronze-FX, (1943); 4th-PH, HB, & AA, (1947); 4th-AA, 5th-PH, (1950); 6th-HB, 4th-PH, (1951); 5th-PH, 6th HB, & 8th-AA, (1952). General: Vinny was the oldest of ten children raised in Newark, NJ. He became interested in gymnastics in high school, first at Central HS and then at Eastside HS. He won the Newark City High School Championships during his junior year. The family did not have the funds for college, so Vinny became an apprentice jeweler and spent 25 years in the business. He did find time to teach gymnastics for Bonnie Prudden in White Plains, NY. Coincidently, Ms. Prudden was dating Dr. Hans Kraus, JFK's personal back physician. These intertwined relationships may have been part of the geneses of JFK's President's Youth Physical Fitness Program. After Bonnie Pruden closed school, Vinny opened a gymnastic school in Westchester County. There were about 12 high schools in the county and he helped develop gymnastic programs at each of them. After about three years, he orchestrated a Westchester County Gymnastics Championship program that provided a strong incentive for young gymnasts to be the best they could be. Vinny enjoyed a long and illustrious career in gymnastics.  He was at his peak and ready to make the 1940 U. S. Olympic Team, but the games were cancelled due to WWII. Vinny served in the U.S. Army in the South Pacific, (1942-1945). To stay in shape, he hand balanced, made a trampoline out of rubber tires, and PB's out of pipes. The fact that the Army Special Services arranged for him to compete in several city and national championships was a super boost, also. His training regimen worked, and he came back to make the two Olympic Teams as noted previously. He settled in Florida, invested in residential and commercial ventures in Sarasota and So. Carolina and was one of the fundamental developers of the National Gymnastic Clinic that was held during the Christmas school break. Coaching/Judging: Toward the end of his competitive career, Mr. D'Autorio coached at Panzer College and judged at numerous international competitions.  Family: m. Annette Pizza. Children: Two boys and one girl.
Sources: NCGAA Newsletter-April, 2002. Photo and historical text courtesy of Jerry Wright, author of Who's Who in Gymnastics, 2005.  Appreciation is extended to A. Bruce Frederick, author of Who's Who in American Gymnastics and Abie Grossfeld and Bruce Davis for their editing, suggestions, and comments.  Introduction, commentary, and formatting by Dr. Larry Banner, Web Manager.