YOUNGER, Maximilliam "Max" (1886-1962)
Inducted: 1959-Among the Original Class of Honorees
Born: Pilsen, Czechoslovakia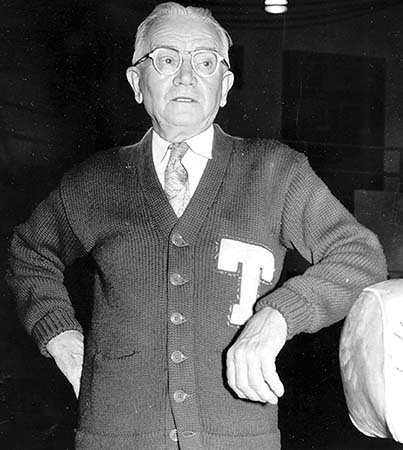 Maximilliam Younger is another individual whose contributions to gymnastics in the U.S. has gone unheralded in the gymnastic world of today, but those who knew him will never forget him.
Max Younger came to the U.S. in 1906. He served the military as a recreation director with a YMCA unit attached to the U.S. Marines in central Europe (1917). He started his coaching by training the Czech Olympic track team, (1917). He then enrolled at Temple University with a scholarship by founder Dr. Russell Conwell.  Max earned both his undergraduate (B.S.) and graduate (M.A.) degrees from Temple University. NCAA National Championships: Younger's gymnasts won numerous medals at the collegiate level and he coached Temple's Silver Medal team, (1948) and Gold Medal team, (1949). His gymnasts amassed a total of 28 medals between 1939 and 1954, eight of them Gold; however, the preceding eight do no include Bob Stout's Gold-FX, (1948) because the NCAA did not recognize some medals during this period because some meets were only officially used as an AA only event.  It appears that Max was best at coaching the HB event since four of the eight Gold Medals were on HB.  Professional: He became a Professor of Health and Education and Head Gymnastic Coach at Temple and is one of the most respected and popular figures in the history of Temple University. He was a man of great charisma and Karl Schier, who knew him in his later years, stated that he was " . . . a wonderful gentleman."  Coach: Younger coached the gymnastic team at Temple U. for 30 years (1926-1956) and compiled a record of 98 wins, 72 losses, and one tie for a 70.6 winning average. No teams were fielded during the 1943-1946 seasons. He coached numerous gymnasts who went on to become standout coaches and officials in our sport; e.g. George Szypula, Gold-TU, (1942) and Robert Stout, (Gold-1949); et al. EIGL: Gold-Team, (1935, '36, 37, '39, '41, & '49). Honors: Presented the First annual National Association of College Gymnastics Coaches Award, (1954). Personal: Max was a gymnast through college and continued to work on the apparatus until shortly before his retirement. He moved to Green Acres, FL when he retired in June 1956. Family: m Anna Novotny. Children: Arthur V. Younger, D.O. and Wayne A. Younger. Grandchildren: Terry Campbell of Yakima, WA, Steve Younger of Maysville, MO, and Robert Younger (d). Max also has five great grandchildren.
Sources: Interviews and correspondence with Wayne Younger, Max's youngest son, EIGL results provided by Karl Schier, 1982 Gymnastics Hall of Fame Honoree, and basic information and research courtesy of Jerry Wright, author of Gymnastics Who's Who, 2005 and A. Shrier with Temple University's Sports Information Office. Introduction, commentary, and formatting by Dr. Larry Banner, Web Manager.