GAUTHIER, Cliff
Honored Guest
Denver Colorado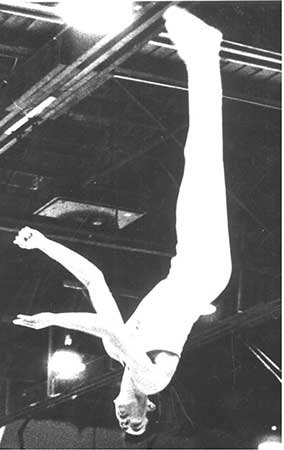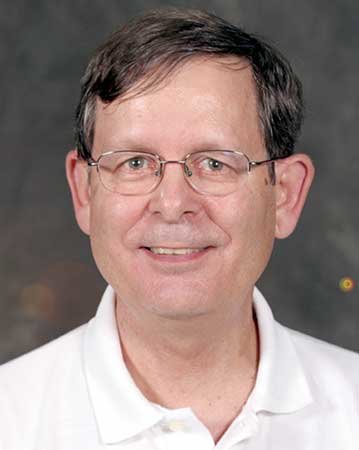 Gauthier is the David of David vs. Goliath in the sport of college gymnastics. He has always had an uncanny ability to recruit great students and good gymnasts and help them develop into outstanding students and graduates as well as national gymnastic champions. The information that follows herein is just the tip of the iceberg of his major contributions to the overall development of our American gymnastic program. It is with great pleasure that we are able to present Cliff Gauthier as an Honored Guest to be counted among the best athletes, coaches, judges, and contributors to American gymnastics.
Education/Training: Gauthier received his bachelor's degree cum laude from the University of Denver where he was a top eight NCAA Division I finalist on various events during each of his final three years of collegiate competition. His senior year was culminated by his selection as the university's outstanding scholar-athlete. Gauthier also earned a master's degree in kinesiology from the University of Colorado in between three years of teaching secondary level mathematics in the Denver area and coaching at the University of Denver. Coaching: Entering his 35th year at William and Mary, Head Coach Cliff Gauthier is riding an impressive streak of 12 College Gymnastics Association Collegiate Coach of the Year selections in the past 14 years. Since 1992, coach Gauthier has also produced five Nissen-Emery Award finalists, two NCAA Postgraduate Scholarship winners plus two NCAA national champions and one runner-up. Including dual meets, opens, and invitational meets, Cliff's teams have compiled a 695-265-1 record during his tenure on the William and Mary campus. His gymnasts have earned 132 USA Gymnastics Collegiate All-America awards. The 1994-1997, 1999, and 2001-2007 teams won the USA Gymnastics Collegiate Nationals while the 1991, 1992, and 2002 teams won the College Gymnastics Association's National Academic Team Title. The 1994, 2000, 2001, and 2003 teams finished second in the national academic team standings. As individuals, William and Mary gymnasts have earned more Academic All-America designations in men's gymnastics than gymnasts from any other university. Excellence of the scholar-athlete is the heart of William and Mary University's program. Reflections of An Outstanding Coach: Reflecting on 600 Victories at W&M, Gauthier relates, "For most of my colleagues in all aspects of sport from coaching and competing to sports administration and reporting, wins are the primary validation of their career or a career in sports in general. As a competitor and a young coach, I was well on my way down this same path—if you weren't a national finalist you weren't much; if you didn't win you were a loser. Had I continued down this route, my 600th victory at William and Mary would have been a great occasion and accomplishment—a validation of my coaching career—but it also could have been rather hollow as true coaching is much more than wins and loses. I will forever be in debt to my teams at William and Mary and W&M itself for providing such a fertile ground for me in the development of my philosophy of sport, coaching, and education in general. As a result, that 600th win wasn't at all hollow just as it wasn't the primary affirmation of my career. My affirmation comes on a daily basis, watching people grow and learn, in addition to helping each other out in a true spirit of teamwork and personal development. Since coming to W&M it seems as if our gymnastics program has perpetually improved step by step. Some of the dual meet wins really do stand out as they signaled our stepping up another notch. Our steps forward in championship meets were also significant and quite memorable—the first State Title, the first trophy at the Southern Intercollegiates, the first SIGL title, the victories at the NAGL and the ECAC conference meets, the USA Gymnastics Collegiate titles, as well as our first team appearance at the NCAA's. A lot of first individual accomplishments also stand out in my mind. The first State Champion, the first SIGL finalist, the first NCAA qualifier, the first NCAA regional champ, the first NCAA All-American, the first USAG Collegiate All-American, the first USAG Collegiate national champion, the first USAG Collegiate outstanding senior, the first William and Mary Outstanding Senior Athlete, the first W&M Hall of Fame Inductee, the first Nissen-Emery Award finalist, and the first NCAA national champion, all come to mind. Paralleling these athletic achievements were always the honors projects, the Phi Beta Kappa initiations, the numerous academic All-American awards, and the year in, year out top five finishes in the national team academic standings. The individual accomplishments in which so many of our gymnasts got the most out of their abilities often exceeding all legitimate expectations in their gymnastics and their academics while at W&M and then going on to great successes in life after graduation have been quite memorable. As I look back on these team and individual accomplishments, I have always had many more victories than wins." Proving Gautheir's Point: Gauthier coached 24 Physicians/Med School; 20 business executives (CEO, VP, etc); 13 Computer Consulting/Information Technology Experts; 11 Attorney/Law School; 21 in Finance, and 8 Professors/College Administrators, and one Astronaut, Dave Brown who was an ill fated member of the tragic Space Shuttle Columbia that did not complete re-entry. Honors: Cliff Gauthier was presented with the prestigious Thomas Ashley Graves, Jr. Award for Sustained Excellence in Teaching by the university president at the 2004 William and Mary Commencement. "The Graves award recognizes faculty diverse in their expertise but uniform in their dedication to helping students find the very best in themselves. For his work establishing the standard of excellence for William and Mary athletics—and for reminding us that great universities comprise great teachers across the campus—the college is honored to present the Graves Award to Cliff Gauthier." Gauthier also received the Honor Coach Award presented by the College Gymnastics Association that reads, "In recognition of his service in coaching and developing gymnastics for over twenty-five years, Cliff Gauthier has gained the respect of his associates in the gymnastics world by his inspiring example and accomplishments." Family: (m) Linda Bolter. Children: Two daughters, Julie & Jeri plus six grandchildren.
Sources: Introduction and photos courtesy of by Jerry Wright, author of Who's Who in Gymnastics with formatting by Dr. Larry Banner, Web Owner/Manager.