TONRY, Don
Inducted: 1980
1935 – 2013
Born: November 24, 1935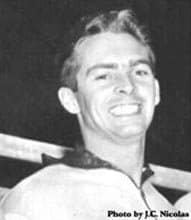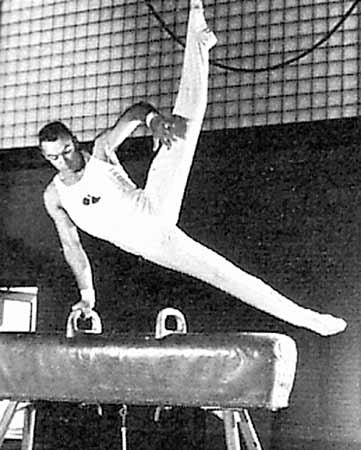 A fixture at Yale University for 43 years, it was written that Don's ever leaving would be like removing the ivy from the walls. This writer and web site manager, who competed against and with Don Tonry wishes to quote from some of Abie Grossfield's eulogy for Don. Abie was one of Don's best and long time friends. Abie began, "Becoming an Olympian is very difficult, considering that only six individuals become Olympians in gymnastics every four years; however, Don's goal had its hardships.  After his sophomore year of competition in 1956, Don sustained a chromial-clavicular separation that required surgery. The surgical technique at the time was to cut off the distal end of his clavicle and stabilize what remained of his clavicle with his pectoralis muscle. Then, during his junior year of competition, he contracted pleurisy just before the NCAA Championships and couldn't compete. Don's struggle over the last 40 years was far more difficult than all the difficulties to achieve the greatness that he did. Don was outstanding in all the areas of his professional involvement as a competitor, coach, teacher, administrator, author, artist, and story teller."  This biography will attempt to depict just how he achieved his greatness and the total respect of all who knew him.
Olympic Games:  Rome, (1960). World Championships: Moscow, USSR, (1958); Prague, Czechoslovakia (1962); Dortmund, Germany, (1966); National AAU Championships: Gold-AA, PB, & FX, (1962), V, (1958 & 1959). NCAA Championships: Gold-AA, (1956) & FX, (1959). Pan American Games: Chicago, (1959) & Sao Paulo, Brazil, (1963). Big Ten Championships:  Gold-AA, (1956) & FX, (1959). National Elite Championships: Don won a total of six different titles with Gold in AA & FX.  Judging Experience: FIG Certified at 1st Course, Penn State U., (1969), World Championships, Ljubljana, Yugoslavia, (1970); U.S.A. vs. England in London; U.S.A. vs. Switzerland, Zurich, Switzerland, (1970); World Championships, Yugoslavia, (1970); Tonry judged at the International American Cup, plus additional competitions in Europe and numerous U.S. National Championships. Education: Bachelor's Degree, University of Illinois, Master's Degree, Southern Connecticut State University. While training for the 1960 Olympics, Don was in the U.S. Army, deployed at the U.S. Military Academy, West Point. Contributor: Grossfeld writes "Don taught at numerous gymnastics clinics and camps for over 40 years-teaching and influencing an untold number of students; e.g. one student of Don's was Kurt Golder, who currently is the Head Gymnastics Coach at the University of Michigan, whose team (2013) won the NCAA team championships. Kurt told me (Abie) that Don taught him at a clinic, when he was 14 years old. This experience with Don very much affected his career with lessons that he still employs. Honors: Induction into the U.S. Gymnastics Hall of Fame; the World Acrobatic Gallery of Legends; Sullivan Award finalist (1960); Veterans Award-New York Athletic Club, (1962); McCloy Honor Research for Master's Thesis, Research Award-NACGC for Tumbling for Men and Women (Sports Illustrated);President's Award-NGJA, (1990); and Gymnastic Publications: Woman's Gymnastics-Vaulting and Balance Beam, Women's Gymnastics-Uneven Parallel Bars and Floor Exercise, published by Sports Illustrated, (1964). Don Tonry arrived at Yale when Russell Mills was a sophomore after which he won two NCAA PH championships, (1964 & 1965) as well as the National AAU Championships, (1965). Mills eventually became the model for Don's drawings.  (See insert of the cover drawing for The Side Horse that was published by George Nissen.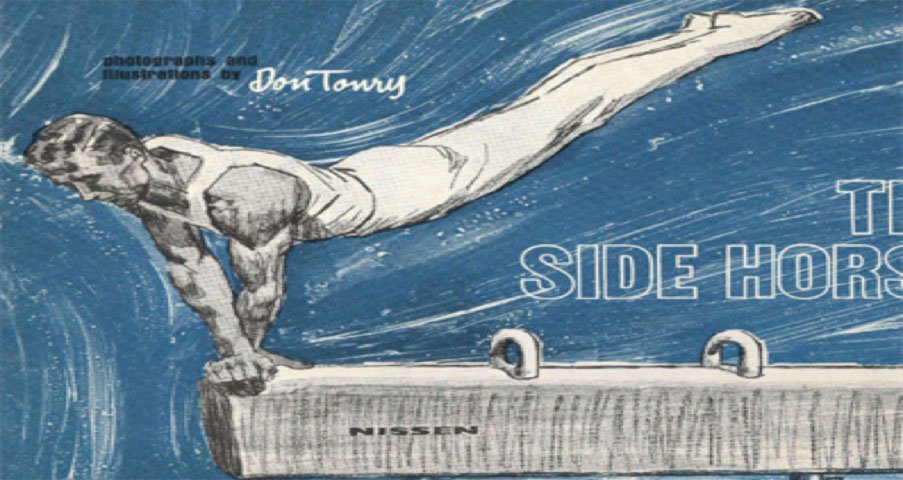 Coaching/Teaching: Gymnastics Camp Director, (1957); Ass't. Coach & Instructor, West Point Military Academy, (1959-1962), Gymnastic Coach for 23 years and an instructor for over 35 years starting in 1962. Associate Director of Physical Education, (1972-1978), Director of Physical Education & Sports Camps, (1998-2005) @ Yale University. The Final Days: Grossfeld writes that "Don was robbed of his physical abilities for most of his life and dealt with his numerous and extreme health issues more than any person deserves to endure. He showed that he was a true champion to the very end. To say the least, his fortitude was unbelievable, and he accepted his fate with an astonishing bright disposition. Yes, it's difficult to imagine that Don's gone, but he'll live in our hearts the rest of our lives. He was such a wonderful person. God bless him. Family: m. Barbara Galleher Tonry & his  brother, Edmund Tonry.
Sources: Tonry's resume, personal interviews, Jerry Wright's Gymnastics Who's Who, 2005 plus special thanks to Abie Grossfeld, one of Don's best friends, and a 1979 HOF Honoree and Karl Schier, a 1982 HOF Honoree, for their vetting services. Also many thanks to Charles C. Jeffrey for information and the photo of Don's drawing that was used as the cover of his book, The Side Horse.  Written and formatted by Larry Banner, Ed. D. & Ph.D., Web Manager.