HRADECKY, RUDOLF (1909-1993)
Inducted: 1994
Born: Dolni Bucice (Town of Lower Bucice) District of Kutna Hora, Czechoslovakia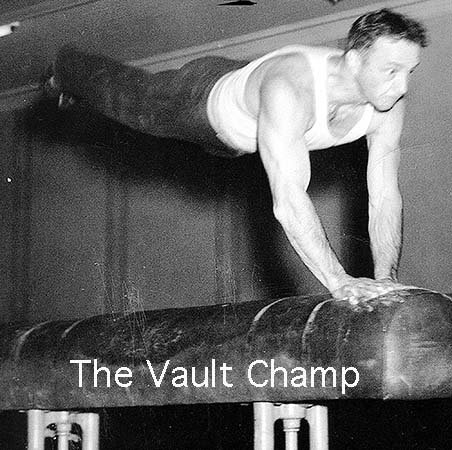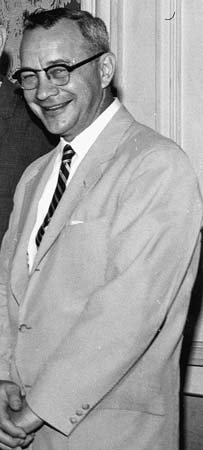 Rudolf "Rudy" Hradecky arrived in New York at the age of one and joined the Bohemian Gym Society-New York Sokol in 1926. Like so many Gymnastics Hall of Fame Honorees, he was a multi-sport person. At Stuyvesant High School, he participated in track and field as well in the high school gymnastics program. In those days, the "beat board" was usually just a 2 in. x 4 in. piece of wood placed long side up with a slanted board leading to the top. The only spring given a vaulter was in  his or her legs. In later years, he served as an exemplary role model, particularly for the junior gymnasts at the Bohemian Gym Society Sokol New York facility. Whether a young Sokol New York gymnast or a gymnast of any following generation, his contributions to our sport are worthy of living on in our memories. We all owe Rudy a debt of gratitude for his pioneer dedication to the futherment of gymnastics in the United States.
"Rudy" began competing for the New York Sokol around 1924 at age 13 or 14. By age 19, he was a national champion. National AAU Championships: Gold-V,  (1928, '36, '44, '46 & '47 [T]) at age 38. It boggles the imagination that one person would win a single event with a 19-year span between the first and last win; Gold-Team [T/U. of Illinois] competing for the Bohemian Gym Society-Sokol of New York; Bronze-V, (1941). In addition, Hradecky captured numerous regional titles. New York Metro Championships: Gold-V, (1940, '41, '44, & '46).  Although the records tend to indicate that Rudolf was virtually a vaulting specialist, he also placed 3rd in 1947 at the National Sokol eleven events championships in Chicago. Considering that Rudy competed at a very high level of proficiency from 1924 to 1947, it is easy to understand his place in the U.S. Gymnastics Hall of Fame. He was competing at a time when numerous future Gymnastic Hall of Fame Honorees were at their prime; e.g., Al Jochim, Frank Haubold, Frank Cumiskey, George Wheeler, Arthur Pitt, Ed Scrobe, and Bill Roetzheim; nevertheless, he prevailed at the vault event. Contributer: Hradecky assumed the responsibility of maintaining the New York Sokol gymnastic unit during the WWII years, and additionally provided a very valuable leadership role in the Sokol community. Norma Zabka, 1996 GHOF Honoree, writes, "Sokol New York was fortunate to have Bro. Hradecky serve as Director of Men during WWII. He served as an exemplary role model, particularly for the junior gymnasts, and he fondly recalled working with excellent gymnasts such as Jerry Hardy, 1989 GHOF Honoree, Frank Kveton, Charles Skoch, and Lardy Hudecek."  Dr. Frank Kveton, who won the Silver Medal in the vaulting event at the 1946 AAU Championships remembers Rudolf very well and writes that "Rudolf occupied a very important role in my life and training as a gymnast and in my medical calling . . . Rudy was a major contributor in sustaining the integrity of T.J. Sokol, N.Y. during the early and mid forties. When others would have been content to reflect on their prior gymnastic successes, he sealed the breach left by the young Sokols leaving for the armed forces . . . and should Sokol ever establish a Hall of Fame [sic] he should be a charter member." The war had drained the Sokol Unit of many of its instructors; however, Rudy used all his available time assisting at the Sokol facility. He was exempt from military service by virtue of being recruited to become the General Manager of General Electric's Louisville plant. After seven or eight years with GM, he worked for Trio Metals, CT. Both companies were considered vital to the war effort. After retirement, he consulted in general metallurgy using his special gift for mathematics. Rudolf and his wife, Olga, celebrated their 50th wedding aniversary in 1993, just six months before Rudy passed away. Family: (m) Lillian Rajdl.  Children: Rudolf III, a U.S. Navy Commander and attorney, and Anthony, an anti-submarine warfare specialist. Both are now retired. Rudy later married Olga. Children: Carl, a production engineer, Ryna, a former ballet and stage show dancer. She was also a dance teacher and choreographer and is currently a legal secretary in Miami, FL., Ingrid, a retired Certified Investment Management Consultant, & Shawn, who, after receiving an honorable discharge from the Navy, became a nurse.
Sources:  Primary research courtesy of Jerry Wright, author of Who's Who in Gymnastics, 2005. Data editing courtesy of Jerry Wright with special thanks to Rudolf Hradecky III, who provided photos, documents, and other special information to complete his father's USGHOF web biography. For more information regarding Sokol activities & history, browse . Introduction, commentary, and formatting by Dr. Larry Banner, Web Manager.