Inducted: 1980 Born: January 26, 1923, New York, NY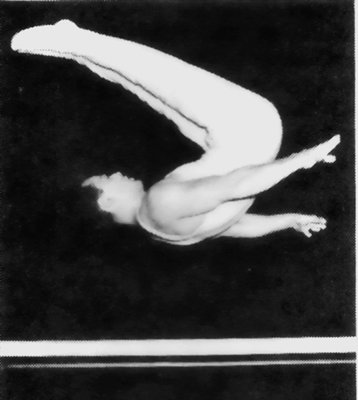 Edward Scrobe was the top American scorer in two Olympic Games.  He won a total of nine national titles and earned national medals in five of the six men's events.  His event exercises were punctuated by artistry in the highest tradition of gymnastics competition.
Olympic Games: Team member, London, England, (1948); Team Captain, Helsinki, Finland, (1952); AAU National Championships: AA-Gold, (1948), Silver, (1947, '51, & '52), Bronze, (1949 & '50); PB-Gold, (1946, '50, '52, '55, & '59), Bronze, (1948 & '49); HB-Gold, (1947, & '49); Bronze, (1948 & '51); V-Gold, (1951); Silver, (1948); FX-Silver, (1949); Bronze, (1946, '48, & '51); PH-Silver, (1950); Bronze, (1951). Scrobe placed 1st or 2nd in the National Championships in five of the six events during his career.  He averaged 2nd place in the AA for six consecutive years. Early Training: Scrobe received early training under the guidance of Mr. Bernhard Unzer at the Turn Verein in Bronx, NY. He also credits Adolph Zink and Fred Meyer, both former Olympians for helping in his gymnastic development. Personal: During WWII, Scrobe served in the 10th Mountain Infantry Ski Division troops in the Italian Alps where he saw heavy action, (1942-'45).  After his retirement from gymnastic competition, he coached at numerous clubs and high schools, (1946-'47) and worked at the Bank of Manhattan in NY.  Honors: He returned from WWII and competed in the 1948 & 1952 Olympics, both times emerging at the U.S. top scoring gymnast. The national Collegiate Gymnastics Alumni Association (NCGAA) selected 10 male and 8 women as the US's "Honorary 1944 Olympic Teams."  Edward Scrobe was one of those chosen along with gymnastic greats George Wheeler, Frank Cumiskey, Hal Frey, Paul Fina, Joe Koyts, et al.
Sources: Courtesy of the private archives of Abie Grossfeld, 1979 HOF Honoree, Jerry Wright, author of Gymnastics Who's Who, 2005, NCGAA Newsletter, 2002, and A. Bruce Frederick, author of Who's Who and Was Who in American Gymnastics. Introduction, commentary, and formatting by Larry Banner, Web Manager.