HOLZAEPFEL, Richard "Dick"
Inducted: 1983
Born: Sandusky, Ohio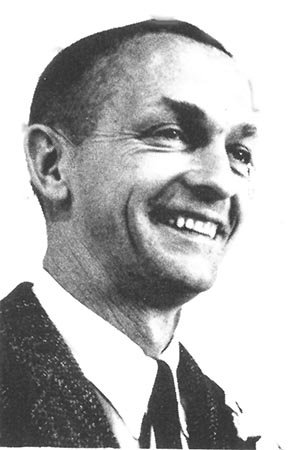 Dick Holzaepfel is another gymnastic coach who contributed greatly to the development of gymnastics in the United States through a long and fruitful career of leading gymnasts to the top of the winner's podium.
Coach: Holzaepfel began as assistant gymnastics instructor at Michigan for three years after graduating in 1937. He coached at Manistee, Michigan and Milwaukee high schools before entering the military. He was trainer and gymnastics coach at Northern Colorado in 1947 before going to Iowa in 1948. Holzaepfel coached for 27 seasons at the University of Iowa, (1948-1966). He dropped out of coaching for four years and returned to coach again in 1971. His last season was 1979-'80. He guided the Hawkeyes to a 2nd place finish in the Big Ten when he returned to the gym, (1971). The following year Iowa won the Big Ten Championship, his first as a coach, and a 4th place finish in the NCAA Nationals. In 1974 Iowa won the Big Ten again scoring a record breaking 329 points. Holzaepfel then guided the Hawkeyes to a 5th place finish at the NCAA Nationals. In 27 years as head coach, Holzaepfel's teams had an overall dual meet mark of 179-86-2 and were 103-55-1 in the Big Ten. His teams finished lower than fifth only three times in league finals and had six second-place finishes. Four Iowa teams were undefeated and 17 competed in the NCAA Nationals with one 3rd place and three 4th place finishes. During his tenure, he produced 36 Individual Event Big Ten Champions (Trampoline-6), Tumbling (4), HB (3), PH (8), FR (1), FX (4), SR (2), PB (3), AA (3), and V (2). He also produced 38 All Americans and five NCAA Individual Event National Champions as well as six individual event NCAA champions, two Big Ten Championship teams, and 50 Big Ten individual event winners. His vigorous ways in the gym probably contributed to the fact that, as of this writing, (2007), Dick is 100 years of age. We hope to learn more details about his life from contacts within his family. This biography will be updated as information becomes available. Military Service: Joined U.S. Navy, (1943). Honors: Dick was honored by being selected to coach a USGF sponsored U.S. team that competed in the 2nd Annual World Trampoline and Tumbling Championships, London, England, (1965). The team won every Class A Blue Ribbon in the meet. Dick is a CGA Honorary Lifetime Member, CGA Honor Coach Award winner, for 25 years service, (1979, and CGA Regional coach of the year in 1961. The U. of Iowa Men's Gymnastics team annually awards the Dick Holzaepfel Award to the team's Most Valuable Gymnast. Dick was also inducted into the U. of Iowa Varsity Club Hall of Fame in 1997. Family: (m) Betty. Children: Two sons and a daughter. After Betty's passing, Dick re-married to Jean and they live in Waukesha, Wisconsin.
Source: Jerry Wright, author of Gymnastics Who's Who, 2005 contributed the major portion of Dick's biography and the photo. Introduction and formatting by Dr. Larry Banner, Web Manager.