HANVEY, Tom
Inducted: 1981
Born: February 2, 1919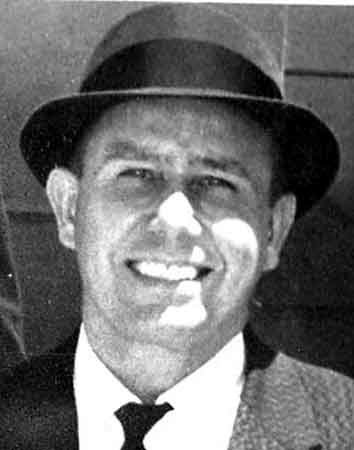 Tom Hanvey began his gymnastics training at the Nashville, Tennessee YMCA under the coaching of L.K. "Doc" Gordon. As a result of this training show business occupied the early years of his life playing circus dates, fairs and theaters. He later served as Athletic Director of the Nashville YMCA and coached gymnastics. During WWII, while in the Air Force, he organized and coached an Air Force show to sell war bonds. He also taught parachute landings.
COACHING: Hanvey coached at David Lipscomb College (Now Lipscomb University) for 31 years with W-L record of 80-16, (1963-1996). His teams competed in 16 National Association of Intercollegiate Athletics (NAIA) National Championship meets winning NAIA National Team Rings Championship in 1979. The team finished 5th at NAIA in 1965, 4th in 1969 and 1979. Tom produced one NAIA National Individual Event Champion-SR, (1979). Tom also had the privilege of coaching Amanda White who won the title "Miss Tennessee." He performed with her in a trampoline doubles act during the Miss America Contest in Atlantic City. In 1965 he served as host to the fledging USGF National Championship Meet. Tom coached 12 NAIA All Americans. Lipscomb University won the SIGL Team Championship in 1964 and produced undefeated teams 8 times in 15 years. In 1968 he produced three SIGL Individual event champions. Hanvey's most outstanding performer was probably Ted Immediato, who was a 3-time All American. Education: Hanvey attended George Peabody College, David Lipscomb, and the University of Illinois, as a student. Service: Tom Hanvey served as Chairman of the NAIA Rules Committee and was an NAIA area representative. He drafted the Southern Intercollegiate Gymnastics League Constitution, which was adopted as he proposed it. Tom served as a charter member of the board for U.S. Sports Acrobatic Federation. HONORS: Tom was named the NAIA National Coach of the Year, (1979); Received the NACGC Special Service Award, (1979); Received an Honorary Membership Award, (1979); and named the NACGC Honor Coach Award, (1983). Tom was inducted into the Lipscomb Sports Hall of Fame, (1987), the NAIA Sports Hall of Fame, (1982), and the Helms Hall of Fame, (1981). Family: (m) Vivian Wilson. Children: Lisa Diane, Kathy Ann, Deborah, Sharon, Tommy.
Source: Jerry Wright, author of Gymnastics Who's Who, 2005, who also provided photos. Formatting by Dr. Larry Banner, Web Manager.