ROETZHEIM, William  "Bill"
Inducted: 1975 Born: September 7, 1928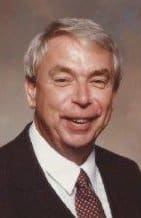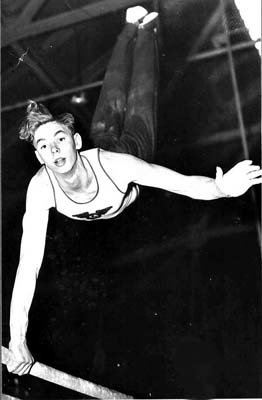 Bill Roetzheim was a gymnast, a highly successful high school and college coach, a judge of international repute, an innovative college director, and an expert lecturer constantly in demand.
As a competitor, Bill Roetzheim won 9 National Championships in AAU and NCAA competition, and these accomplishments plus his Olympic and national championships were truly the best features of his competitive career. Olympic Games: Team member, London, England, (1948); Team member, Helsinki, Finland, (1952). National AAU Championships: Silver-HB, (1948); Gold-AA, the first collegiate gymnast to win the coveted AAU All Around title; Silver-PB; Bronze-FX, (1949); Gold-AA & HB, (1950); Gold-AA, HB, & PH; Silver-PB, (1951); Bronze-HB, (1952); Gold-PH, Silver-AA, (1953). NCAA Championships: Gold-AA & HB; Bronze-PH & PB, (1951). Pan American Games: Gold-AA & HB; Silver-PH & FX, Buenos Aires, Argentina, (1951) Bill was the only American entered in these Pam Ams. He filled the bill as a one-man wrecking crew. Honors: In addition to being an Inductee into the USAG Hall of Fame, Bill is a member of the National Gymnastics Judges Association Hall of Fame and the Illinois High School Hall of Fame. Coach: Bill began his coaching career in high school where his teams won three state team championships. Athletes mentored by Roetzheim amassed 19 individual championships. In college, his teams amassed a record of 81 wins vs. 26 losses for a .757 record. His coaching produced three NCAA champions and 19 individual All-Americans. Judge: Bill was the first American elected to the FIG Men's Technical Committee, serving from 1984 to 1996. He was a superior judge at the Olympic Games, Los Angeles, CA, USA, (1984); Seoul, Korea, (1988); Barcelona, Spain, (1992) and Atlanta, GA, USA, (1996).
Sources:  Information and editing service courtesy of Jerry Wright, author of Who's Who in Gymnastics, 2005 with Pan American Games results courtesy of Olympic Committee Quadrennial, 1956 and . Additional editing services provided by Bruce Davis, author of numerous articles and papers. Introduction, commentary, and formatting by Dr. Larry Banner, Web Manager.