VOLZE, Irwin (1890-1967)
Inducted: 1960 Born: Frankfort, Germany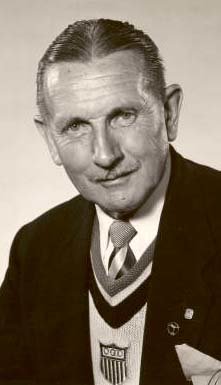 Irwin Volze arrived in the U.S. at age 19.  He attended the Turner Normal School in Indianapolis, Indiana later moving to the Los Angeles area in California.  Mr. Volze was an institution in local, area, and national gymnastics for decades.  He was a soft-spoken, very dignified person who was a straight to the point man. He never hesitated to help a new or experienced gymnast with the artistic elements of gymnastic performance.  The word he spoke most often during training or advising sessions was "artistic". At least five but probably more Olympians owe a portion of their success to Mr. Irwin Volze. He was truly "A Grand Old Man".
Starting Out: Mr. Volze began his teaching/coaching career at the start of the 1911-'12 school year at the Indianapolis Turnverein, the public schools, and at the Culver Military Academy of Indiana. The following year he came to the Los Angeles Turners, (LAT) and began as an assistant to Dr. Karl Ross in the ever-growing Turner gym classes at the LAT. Coaching: His major assignment in the gym was to prepare students to participate in a competition to be held at the National Turnfest in Denver in 1913. The Los Angeles Turners chartered a special train to send teams of Actives, Seniors (The Barenriege), a Ladies' Class and the LAT Singing Section to Denver, and the results were outstanding. In an address honoring Mr. Volze, L.A. Turners President, Robert Imendorf related, "Never in the long history of our (LAT)-before or after-have the victorious results been so overwhelming. Every one of the LAT's teams returned with the first prize in their classification," according to an article quoting his words and published in Turner Topics, (1961) and found in their archives.  In addition, the Golden Wreath Wanderpreis was awarded to the Active Class. Volze moved about the country coaching in the Turnvereins of Cleveland, Sheboygan, San Francisco, Seattle, and Johnstown, Pennsylvania for a few years. However, he returned to the LAT and began coaching American gymnasts for the Olympic Games. Volze was the official coach of the Los Angeles Turners, and he often came to the gyms where young and old alike trained in the evenings. He was a "detail" type coach; i.e., rather that spotting gymnasts learning a double back, he would observe part of an athlete's routine or the entire routine and make comments on the finer points to correct; e.g., he showed many of us how to drive the feet forward during a dismount so the force would be focused just behind the balls of the gymnast's feet and to always have the feet moving forward to "stick" the dismount. He was the official coach of the LAT's five AAU National Championships, (1953, '56, '57, '58, '59).  Many past and prospective Olympic gymnastics congregated in the Los Angeles area after finishing their first college degrees.  They wanted to continue competition, so they joined the L.A. Turners Gymnastics Club. Jack and Dick Beckner, Charlie Simms, Bill Tom, Ken Bartlett, and myself, Larry Banner, were a few of those competing for the Turners at any one time. Olympic Games: Volze coached or judged men and women who competed in five Olympics, Los Angeles, CA USA, (1932); Berlin, (1936); London, England, (1948); Helsinki, Finland, (1952); Melbourne, Australia, (1956). Volze, at least in part, coached five of the six U.S. gymnastics competitors in Melbourne. Judging: Volze was active week after week judging high school, collegiate, invitational, and metropolitan competitions. Before many even heard of the FIG he was using their "Code of Points" when judging. He shared what he had learned with any judge who would listen. Jerry Wright became a national and international judge, and he learned as much about the Code of Points as possible from Erwin Volze. Volze was especially concerned that combinations be executed in an artistic, rhythmic manner with no undue movement of the hands, legs, or feet; e.g., opening and closing the hands when in a PB handstand getting ready to perform the next move or combination of movements.  He said, "Such movement may be compared to a ballerina going one, two, three and then making a leap." He taught me that rather than take an extra step on the FX to get to the corner for a tumbling run, I had to learn how to execute each step, as would a ballet performer. Volze considered just taking a couple of normal steps with hands raised overhead to get into position a deduction of points. You did it correctly or you lost tenths of a point. His reputation as a strict but fair judge was well earned and respected. During WWII, he was Physical director in both the Hollywood Athletic club and the California Military Academy. By 1961, his gymnastics coaching skills had caught the eye of the U.S. State Department, so he was selected by the AAU under State Department auspices to manage and coach U.S. Olympic Team members, et al. on an International Good-Will tour to the Middle East. Awards/Honors: Declared "Coach of the Year" by the Amateur Athletic Union, (1948); Received the AAU's Coach of the Award and the AAU Gold Medal for outstanding service as coach of American Olympic Games training he had conducted, (1958); Elected to the Helms "Hall of Fame for Gymnastics by the Helms Athletic Foundation, (1960); Received a National Gymnastics Clinic Award, a Coaches Association Award, and an AAU Award for outstanding service. In addition, Mr. Volze was honored with an AAU Gold Life Membership Card that he treasured highly. Volze also received a Plaque from the National Executive committee of the American Turners for "Creating Olympic Champions". After 50 years of helping the Turner organization successfully develop its gymnastics and physical education programs, what follows are the words that accompanied the presentation of the LAT plaque by Turner President Imendorf, "Mr. Volze, as a token of our appreciation for your untiring services in behalf of our Society in particular and your accomplishments in the field of Physical Education in general, we offer you this Plaque with sincere Congratulations and Best Wishes from all of the Los Angeles Turners." I then watched with a lump in my throat as Mr. Volze received his Plaque. He received the honor exhibiting his unyielding dignity, but also with a tear in his eyes, (1960).
Source: Jerry Wright's Gymnastics Who's Who, 2005, who also courteously provided the Volze photo, and www.turnertopics.com/. Introduction, commentary, and formatting by Larry Banner, Web Manager and a Volze coached gymnast.