SCHMID-SHAPIRO, Andrea
Inducted: 2001
Born: Budapest, Hungary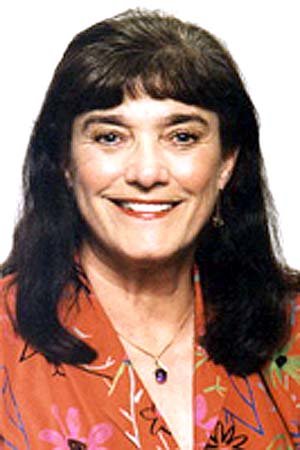 Andrea Schmid-Shapiro was among the first of approximately 200,000 Hungarians to defect in light of Russian aggression in their beloved land. Many Hungarian athletes took the opportunity to leave after the Melbourne Olympics for numerous free lands including the U.S., Canada, France, and England. She chose the United States taking nothing but what she was wearing, her competition uniform and the few things she had in her competition bag.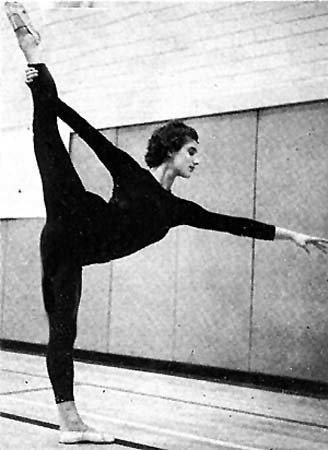 At the time of her defection she had won four Olympic medals competing for Hungary, but today she thinks of her native Hungary's magnificent fight against Communism to be her most prized honor.* She arrived in the U.S. unable to speak a word of English and toured the U.S. courtesy of the new Sports Illustrated magazine for three and one-half months.
She then began working and studying diligently eventually becoming an outstanding contributor to U.S. society, and to the sport of rhythmic gymnastics in the U.S. She forged ahead taking advantages of the opportunities available in the U.S. with lots of encouragement from friends she had and those she made.
Andrea became tremendously instrumental in the development of rhythmic gymnastics in the U.S. Andrea Schmid-Shapiro is a courageous, talented, giving, and yet unassuming lady for whom we all owe a debt of gratitude.
Starting Out
Andrea Schmid-Shapiro was born Andrea Bodo in Hungary and demonstrated high potential in the area of rhythmic gymnastics at an early age. Andrea had competed in many Hungarian National Meets and represented Hungary in several international meets. By the time she was 18 years of age, she was ready to represent Hungary, her country, in the greatest of all world amateur competitions.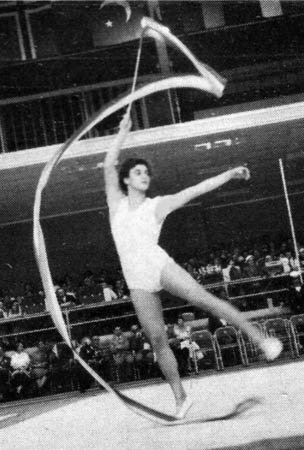 Olympic Games
Team Silver-Overall team rhythmic competition; Team Bronze-single event routine-Clubs (Now a defunct event), Helsinki, Finland, (1952); Gold-single event team event routine-Ribbons; Silver-Overall team event, Melbourne, Australia, (1956).
Olympic Note: In the 1952 Helsinki Games, the Hungarian gymnastics team was unable to march in the opening ceremonies since they were to compete early the next morning. By 1948 a "Reunion Tradition" began in London. Hungarian Olympians gather at the sites where they competed 50 years past. An important part of the tradition is marching into the Olympic stadium.
Andrea has attended the reunion twice. In 2002, she finally was able to march into the Olympic stadium in Helsinki, and, in 2006, she also marched into the stadium in Melbourne. She declares that the 50-year reunion was a great idea, and it might even be thought of as "The March of the Old Timers." In any case, she, like others, had a wonderful opportunity to visit with old friends knowing each was a part of the greatest amateur competition in the world.
Education
B.S. & Ph.D., University of California.
Coach
Schmid-Shapiro became the Head Coach of women's gymnastics at San Francisco State University, (1963). She coached the U.S. rhythmic gymnastic team at the World Championships, Madrid, Spain, (1975).
Andrea has coached at least one past rhythmic national champion and World Championship team member. She retired from coaching at San Francisco State U. in 1979, but she continued to teach at the University well into the next century.
Judge
Schmid-Shapiro has served as an internationally rated judge since 1973. Her capability includes serving as Meet Referee or judge at several national and international competitions including four Olympic Games, (Seoul, Korea, (1988), Barcelona, Spain, (1992), Atlanta, Georgia-USA, (1996), & Sydney, Australia, (2000).
In addition, Andrea has judged at 17 Rhythmic Gymnastics World Championships, 26 USA Gymnastics National Championships, and 10 Four Continents Championships. She also served as the Technical Director for Rhythmic Gymnastics at the Olympic Games in Los Angeles, (1984).
Service
Schmid-Shapiro served on the FIG Rhythmic Technical Committee for 16 years and has co-authored several publications throughout the years, including the well-received "Gymnastics For Girls," which she co-authored with Blanche Drury.
She is the author or a contributor to a number of books and articles on gymnastics and sport gymnastics. Andrea continues to serve on the USA Gymnastics Executive Committee as the Vice Chair for Rhythmic Gymnastics (2007) and also served on the Board of Directors as a Rhythmic National Membership Director.
Winding Down
Andrea, a person of " . . . fabled fame . . ." was going about life in a "modest, quiet" manner living in San Francisco, California. She finally convinced Charles, her husband and Professor of Physics at San Francisco State University, that they should move to beautiful Bel Marin Keys in Novato, CA.
Still, she remains active internationally and has recently traveled to Honolulu to serve as Head Judge for the Pacific Alliance Championship, (2006).
Family: (m) Charles Shapiro, Ret'. Children: Aniko, a chemical engineer. Grandchildren: Kyla and Renna.
Sources: Jerry Wright who courteously contributed most of Andrea's biographical information and worked with Andrea for 25 years at San Francisco State College. He coached the men's gymnastics team and authored Gymnastics Who's Who, 2005.
Additional facts courtesy of , & . Dr. Larry Banner, Web Manager, developed introduction, commentary, and formatting. *For additional information regarding the 1956 Hungarian David vs. Goliath conflict, log onto a "search engine" and type in "1956 Hungarian Revolution".