GROSSFELD, Muriel Davis
Inducted: 1981 Born: October 7, 1940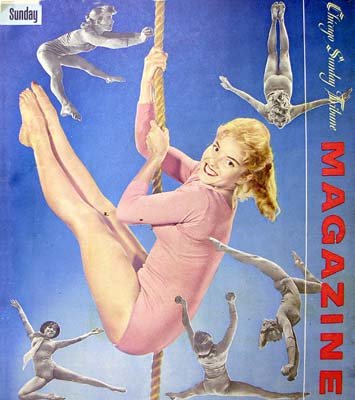 Chicago Tribune
Parade Magazine
August 23, 1959
(Click image for larger version)
Strong in spirit and body, ethereal in flight and grace, Muriel was a true artisan of gymnastic sport.  She is one of only a few who have participated, coached, and judged at the Olympic Games.
Olympic Games: Melbourne, Australia, (1956); Rome, Italy, (1960); Tokyo, Japan, (1964). First three time American woman Olympian. World Championships: Prague, Czechoslovakia, (1962). Pan American Games: Sao Paulo, Brazil, (1963). National Titles: AA, FX, BB, & UB (18 Total). Coaching: Women's Olympic Team, Mexico City, Mexico, (1968); Women's Olympic Team, Munich, Germany, (1972); World Championship Women's Team, Ljubiana, Yugoslavia, (1970); World Championship Women's Team, Varna, Bulgaria, (1974); Pan American Games Team, Winnepeg, Canada, (1967); Calli, Columbia, (1971); USA National Team Head Coach, (1972-1976). Personal coach to Pan American Games, World Championships Marcia Frederick-1st American World Champion, UB, (1978); personal coach to additional Olympic, Pan American, and World Games team members. Women's Gymnastics National Team Training Staff, (1989-Present).  Judging: Possibly the only individual todate to compete, coach, and judge in the Olympic games.  Judged at numerous World Championships & 2000 Olympic games. Principal on judging training video at numerous gymnastic Classics, Championships, and Trials.  Honors: Designated a "Centurion" by gymnastic historian, A. B. Frederick, Ph.D. Frederick described a "Centurion" as " . . . those who command our attention"; Probably 1st American to score perfect 10.0, Olympic Trials-FX, 1964. Sports Illustrated "Athlete of the Century," 2000 (Indiana); Awarded "Spirit of the Flame" sponsored by the Athletes' Council of U.S.A Gymnastics; Inducted into numerous local, national, and international Halls of Fame; Special consultant to woman's FIG Technical Committee, (1990-1996).  Chosen  as 1 of 5 coaches in the world to the International Coaches Commission of the Woman's FIG, (1997-2000). Personal:  Currently helping young women who desire to be the best gymnast they can be.  Attending training camps, coaches' clinics, and helping train in the Acro and dance arenas.  Played part of El Coyote in movie of the same name.  Worked in Cambell's Soup program for youth gymnastics, one year completing over 200 clinics.  Worked as gymnastics commentator for three major networks.
Sources: Parade Magazine photo courtesy of Davis family and a copy of the 1959 edition of Sunday's Chicago Tribune's Parade Magazine, Muriel's personal resume, interviews with Muriel, personal archives of Abie Grossfeld, 1979 HOF Honoree, & noted gymnastic historian, and A. B. Frederick, Ph.D., author of Who's Who and Was Who in American Gymnastics. Introduction, commentary, and formatting by Larry Banner, Web Manager.