BAKOS, Maria (1931-1990)
Inducted: 1990 Born: Budapest, Hungary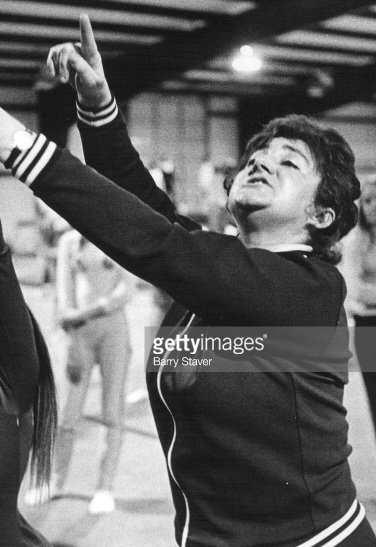 Maria Bakos was in the right place at the right time. She happened to be teaching and coaching dance and rhythmic gymnastics at clinics, camps, and schools in the USA at the same time as a new sport called Modern Rhythmic Gymnastics (MRG) was developing throughout Europe. It formally reached the U. S. when in 1969, Frank Bare, President of the USGF, requested Mildred Prchal of Illinois to learn more about it for the purpose of developing it in the U.S. Prchal and Nora Campbell attended the 1969 MRG World Championships as observers. Within a couple of years Prchal had recruited people with rhythmic exercise backgrounds and organized a MRG teaching camp at Sokol Barryville, NY." Today, this element of the gymnastic world is referred to as "Rhythmic Gymnastics". One of the recruited clinicians at the Sokol Barryville camp was Maria Bakos, former Rhythmic Gymnastics Head Coach of Hungary. Bakos had won the 1st national title in Rhythymic Gymnastics in Hungary. Bakos was in the USA on a Visa and, given the circumstances and opportunities, decided to defect to the U.S. She brought her daughter, Andrea, to the USA two years later. With her recruitment by Mildred Prchal to teach at the Sokol Barryville camp, Rhythmic Gymnastics had truly arrived in the United States.
Maria Bakos is a Hall of Fame Honoree for her pioneer work and the superb Rhythmic Gymnastic coaching skills she provided U.S. athletes. Athletes coached by Bakos developed performances that eventually reached the Rhythmic Gymnastics world arena.
The Rhythmic Gymnastics movement began as described in the introduction, but over time, clinicians and attendees at the original Sokol Barryville camp branched off to start programs in various locations, mostly in school programs.  Maria Bakos settled in the NY-NJ area and started the classes in competitive Rhythmic Gymnastics on the East Coast at the American Sokol Organization in New York and New Jersey, (1971) while Norma Zabka, an attendee at the original Sokol Barryville camp, began classes at Hunter College in New York City.  Zabka hosted the first competition in the United States at Hunter College, and became an active promoter of the new sport, was one of the Charter Members of the governing committee for the new sport in the USA for many years, and an Olympic Judge for Rhythmic Gymnastics.
In the early 1970's, Maria Bakos coached many athletes to competitive levels including her daughter, Andrea, Ellen Garlicki, Monica Volkman, and Anu and Salma Parming.  Maria introduced Rhythmic Gymnastics to clubs as she traveled as a clinician. Dale McClements-Flansas, a 1964 Women's Olympic team member now Dale Kephart, invited Bakos to become a clinician at her school in Reno, Nevada. Dale introduced Bakos to her student, Candace Feinberg with whom she had worked in a teaching and coaching relationship since Feinberg was in Jr. High School. Basically, Maria Bakos then introduced Dale and Candace to the finer elements of Rhythmic Gymnastics. Feinberg progressed to become a member of the USA Individual competitive team at the World Championships, (1970). She also won gold at the U.S. Gymnastic Federation (USGF) National Championships in the Rhythmic Gymnastics AA, Downers Grove, IL, (1973) and San Francisco State U., (1974).
Maria Bakos started coaching Ellen Garlicki in 1971, and between her coaching and encouragement, she helped Garlicki to eventually become a competitor at the first Regional and National competitions. In 1978, Bakos was named Head Choreographer and Candace Feinberg was Assistant Choreographer for the development of a USA group routine for the Pan Pacific Games, Canada, (1978). This international competition is now called the "Four Continents Championships". Maria continued to coach Garlicki who became a USA team member at this competition.
Bakos was later chosen Head Coach and Barbara Parcher Fester was Assistant Coach for the Rhythmic Gymnastics World Championships, London, England, (1979).  Again, Bakos coached Garlicki was a team member. As a competitor, Garlicki realized that Rhythmic Gymnastics apparatus sources were inadequate in the U. S. After she retired from competition, she used her business acumen to start what is now Rhythmic Gymnastics, Inc. that serves the needs of today's rhythmic competitors.
Maria Bakos was a crucial contributor to the development of Rhythmic Gymnastics in the United States.
Sources: Interviews with Ellen Garlicki, Norma Zabka, & Candace Feinberg. Information also acquired courtesy of Rhythmic Gymnastics, Inc. Website: . Line Drawings and some information provided courtesy of A. Bruce Frederick, author of Who's Who in American Gymnastics, and Jerry Wright, author of Gymnastics Who's Who, 2005, also shared information. Larry Banner, Web Manager, provided the commentary, and the formatting.