RIGBY-McCoy, Cathleen "Cathy"
Inducted: 1997 Born: December 12, 1952 – Los Alamitos, California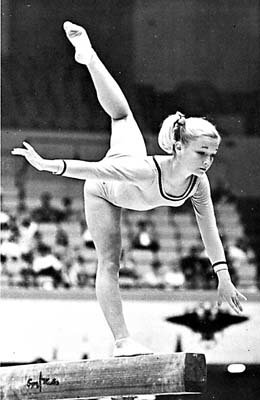 In 1968 just before the Olympic Trials, Cathy Rigby was asked by this writer to perform at an exhibition at the University of California, Irvine. The purpose was to raise money for athletic scholarships. Even though she was involved in a stringent training program, she agreed and was the hit of the evening. The donations were gratifying and mostly due to Cathy's superb performance and her crowd pleasing charisma. Of course, numerous other male gymnasts in and out of the area exhibited, and all applauded Cathy.  It is a privilege to have the opportunity to write about Cathy Rigby-McCoy. Yes, she has a box full of gymnastic ribbons and medals, but there is so much more to this talented woman, and, hopefully, this biographical sketch imparts her many wonderful facets.
Olympic Games: Team member and highest scoring U.S. gymnast, Mexico City, Mexico, (1968); Team member, 10th AA, Munich, Germany, (1972). World Championships: Silver-BB, the first U.S. male or female gymnast to medal the World Championships, Ljubljana, Yugoslavia, (1970). World Cup Championships: Gold-AA, Long Beach, California. (1969) This was an AA competition only. As you will read, medals were awarded for all five individual events at the next championships. Gold-AA, V, BB, UB, & FX-a clean sweep, Miami, Florida, (1971). Riga Cup Championships: Gold-BB, Bronze-AA & UB, Riga, USSR, (1971). USGF National Championships: Gold-AA, (1970); U.S. National Championships: Gold-AA & UB, Silver-FX, Bronze-BB, (1972). South African Cup Championships: Gold AA, (1971). U.S. vs. USSR Dual Meet: Gold FX, (1971). Retirement & Work: Cathy was fighting an injury and didn't medal in Mexico City in 1968, but her status as the highest scoring American made her a household name since TV found the gymnastics venue in Mexico. In 1972, she posed for Sports Illustrated and her photo was reprinted in a late 2005 issue. She retired from gymnastics after the '72 Olympics, married Tom Mason, a professional football player, had two sons, and began acting and serving for 18 years as an expert commentator for ABC. Eventually, her role as Peter Pan that began in 1974 with a touring production surpassed Mary Martin for greatest number of performances. In 1981, Rigby starred as Dorothy in the Wizard of Oz where she met her second husband, Tom McCoy. She has two daughters with Tom. She also appeared in Annie Get Your Gun and Meet Me In St. Louis. A Champion's Virtues: At some time, Cathy became afflicted with a habitual disturbance in eating behavior. It has several names: hyperphagia or bulimia nervosa, but is most commonly known as bulimia. As a professional treating out-patient clients with eating disorders, this writer will testify that it is a most difficult disease to overcome; however, Cathy credits her husband, Tom, with appropriate behavior to aide her to fight the disease. Traditionally, the most successful cases have a significant person in their lives to support their efforts to overcome the problem. Cathy has recovered to a point where she is able to be a significant person in the lives of others who suffer from similar problems. To be on a road to recovery with a disease that isn't often talked about and then to have the courage to share the elements of recovery with others who need to know is a mark of a true champion. I am proud to say I have known this woman of class, and I respect, more than most others are able, what she has experienced and what she is doing to help others. Honors: Inducted into the International Hall of Fame, (1997); Nominated for a Tony Award for Best Actress in a Musical for her 1990-'91 performance as Peter Pan; A member of the cast of the 1999 production of Peter Pan that was nominated for the Tony Award for Best Revival of a Musical; Received a Distinguished Lifetime Service Award from The League of American Theatres and Producers. Family: m. Tom McCoy. Children: Buck & Ryan Mason & Theresa and Kaitlin McCoy. Grandchildren: Hailey and Jude Mason with whom Cathy is still able to climb trees.
Sources: Jerry Wright, author of Gymnastics Who's Who, 2005, , , and the gracious courtesy of Cathy Rigby to review this biography and commentary. Introduction, commentary, and formatting by Dr. Larry Banner, Web Manager.