Inducted: 2009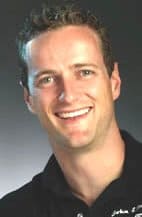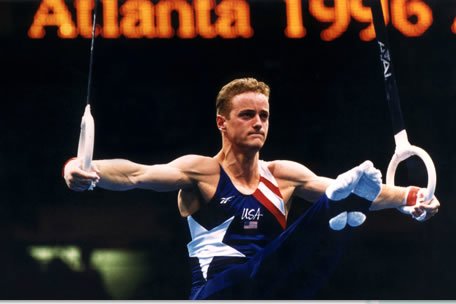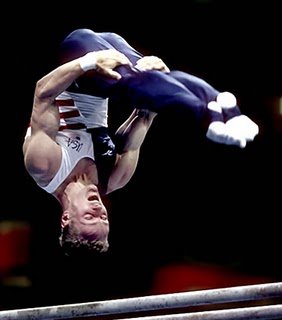 John Macready is not only an exceptional athlete and talented entertainer, but more importantly he is an incredible human being. He is very active in community service, worked with the "Make a Wish Foundation." and currently hosts the annual "John Macready March of Dimes Invitational." His hard work, dedication, and sacrifice illustrate what the Olympic movement is all about.
Getting Ready: John Macready began the sport of gymnastics along with his brother Oliver, when he was just five years old. With over 20 years of hard work and dedication John became one of our nation's top gymnasts; however, the road to the top was not an easy one. This 1996 Olympian and two-time World Championship Team Member made numerous sacrifices to reach his goals. By age 14, John made the decision to move away from his parent's home in order to train more seriously. He made the Junior National Team that year and never took his eyes off the goal of reaching the 1996 Olympic Games in Atlanta. In 1993 John moved again and joined the team at the United States Olympic Training Center in Colorado Springs to train with our nation's best. Making the Grade: The two moves quickly paid off and consequently John became a member of the 1995 World Championship Team. In 1996 John reached his lifetime goal and became an Olympian. He was the youngest member of the 1996 USA men's Olympic gymnastics' team, one of the strongest USA men's Olympic teams since 1984. After the incredible post-Olympic nationwide John Hancock gymnastics tour, John had only a short time to prepare for the 1997 World Championships in Switzerland. He was suffering from a shoulder problem that later had to be corrected with surgery. However, John never let up, and pushed through the meet as the USA team captain. Competition Retirement: John enjoys his role as a spokesperson for USA Gymnastics and the United States Olympic Committee at numerous meetings, symposiums, and clinics. John currently utilizes his talents by producing the routines for the professional Reese's Gymnastics Cup on NBC. He is also the master of ceremonies for all major USA Gymnastics events and is renowned as a motivator and entertainer to many corporations and organizations in America. To sum John up in a few words, "he is a great person and an amazing performer!" Entertainment is in John's blood! His father is a producer/director, his mother an actress, and both brother and grandfather are actors. This must have something to do with why he has become the premier entertainer in the sport of gymnastics. COMPETITION RESULTS: U.S. OPEN: 1993-20-AA; 1995-6-AA, 3-V, 2-HB; 1996-3-AA, 4-FX, 2-SR, 3-V, 3-HB; 1997-4-AA, 1-FX, 2-HB. OLYMPIC GAMES: 1996-29-AA.
SOURCES
; Public sources: Google. Data compiled by 2008-2010 Web Manager Jerry Wright, author of Gymnastics Who's Who-2010.