HUMPHREY, Terin Marie
Individually Inducted: 2015
Inducted: 2008
Member-Gold Medal World Championships Team (2003)
In the Beginning
Terin Marie Humphrey was born in Saint Joseph, Missouri. After the family moved to Bates City, Missouri, she graduated from Odessa, Missouri High School. She formerly trained with Dragon Gymnastics at Great American Gymnastic Express in Missouri with coaches Al and Armine Fong. She is another in a short line of athletes who not only recovered from serious injury, but came back stronger than ever.
Olympic Games
Silver-T & UB, Athens, Greece, (2004). She helped the team to a silver medal that was the best ever result achieved by an American Olympic gymnastics team away from home. Terin competed on bars and beam in the team finals.
World Championships: In 2003, Terin Humphrey was a member of the first US National women's squad to win the World Team Championship.
U.S. National Championships: Terin placed third at the 2004 US Gymnastics Championships in Nashville, TN, improving on her sixth place performance the year before.
NCAA Competition: Gold-UB; Silver-T, (2005). She attended the University of Alabama, a traditional power in women's collegiate gymnastics.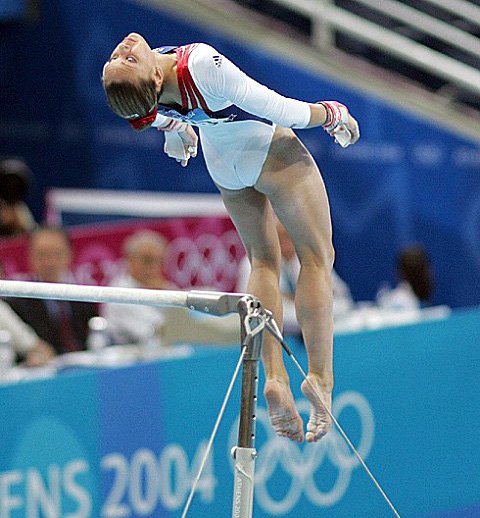 In mid-2006, Terin underwent surgery on both elbows, from which she is now fully recovered. She competed throughout the 2006-7 season.
At the NCAA finals her team had a performed below par, failing to qualify for the Super Six for the first time in over a decade; however, Humphrey bounced back from this disappointment and once again took the uneven bars title.
Unfortunately, on March 18, 2008, Humphrey, who battled back problems during the 2008 season, announced her retirement from gymnastics.
Retirement
In May 2010, Terin became a police officer in Raymore, Missouri. She had mentioned that she was interested in Law Enforcement ever since becoming a childhood fan of NYPD Blue. She considered law and forensics before settling on the police academy, following in the footsteps of her older brother.
She says in a recent Kansas City Star article that her choice was partly due to the excitement factor of police work. Terin has the ultimate goal of becoming a detective. The article also mentioned her small stature (5') as being a possible hindrance to police work, but her father replied "To me, the size of her may not seem very intimidating to someone.
But once they know what she's capable of, that's a different story." Terin is still involved with gymnastics, and will serve as an athlete representative in the selection process leading up to the 2012 Olympics, meaning she will regularly attend and observe meets throughout the country.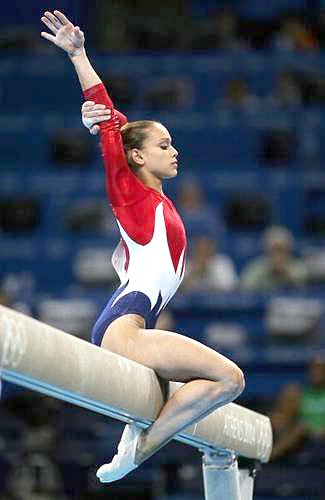 Routines
Terin's routines were of such quality that they deserve to be included herein. Her routines consist of Vault: double twisting Yurchenko(9.8 start value,sv); piked Podkopayeva(9.7 sv); piked Khorkina II(9.9 sv). Uneven Bars: Glide kip, cast to handstand, Maloney – kip, cast to handstand ½, toe-on ½, Markelov – kip, cast to handstand, stalder 1/1, hop 1/1, Gienger – kip, cast to handstand, giant 1/1, overshoot, toe-on 1/1, piked sole circle to high bar – kip, cast to handstand, giant, giant, double layout(10.00 sv).
Balance Beam: Triple turn in lunge position – standing Arabian – Kochetkova, flip flop, layout – beat jump, wolf jump – punch front, beat jump – switch leap, back dive ¼, back hip circle – roundoff, flip flop, double tuck (9.9 SV).
Floor Exercise: Roundoff, backhandspring, double Arabian – full-twisting switch leap – tuck jump double – roundoff, backhandspring, piked full-in – roundoff, backhandspring, 1 ½ twist, roundoff, backhandspring, 2 ½ twist – double stag leap – split leap full – triple turn – triple twist (10.0 SV).
A skill on the balance beam is named after her. A "Humphrey" is a 2½ turn (900°) in tuck, stand on one leg; free leg at horizontal throughout turn. Although the skill named after her is a 2 ½ turn it is later on added as a triple turn. Family: Parents- Steve and Lisa, Brother Shannon (serving in the Marines).
SOURCES: Data collected from the public sources (Wikipedia and Kansas City Star). Photos also taken from public sources (Google); Materials collected by 2008-2010 Web Manager Jerry Wright, author of Gymnastics Who's Who-2010. Editing by Dr. Larry Banner, 1993 GHOF.