Lifetime Achievement Honoree: 2001 Born: September 25, 1935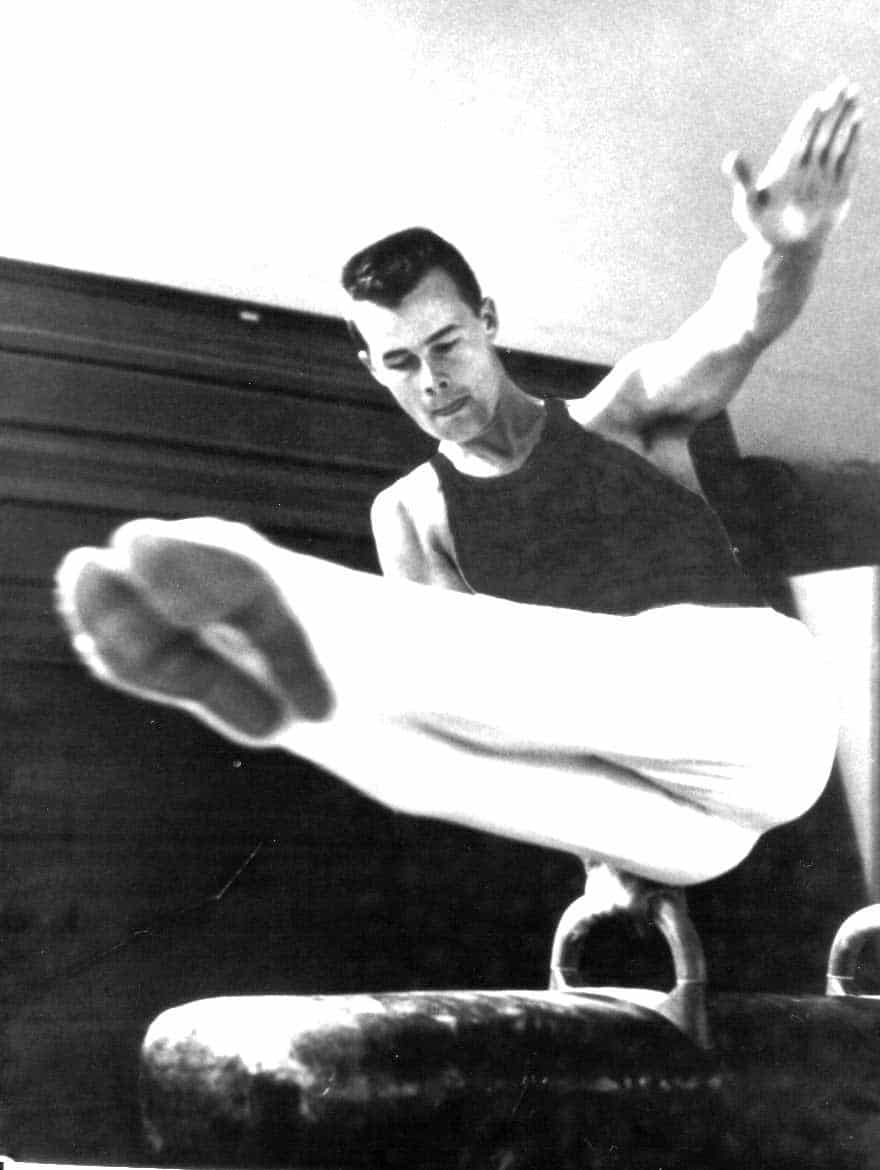 Jerry Wright was the Founding Father of the Men's National Gymnastics Judges Association. In his efforts to standardize judging on a national and international level, he was a pioneer in the dissemination of information about the science of judging men's gymnastics. He was a teammate on the L.A. Turner Gymnastic Team competing in duel meets through the time period in which the "Turners" won eight National AAU Championships. He was outstanding in Tr, Tu, FX, PH, & PB. I am proud to write that he was a great teammate, friend, and a wonderful contributor to this volunteer retirement project.  Thank you, Jerry.
Competitor: Jerry earned bronze in the Illinois State High School Championships competing at Carmi HS, (1952); He was Indiana University's leading scorer in the Big Ten Championships, 4th-Tr & 5th-Tu., (1957). Twice he qualified to the National Collegiate Athletic Association National Championships, 12th-Tr & Tu.  Wright was an important teammate in duel meets for the L.A. Turners, scoring well in Tr, Tu, FX, PH, & PB, (1961 &'62). Judge: Jerry Wright judged over 1100 gymnastic meets in a 30 year career, (1959-1988). He judged the National Open Championships 15 times, the NCAA Division I National Championships 11 times and judged over 20 international meets in Australia, Brazil, Germany, Canada, Mexico, Italy, and the U.S. He was the first National Gymnastics Judges Association West Technical Director and served on the panel of experts at the first Federation International Gymnastic (FIG) course held in the U.S., Tucson, Arizona, (1967). He successfully completed five FIG courses.  Jerry was nominated four times to judge the Olympic Games and was a superior judge at the Los Angeles Pre-Olympics for PH and PB where Americans won both events, (1983). Coaching: Jerry was a successful NCAA, Division II men's gymnastisc coach for 18 years and later served as a personal coach for four NCAA Division II women's individual event champions. Jerry was a volunteer assistant coach at USC, (1961-'62) when USC captured the NCAA team title. During this time, he worked with Head Coach, U.S. Gymnastic Hall of Fame Honorees Jack Beckner, Ron Barak, and Bob Lynn. He also served on the Olympic Compulsory Committee, (1972, '76, '80 and '84). Contributions: Served as compiler and publisher of the NCAA weekly statistics reports for 11 years. Jerry created the judges uniform that is still the standard today. He served two terms as secretary of the NCAA Rules Committee during which time he created the "controlled warm-up" procedure still used today in all major competitions. Honors: National College Coaches Association Honorary Lifetime Membership Award, (1996); USAG Lifetime Achievement Award, (2001).National Gymnastics Judges Association Hall of Fame award, (2001); World Acrobatic Society Gallery of Legends Award, (2013); Carmi (Illinois) High School Sports Hall of Fame Award, (1987).
Sources: Wright's personal resume, interviews, photo, and, with permission, information in his book Gymnastics Who's Who, 2005. Introduction, commentary, and formatting by Larry Banner, Web Manager.