ROZANAS, James
Inducted: 1960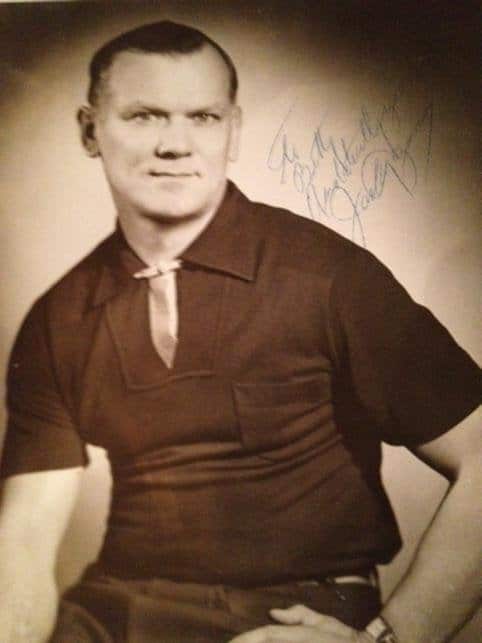 James Rozanas was the man to lead you if you had designs on becoming an elite gymnastics competitor. He was known as being demanding, and expected his athletes to do stunts, combinations, and exercises until they learned it well. His disciplinary ways have been compared to those of Bela Karolyi. Every coach has his own methods and personality, and the best an athlete can do is get a coach that will make him or her a winner. James Rozanas produced winners.
Rozanas became a Turner at age 16 and served as an instructor at The Englewood and Grand Crossing Turner Halls.  At age 67 he was still teaching at the Rozanas School of Acrobatics and Tumbling in Chicago. Coach: James Rozanas was a coach, a member of the Eiche Turners (Chicago, IL) and was inducted into the Helms Hall of Fame at the Finals of the 1972 NCAA Men's Gymnastics Championships at Iowa State Univ. Mr. Rozanas taught gymnastics, acrobatics and tumbling for over 45 years.  He taught at clinics in Sarasota and at the Michigan State Summer National Clinic, in addition to teaching Acrobatics and Tumbling at all leading Dance conventions in the U.S.A.  He once hosted the Elite National Open Tumbling Championships in which more than 500 boys and girls, from 15 states participated.  It was estimated that he taught acrobatics and tumbling to over 25,000 students in his career. Some of Mr. Rozanas' students were: Bill Roetzheim-National Champion and Olympian; Teresa Montefusco-National Champion and Olympian; Olive Schneider-National FX Champion; Doug Reynolds-Illinois State High School tumbling champion; Joyce Racek-Olympian; Donna Schaenzer-World Team Member; Paul Ziert-Head Coach at U. of Oklahoma; Muriel Davis-3-time  Olympian; Ernestine Russell-2-time Olympian competing for Canada; Jackie Klein-Fei-Olympian; Joyce Tanac-Olympian; Wendy Cluff-Olympian. Honors: Granted Honorary Membership in the Gymnastics Society at the University of Illinois; a Turner member for over 50 years; Recipient of an Honorary Lifetime Membership in the US Trampoline and Tumbling Association; Awarded the CGA Honor Coach Certificate posthumously, (1976); Voted Chicago Park District Senior Citizen of the Year, (1974); Elected to Chicago Mayor Daley's Senior Citizen Hall of Fame. Contributions: James Rozanas was well known nationally and internationally partly because he was the author of 3 books: Theory and Practice of Acrobatics, Advanced Acrobatics and Tumbling, and; Acrobatics Made Easy.
Source: American Turners Turner Topics, 7/8/1972 and researched by Jerry Wright, author of Gymnastics Who's Who, 2005. The photo of Mr. Rozanas was kindly provided by Ms. Elizabeth Barsuglia. Introduction, commentary, and formatting by Dr. Larry Banner, Web Manager.