STUMPF, Ellsworth "Al" & Sarah K. "Sally"
Inducted as Co-coaches: 1985
Al and Sally Stumpf have been training gymnasts for over 50 years. The addition of sons, Eric and Kurt, to the coaching ranks made the Stumpfs the first family of gymnastics in the Buffalo, New York area.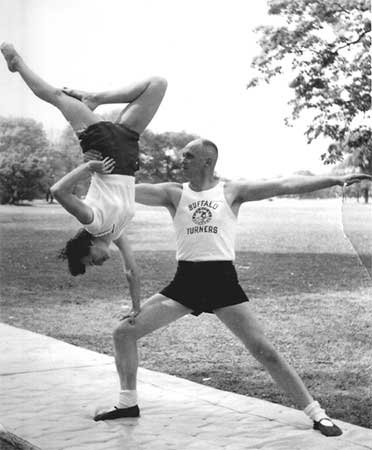 Meeting Up:
Al Stumpf began his gymnastics as a junior member of the Buffalo Turners gymnastic classes, (1941). During this time he competed in local competitions. From 1946 through 1947, Al served in the U.S. Army. He returned from the service and rejoined the Buffalo Turners where he met his wife to be, Sarah, (Sally). They were married in 1951.  They shared an interest in working with younger children and began helping with gymnastics classes at the Buffalo Turners. In 1957 Sally and Al were elected Physical Education Directors of the Buffalo Turners, a position they held for 14 years. They coached at the Buffalo Turners until 1972 when they opened the first private gymnastic club in the Buffalo area.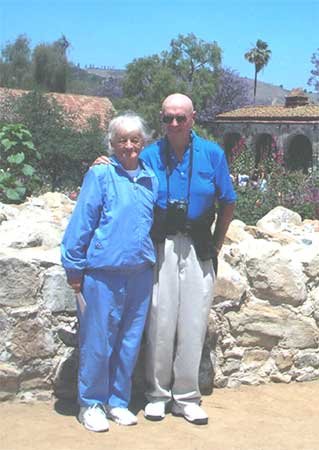 Coaching:
The couple organized their first gymnastics team, boys and girls, (1956) taking their students to local and out-of-state meets and also to the National Gymnastics Clinics in Sarasota, Florida. During these years, Al and Sally became master coaches and leading authorities in women's gymnastics.
By 1960, the Stumpf coaching team had trained many students. Sandy Rothenberger and Marilyn Schneggenburger tried for the 1960 Olympic Team, placing 14th and 15th, respectively, in the tryouts. One of their star trainees was Kathy Gleason who had started her career with the Buffalo Turners, a career that lasted 10 years. She eventually competed as a member of the U.S.
Women's Team that attended the Vienna Gymstrada, (1965). She continued training and made the U.S. World Games Team, Dortmund, Germany and placed 2nd among the U.S. women, (1966). The Stumpf trained Kathy went on to compete in the Pan American Games taking Team Gold and the Bronze in UB, Winnipeg, Canada, (1967).  Kathy made the Women's Olympic Gymnastics Team, Mexico City, Mexico, (1968). It was during these Games that Linda Metheny became the first American woman to reach the finals, and she placed 4th on the BB. Al and Sally were instrumental in developing and organizing Girls' High School competitive gymnastics in their area, (1969). They also developed the women's gymnastics program at Canisius College that became a state collegiate power in the sport, (1972).
Under Head Coach Al Stumpf, Canisius College won several New York State Championships, and the team was ranked sixth in the nation at one point. Denise Tenney, Al's student for nine years, was Senior National AAU Tumbling Champion and toured Africa with the National Tumbling Team as well as being selected to tour Russia with the National Tumbling and Trampoline Team where she won Bronze, (1973-'74).
Sally taught physical education at Mount St. Mary's for over 27 years and established that school's outstanding gymnastics program. Al and Sally were directors of the Senior National AAU Tumbling and Trampoline competition held in Niagara Falls, New York. Al's women's team won the Silver Medal in the team competition. Sally and Al were selected as Meet Directors for the National AAU Gymnastics Championships held at Canisius College where Al was also a member of the Canisius College staff.
Their women's team was the BYS Collegiate Champions for four consecutive seasons, (1974-'77). The team placed 6th in the Regional Championships and were nationally ranked seventh best collegiate women's team in the country. Sally and Al took a contingent of 17 girls gymnasts to West Germany where they exhibited in eight cities. The West German people were very responsive, (1976). The Stumpfs continued to expand their programs and their influence with the opening of Stumpf's Gymnastics Center in Williamsville. The Center is now operated and managed by their sons. The coaching team of Stumpfs planned a gymnastic tour to exhibit in London, Wales, and Germany with 25 of their students and 25 parents participating, (1985). Over time, several Stumpf students received accolades for themselves and their programs.
Eric and Kurt Stumpf, coached by their parents at the Buffalo Turners, competed at Kenmore East High School and led the school to several Section VI titles. Kurt has coached at Williamsville South for over 22 years, compiling a 119-18 record and winning seven Section VI titles. It is estimated that the Stumpf family has trained and coached over 10,000 local gymnasts, many of whom have served college scholarships and national acclaim.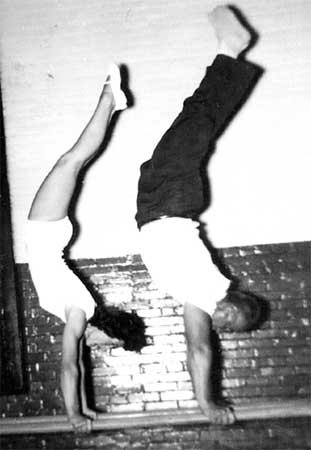 Honors
Al was selected as Coach of the Year at Canisius College, (1977); Received Buffalo Turners' highest award for Outstanding Coach and Teacher, (1982). Sally received the Elizabeth Seton Award for Outstanding Teacher of the Year. The Catholic Diocese of BF10 sponsors this award. Al and Sally Stumpf have been inducted into the Greater Buffalo, New York Sports Hall of Fame as well as the USGHOF. The Stumpf family, including sons Eric and Kurt, were inducted into the Buffalo Sports Hall of Fame. Their induction was a result of their contributions to the sport of gymnastics.
Family
Children: Eric and Kurt. The Stumpf's son, Kurt, helped her coach two undefeated teams, (1979-'81). Grandchildren: Keith, Marisa, Cody, and Michaela are involved in competitive gymnastics. Currently (2007) Keith is a sophomore and outstanding gymnast at Springfield College in MA.
Source
Al and Sally Stumpf and Jerry Wright, authors of Gymnastics Who's Who, 2005 courteously provided pertinent information. The photos were provided courtesy of Al and Sally Stumpf. Introduction and formatting by Dr. Larry Banner, Web Manager.