GEORGE, Gerald S.
Inducted: 1990
Born: New Orleans, Louisiana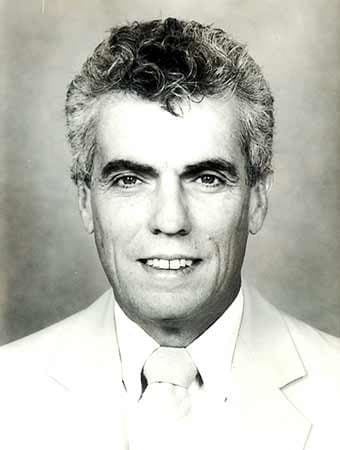 Dr. Gerald George liked gymnastics, so he started by learning a few tricks. Before he knew it, he was an All-Around performer in meets and championships competing against the best gymnasts in America. That is only the beginning of his life as an important contributor to our sport, gymnastics, and other sports involving special types of movement. A football player may do a back flip to his hands and knees after a touchdown, but never has that been done with a full or half twist to a full stand. The study of gymnastics, diving, and trampoline movement became George's life work, and he made it safer for the next thousand generations of men and women who will love the crazy movements associated with gymnastics on the floor, the bouncing mat, and the diving board. We all owe him a debt of gratitude, and I trust his story will be our way of saying, "Thanks, Jerry." You done good!
Getting Started: Gerry George began his gymnastic competition career at Jesuit High School under Gymnastics Coach Fred Martinez and was Louisiana State All-Around Champion in 1960. He then became a full scholarship gymnast at Michigan State University and Captain of the gymnastics team under Head Gymnastics Coach George Szypula. He competed three years at Michigan State, and was Szypula's top All-Around performer in 1963. Education: He left Michigan State and finished his B.S. degree at Louisiana State University, (1966). He then matriculated to Springfield College where his interest in biomechanics blossomed, and he finished his M.S., (1967). He continued to pursue studies in kinesiology and biomechanics and completed his Ph.D. with a Biomechanics major and a psychology minor, (1970). Coaching: Between 1967 and '75, Jerry coached Louisiana State University's (LSU) first men's gymnastics team to compete in the NCAA National Championships. During his tenure at Louisiana State, George wrote "A Second Look at Swing" in which he focused on swinging skills on the Horizontal Bar. His illustration depicting a "stoop-in" is classic. (See Insert)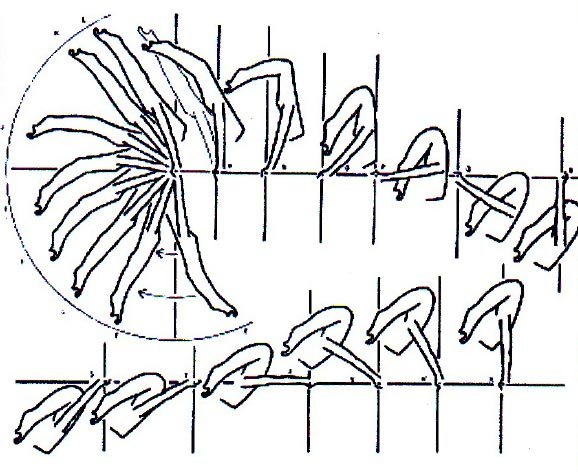 INSERT
Underhand Grip
Stoop-in-Circle
He did gymnastics and diving clinics with a focus on the biomechanics of movement. His major contributions to the sport of gymnastics were for coaching, biomechanics publications and gym safety. Honors/Awards: Jerry George received numerous awards, but herein are those most closely related to his fascination for human movement and gymnastics. Recipient of the Hartley Price National Honor Research Award, (1972); National Association of College Gymnastics Coaches Research Award, (1980); National Recognition Award for Research in Sports Biomechanics, (1981); USGF Honor Award, (1983); International Award as F.I.G. Outstanding lecturer Award, (1988); U.S. National Diving Safety Service Award, (1989); Helms Gymnastics Hall of Fame Inductee, (1990); National A.A.H.P.E.R.D. Presidential Citation Safety Award, (1992), and the National American Spirit Award for Cheerleading Safety, (1996). Publications: Jerry George was a prolific writer and researcher. He served as author, contributor, and/or Senior Editor to over 10 textbooks and 120 article publications. The most notable of his works include * Biomechanics of Women's Gymnastics, the AACCA Cheerleading Safety Manual, The Biomechanics of Competitive Diving, Dive Safe Manual, USA Gymnastic Safety Handbook, Rookie Coaches Gymnastics Guide (Contributing author), and the USGF Gymnastics Safety Manuals, The Advanced Study of Gymnastics, The Art and Science of Judging Men's Gymnastics, and he was the Senior Editor of The Magic of Gymnastics, a portion of which, "Efficiency in Teaching Competitive Gymnastics" was contributed by this writer, Dr. Larry Banner. In addition, George's resume includes 21 "Selected Refereed Articles" that focus on gymnastics equipment, landing mats, gymnastics techniques, twisting techniques, trampoline positions, and vaulting boards among other elements of the cheerleading, diving, and gymnastic worlds. Jerry George has had at least nine funded grants to support his research in areas of interest to the gymnastic community. His resume has divisions for "Research Activities," "Applied Research", "Grant Reviews," "Abstract Reviews", "Independent Studies and Dissertations", and a list of 36 "Selected Invited Presentations" that focused on biomechanics, safety, and the legal aspects of performing and coaching in sports areas. Professional Organizations and Activities: Dr. Jerry George belongs to and has served in various capacities including Chairperson in at least 17 professional groups. Some examples follow: U.S. Technical Committee Member – F.I.G., Berne, Switzerland, (1984-1988); Director of Safety – USGF Director of Safety, Pan American Plaza, Indianapolis, IN, (1984-1991); Director of Safety – U.S. Diving Safety Committee, U.S. Diving Federation, Pan American Plaza, Indianapolis, IN, (1998-Present), and Chairperson – Research Committee of the National Association of College Gymnastics Coaches, Dallas, TX, (1970-1974). Family: (m) Janet Noyes. Children: Tasha, who is a Department Head at Jacksonville University, Jim, who is a physician and serves as the Director of Emergency Medicine at a local hospital, Michael, a physician who is pursuing an ophthalmologic residency in Louisville. KY, Karen who is currently (2007) a student in medical school with an interest in orthopedic surgery, and Lauren, who is a senior (2007) at the U. of Louisiana, Lafayette and will graduate Summa Cum Laude.
Source: Interviews with Dr. George and George Szypula along with "Professional Resume Highlights" courtesy of George. Photo provided courtesy of Jerry Wright, author of Gymnastics Who's Who, 2005. Be sure to look for his updated edition due in 2010. Introduction, some commentary, and formatting by Dr. Larry Banner, Web Owner/Manager.