LYNCH, Jair
Inducted: 2002
Born: Amherst, Massachusetts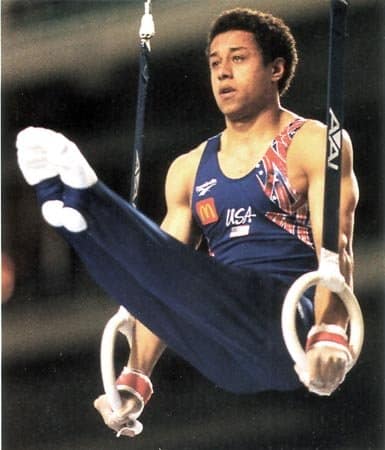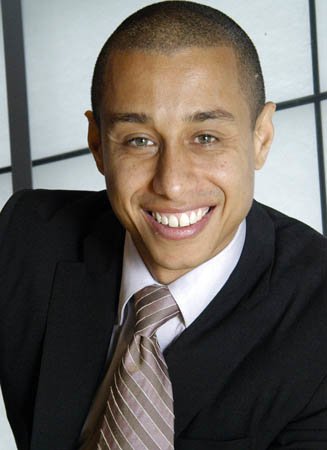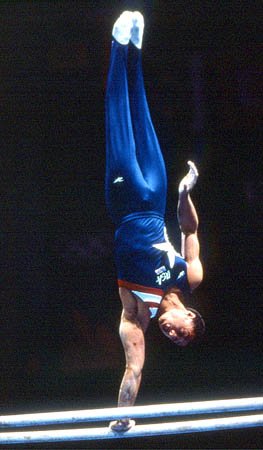 Jair Lynch builds on the theme that gymnasts tend to be outstanding students and many continue to be outstanding role models. He graduated from the prestigious Stanford University majoring in Civil Engineering and earned his Master's Degree, also at Stanford, in Urban Design. The best thing is that he is using his expertise to make better communities for those who need help to live better and in more comfort both in home and community. He has also engaged in restoration projects in Washington, DC that have their root in the African American culture and history. Hats off to the past and future of the first African-American to win an Olympic gymnastics medal. May he be an inspiration to the young of America that all things good are possible.
Early in his life, Jair moved with his parents (his father was originally from Port of Spain, Trinidad and Tobago and his mother from Bogota, Columbia) and sister, Pilar, to the Shepard Park area of Washington. D.C. Jair took an interest in gymnastics in 1980, at age nine, while watching television. His training paid off, earning him a scholarship to Stanford University, where he competed in NCAA competitions. Interestingly, while still training in the D.C. area, he attended Sidwell Friends High School, the school Chelsea Clinton later attended.  Although a newcomer to the elite scene in 1989, he caught the attention of the gymnastic world through his performances at collegiate and other major competitions. Olympic Games: The youngest team member at age 20, Jair barely missed the Bronze Medal on PB's by 1.88 pt., Barcelona, Spain, (1992); Team Captain who won Silver-PB, Atlanta, GA-USA. This Silver medal was a first for an American with African-American roots. The medal wasn't easy for him. He had trained relentlessly for six hours a day, six days a week, and 52 weeks of the year, for seven years. While living in Washington, D.C., Jair had to travel 30 miles a day to get to a competitive gymnastics program. This drive and dedication led him to become a 12 time All American at Stanford.
World Championships: Team member, Sabae, Japan, (1995). Olympic Festival: Along with two former gymnasts, Jair holds the record for winning five gold medals at the Olympic Festival-D; however, the AA results sheet indicate that four medals may be more accurate. This competition was cancelled after 1995. According to www.gymn.com/ In the AA competition, Lynch won Gold-AA [57.15] & PH [9.85], Silver-HB 9.65 to Jordan's 9.75], & Bronze-V [9.5 to Denk & Asano' 9.6's], (1991). NCAA Championships: Bronze-Team, (1991); Gold-Team & HB where he served as team Captain, (1992); Gold-Team & PB and again served as team Captain, (1993). Education: BS-Civil Engineering & BA-Urban Design, both from Stanford University. Lynch also is a graduate of Leadership Washington, (2002) and a John L. Loeb Fellow from the Graduate School of Design at Harvard University. Honors: Nominated for a Rhodes scholarship to study at Oxford; Selected as a member of the All Pac-10 Academic Team; Inducted into the Stanford Hall of Fame; Honored with the Stanford Black community Service Award, (1991 & '92); He was also a finalist for the Nissen-Emery Award, an award for the outstanding college gymnast, (1994); Selected Washingtonian of the Year; Received the D.C. Urban League Future Leaders Award; Named Business Forward's Next Network; Received the Stanford Black Community Service Award. General: After his school and competition years, Lynch returned to the Washington, D.C., and, in 1998, founded The Jair Lynch Companies (JLC). His goal is to use his talents and expertise, gained through 13 years of experience in real estate development and construction to influence communities in a positive manner; e.g. the historic preservation of the Thurgood Marshall Center – formerly the first African-American YMCA and construction of the Southeast Tennis & Learning Center are two of the earliest examples of Jair's development management work in Washington, D. C. He has since turned his attention to developing residential and mixed-use projects that honors the "soul of a place".   He is an active member of several non-profit Boards of Directors including the Washington-Baltimore Olympic 2012 Bid Committee as well as serving as an Athlete Director on the USA Gymnastics Board of Directors. He is also a member of Stanford's Athletic Board. In his spare time, he gives motivational speeches. Previously, Jair worked for the USA Network and Fox Sports West. Corporate development isn't Jair's only concern. Under the umbrella of Peninsula Omega Youth Club and Friends for Youth, Jair reaches out to kids to enlarge their kaleidoscope of the world and help point them in the right direction. "I have been very lucky in this life, and I will never take it for granted," says Jair. This writer has heard it said that "luck" is for rabbits and respectfully suggests that "luck" works best for lions who sometimes train 50 weeks a year. Jair Lynch has proven that he is a lion, faithfully watching over his earthly family. At POYC, Jair has spoken to youth in and out of the San Mateo County Juvenile Halls to stimulate their interest in contributing to the fabric of society. "When you bring in new ideas, or you bring in a book, or you bring in a video, it matters," says Jair. "They don't necessarily have to follow my gymnastics path, but they need to be aware of the myriad of opportunities out there so they can make informed decisions about their future." Family: Jair's father, Acklyn Lynch, is a Professor of Political Economy and African American studies at the University of Maryland. Jair comes from a family of high achievers. His mother, Martha, is a senior economist and consultant to World Bank and the Inter-American Development Bank. His sister is a Magna Cum Laude graduate of NYU with degrees in African American studies and Film.
Sources: Jerry Wright, author of Gymnastics Who's Who, 2005, , , , and a JLC Biographical Sketch and photo courtesy of JLC.   Introduction, commentary, and formatting by Dr. Larry Banner, Web Manager.