RINGNALD, Lance
Inducted: 2001
Born: Des Moines, Iowa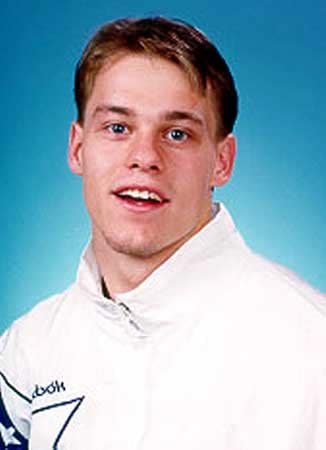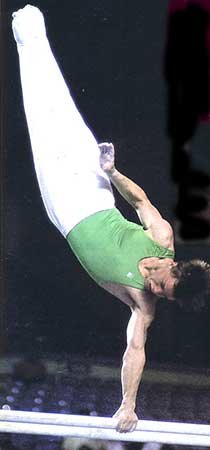 Lance was the son of 2 former college gymnasts, and that had to help him in 1988 to earn the distinction of being the youngest male member of a U.S. Olympic Team in twenty years. Two years prior to the 1988 Olympics Lance moved to Albuquerque, NM to train with Ed Burch (2001 Hall of Fame inductee) at Gold Cup Gymnastics.  This move paid off since he proceeded to became a two-time Olympian and veteran of three World Gymnastics Championships teams and numerous international competitions. Ringnald earned over 70 medals in international competition during his competitive career that began in 1985. He was a winner from the start.
Olympic Games: Team member, Seoul, Korea, (1988); Team alternate, Barcelona, Spain, (1992). World Championships: Stuttgart, Germany, (1989), Team member, Indianapolis, Indiana-USA, (1991), Team Member, Paris, France, (1993). USAG National Championships: Gold-V & HB, (1990); Gold-HB, (1991).  Additional International Competitions: American Cup / Silver-AA, (1989); U.S. Challenge / Gold- AA, (1989); Swiss Cup (mixed pairs with Kim Zmeskal) / Gold-AA, (1989); American Cup / Gold-FX, Silver-AA, (1990); Goodwill Games / Bronze- AA, PB, & HB, (1990), World Cup / Team member, (1990), American Cup / Gold- FX, V, HB, (1991); American Cup / Gold-HB, Silver-AA, (1993).  USGF Championships: 24th AA (1987), 6th AA, 4th HB, (1988), Silver-AA, Bronze-HB & PB, 6th FX, 4th PH, 5th R, 5th V, (1989), Gold-V & HB, (1990), Gold-HB, Bronze-FX & V, (1991). Honors: Ringnald was named the U.S. Olympic Committee Male Athlete of the Year, (1989 & '90) and was the recipient of the New Mexico Governors Sports Award, (1989). After retirement from competitive gymnastics, Ringnald stared in a weekly gymnastics show aboard Norwegian Wind Cruise Ships and performed in two other production shows on cruise ships.  He also spoke to passengers about the sport of gymnastics and his Olympic experiences.
Source: Jerry Wright, author of Gymnastics Who's Who, 2005, who courteously provided Ringnald photos, also. Formatting by Dr. Larry Banner, Web Manager.