LAKES, Charles
Inducted: 2003
Born: 1964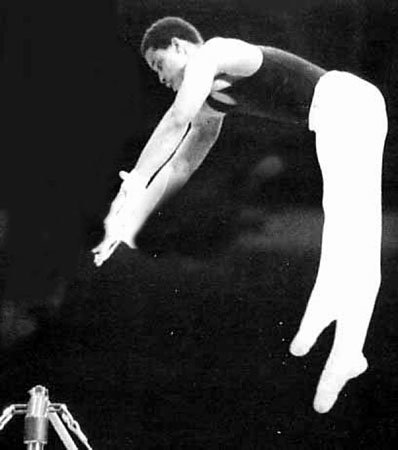 Charles Lakes will be remembered for more than the manner in which he artistically performed the high-flying Tkachev's and Jaegers on high bar. Beyond his ability to go high and land softly, Lakes was the first black American gymnast to compete in the Olympics.  His wonderful exploits in the world of gymnastics should give numerous young potential gymnasts a perfect role model. He did what he could, and what he could do was the best.
Olympic Games: Top American scorer, Seoul, South Korea. World Championships: Team member, Montréal, Canada, (1985) & Rotterdam, Netherlands, (1987). NCAA Gymnastics Championships: Gold-HB, competing for the University of Illinois-Champaign, (1984). USAG Gymnastics Championships: Gold-FX, competing for California Suns, (1988). He has made it known that he feels that a great deal of his success is owed to scientology auditing. "Scientology auditing is a unique form of personal spiritual counseling that helps people look at their own existence and improves their ability to confront what they are and where they are." Charles currently (2007) resides in Granada Hills in the San Fernando Valley, CA. He and his father own and operate Humanomics Insurance Services.
Source: Jerry Wright, author of Gymnastics Who's Who, 2005. Jerry also courteously provided photos and helped certify the data. For additional information regarding scientology auditing, visit .  Introduction and formatting by Dr. Larry Banner, Web Manager.