BECKNER, John "Jack"
Inducted: 1976 Born: June 9, 1930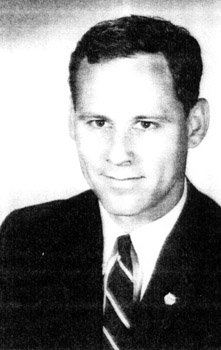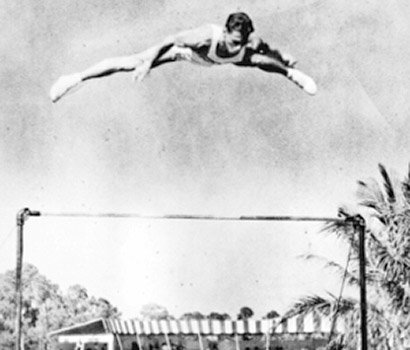 Jack Beckner was a USA gymnastic era unto himself.  His dominance at every level in every event was an inspiration to all. He was every aspiring gymnast's hero and idol.  He was in the top three in every event almost all the time and a very high percentage of his finishes were Gold.  Beyond the titles he won, he had an outstanding personality that included modesty, humility, and a helping hand in the gym for anyone.  He exhibited a leadership style that almost took the 1960 Olympic Team to the medal stand. Medal stand or only close, he urged and received the best from his teammates.
Olympic Games: Helsinki, Finland, (1952); Melbourne, Australia, (1956); Rome, Italy, (1960); Jack placed as high as a tie for 6th on V during the Olympic competitions. World Championships: Rome, Italy, (1954); Moscow, USSR, (1958). Pan American Games: Gold-Team, AA, FX, PH, PB, Mexico City, Mexico, (1955); Gold-Team, AA, PB, V, Chicago, IL, (1959).  NCAA Championships: Gold-PB, (1951); Gold-AA, PB; Silver, HB, (1952); National AAU Open Championships: Gold-AA, four consecutive years, (1956, '57, '58, & '59), and numerous additional event medals during these years. National Junior College Championships: Gold-AA & PB, L.A. City College, (1952); Southern Pacific Association AAU (SPAAAU): Jack was dominant in the realm of SPAAU competitions winning numerous Gold in the AA as well as Gold in the other events, (circa 1950-1967); SPAAAU sponsored Ben Price Memorial Invitational Gymnastic Championships: Gold-AA, (1960). Coaching: Jack was Head Coach of the USA Olympic Team, (1968); He coached at USC for 24 years, the first several of which were on a volunteer basis due to amateur status regulations, (1957-1981*); Jack was the gymnastic program's most successful coach. NCAA: Gold-Team, (1962), Silver-Team, (1964); Jack coached 16 NCAA event champions, including 6-time event winner, Bob Lynn; He coached two Olympians, Ron Barak & Makoto Sakamoto. Bob Lynn competed in the World championships.  Larry Banner also attributes much of his success to Jack's coaching during evening and summer training sessions. Beckner competed for the L.A. Turners Gymnastics Club leading his team to eight National AAU Championships. Education: B.S, (1953), M.S. (1962) at USC. Judging: Beckner was a highly respected judge. He worked many local children's as well as adult meets. He also judged national, and international competitions. Honors: Designated a "Centurion" by gymnastic historian, A. B. Frederick, Ph.D. Frederick described a "Centurion" as " . . . those who command our attention"; Member USAG Hall of Fame Committee for several years; USAG Hall of Fame, (1976); National Judges Hall of Fame Cumiskey Award, (1989); & USC Athletic Fall of Fame, (2005). General: Jack taught physical education throughout most of his gymnastic career while becoming the most decorated American male gymnast of his time. Family: m. Barbara Blaine. Three children.  Eight grandchildren.
*USC disbanded its gymnastic program in 1981.
Sources: Beckner's personal resume, interviews, and courtesy of A. Bruce Frederick, author of Who's Who and Was Who in American Gymnastics. Introduction, commentary, and web formatting by Larry Banner, Web Manager.